COVID-19 Outbreak Fuels Demand for Cloud-based Solutions Provide Growth Opportunities for Cloud Computing Market during 2022-2028
According to our new research study on "Cloud Computing Market Forecast to 2028 – COVID-19 Impact and Global Analysis – by Service Model, Deployment Model, Organization Size, Vertical, and Geography," the market is projected to reach US$ 1,465,818.2 million by 2028 from US$ 405,295.8 million in 2022; it is estimated to grow at a CAGR of 23.9% from 2022 to 2028.
The onset of the COVID-19 crisis in 2020 led to a speed-up in the Information & Technology (ICT) and its infrastructure activities worldwide. Strict government regulations have led many industrial verticals to shift their business models. Thus, many enterprises across verticals have adopted the work from a home model to maintain operational efficiency and employees' safety, surging collaboration-based solutions, such as Software-as-a-Service (SaaS). The global lockdown, caused by the COVID-19 outbreak, forced a large share of the population to stay at home, fueling the popularity of video-on-demand (VoD), thereby increasing the need for IaaS. Companies that provide video-on-demand (VoD) services, such as YouTube, Netflix, Amazon, Hulu, Twitch, Disney+, and Apple TV, are expanding their offerings to meet customers' needs. Many organizations have increased their cloud spending budget by more than 50% amid COVID-19. Thus, the COVID-19 crisis is leading to an increased pace of cloud adoption, supporting the market substantially.
The cloud computing market is assessed on the basis of service model, deployment model, organization size, industry vertical, and geography. The market analysis by service model, the market is segmented into Infrastructure as a Service (IaaS), Platform as a Service (PaaS), and Software as a Service (SaaS). The market analysis by deployment model, the market is bifurcated into public cloud and private cloud. Based on organization size, the market is segmented into small and medium-sized enterprises (SMEs) and large enterprises. Based on industry vertical, the market is segmented into BFSI, IT & telecommunications, government & public sector, retail & consumer goods, manufacturing, healthcare & life sciences, and others. By geography, the cloud computing market is divided into five regions: North America, Europe, Asia Pacific, the Middle East and Africa, and South America.
Impact of COVID-19 Pandemic on Cloud Computing Market
In the first two quarters of 2020, North America suffered considerable economic losses due to the rapid surge in the number of COVID-19 cases. Although, the IT sector has boomed in this region due to the changing business model of enterprises. Many cloud companies in this region, such as Microsoft Corporation, AWS, IBM Corporation, Oracle, and Google Inc., witnessed exponential revenue growth. In the pre-COVID-19 pandemic period, production volume has decreased, thus affecting the supply chain and slowing down the cloud computing market growth. However, the onset of the COVID-19 pandemic boosted the cloud computing market growth due to several enterprises' rising awareness and investment of cloud computing. In North America, the US has one of the most advanced logistics and supply chain networks; besides, the logistics industry is supporting the country's GDP growth; thus, the US government is frequently investing in these sectors. This will offer lucrative opportunities for key players operating in the market. The uplifting of lockdown has led to the recovery of the e-commerce, logistic, and supply chain markets, which drives the cloud computing market.
Amazon Web Services; Microsoft Corporation; IBM Corporation; Google LLC; Alibaba Group Holding Limited; SAP SE; Salesforce.com, inc.; Oracle Corporation; Adobe; and Workday, Inc are among the major companies operating in the cloud computing market.
Cloud Computing Market – by Geography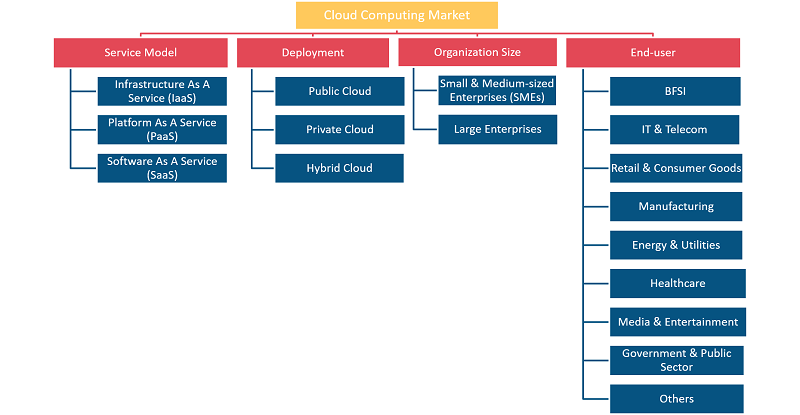 ---
---
Cloud Computing Market Forecast to 2028 - COVID-19 Impact and Global Analysis By Service Model [Infrastructure as a Service (IaaS), Platform as a Service (PaaS), and Software as a Service (SaaS)], Deployment Model (Public Cloud and Private Cloud), Organization Size [Small & Medium-sized Enterprises (SMEs) and Large Enterprises], and Verticals (BFSI, IT and Telecom, Government and Public Sector, Retail and Consumer Goods, Manufacturing, Healthcare and Life Sciences, and Others)
Contact Us

Phone: +1-646-491-9876
Email Id: sales@theinsightpartners.com
Download Free PDF Brochure
---
Related Readings
---