Increasing demand services to leadconsent management market grow that 19.2% CAGR during 2020–2027
According to our latestmarket study on "Consent Management Market Forecast to 2027 – COVID-19Impact and Global Analysis and Forecast by Component (Solution and Services);Deployment (On-Premise and Cloud); End-Use Industry (Retail, Government, IT& Telecom, BFSI, Healthcare, Education, Media & Entertainment, andOthers); and Geography, the market was valuedat US$ 340.53 Million in 2019 and is projected to reach US$ 1,217.20 million by 2027; it is expected to grow at aCAGR of 17.7% from 2020 to 2027.
The report highlights the keyfactors driving the market growth, and prominent players and their developmentsin the market.
The global consentManagement market experiences a remarkable growth due to the growth intechnology market as it plays a crucial role in the contemporary consentmanagement. The rise in number of vendors for privacy technology has propelledthe privacy technology market in the recent years. The marketplace of privacytechnology has become a dynamic ecosystem. More than 100 companies provideconsent management solution owing to the new compliance requirements by theGDPR. There is an uptick in the usage of privacy technology, along with theincrease in overall budgets for the privacy maintenance every year.
Growing incidents ofindividual's information breaches across various industries and growth inprivacy technology market are the major factors propelling the growth ofconsent management market. These factors are expected to up surge the demand ofconsent management solutions, and the companies in the ecosystem of consentmanagement solution are seen to significantly adopt the consent managementsolution, and cater to its burgeoning demand and requirement.
The wide array ofprofessional services includes training and informational sessions whicheducate the users about up gradation of software and conducting surveys to haveproper feedback about the products, which in turn is creating significantopportunities for consent management providers. In terms of component Global servicesis expected to cross US$137.23 million by 2022.
Consent manager.net,Crownpeak Technology, Inc., HIPAAT International Inc.., IBM Corporation,TrustarcInc, ONETRUST, and LLCare the leading players operating in the consent managementmarket. Several other players are also functioning and are contributingsignificant revenues in the consent management market.
COVID-19 Impact onConsent Management Market
According to World HealthOrganization (WHO) report, the US, Spain, Italy, France, Germany, the UK,Turkey, Iran, China, and Russia are some of the worst affected countries due toCOVID-19 outbreak. The COVID-19 crisis is affecting the industries worldwideand the global economy is anticipated to take a worst hit in the year 2020 andlikely in 2021 as well. The COVID-19 outbreak is anticipated to affect thegrowth rate of global consent management market in the year 2020 and early 2021owing to supply chain and demand disruptions, which in turn is resulting indecline of y-o-y growth during these years. However, the growth is expected tonormalize from 2021 onwards and the market is projected to grow at a steadypace.
Varied manufacturing,technology, and service based industries have been impacted due to the outbreakof COVID-19. This outbreak has caused disruptions in several industries acrossthe globe. The consent management market is no different from other markets andhence witnessed interruptions in its sales and penetration globally. Therefore,it will witness a slight decline in its adoption in 2020 and will pick anincrease from 2021. The impact of COVID-19 has caused disturbance in thebusiness activities of SMEs and therefore as a result caused financialinstabilities. These financial fluctuations and budget disturbance imposedrestrictions on various end-user industries of consent management solutions topurchase advanced version of the same. However, the consent managementproviders present in the market are making efforts to remain competitive andtherefore, are offering consent management solutions on free-trial basis. Thiswill support the end-user industries especially SMEs.
Consent Management RegionalGrowth - 2020–2027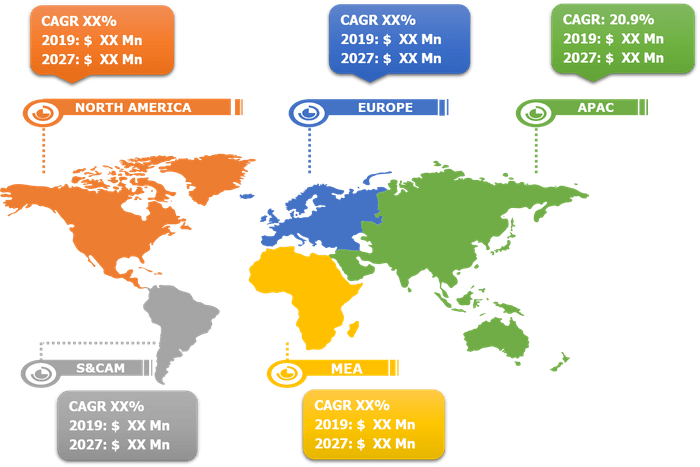 The report segments the global Consent Management market asfollows:
By Component
By Deployment
By End-User Industry
Retail

Government

IT and Telecom

BFSI

Healthcare

Education

Media andEntertainment

Others
By Geography
ContactUs
ContactPerson: Sameer Joshi
Phone:+1-646-491-9876
Email Id: sales@theinsightpartners.com