Rising adoption of AI in Consent Management Provides Opportunities for Consent Management Market During 2022–2030
According to our latest market study on "Consent Management Market Forecast to 2030 – Market Size and Forecasts (2020 - 2030), Global and Regional Share, Trends, and Growth Opportunity Analysis – by Component, Deployment, and End-Use Industry," the market is expected to grow from US$ 458.89 million in 2022 to US$ 2,021.05 million by 2030; it is estimated to register a CAGR of 20.4% from 2022 to 2030.
With the rise of artificial intelligence (AI) and its increasing use in various industries, the need to integrate Al, particularly to ensure the EU's GDPR compliance, is increasing. Using AI in consent management can help automate various processes, such as data collection, storage, and analysis. It also has the potential to streamline the compliance process and make it more efficient, which can further help reduce the risk of human error. The technology can be used to identify and flag sensitive data, helping organizations keep track of their data assets and avoid breaches. Moreover, AI can be used to ensure that data is processed as per the GDPR. For instance, AI can be programmed to help ensure that only the minimum necessary data is processed, and further, the data will be erased (if no longer needed). This will help organizations avoid penalties and fines resulting from GDPR noncompliance, propelling the consent management market growth during the forecast period.
Consent Management Market - by Geography, 2022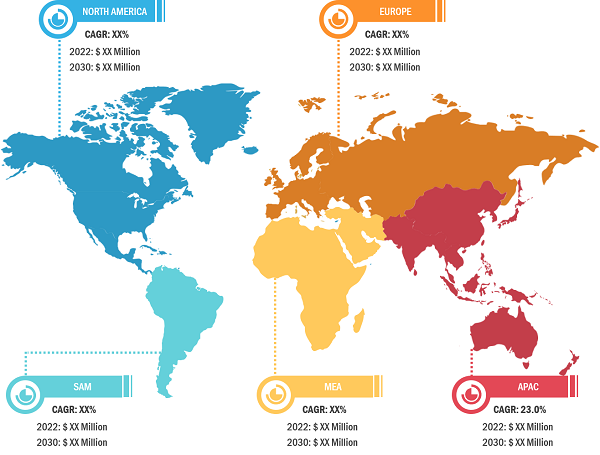 ---
---
Consent Management Market Size and Forecasts (2020 - 2030), Global and Regional Share, Trends, and Growth Opportunity Analysis by Component (Solution, Services), Deployment (On-premises, Cloud-based), and End-use Industry (Retail, Government, IT and Telecom, BFSI, Healthcare, Education, Media & Entertainment, Others)

Source: The Insight Partners Analysis
In addition, AI can also help automate Data Protection Impact Assessments (DPIAs), as DPIAs are mandatory under GDPR policies and should be conducted when a new technology is introduced. DPIAs are important as the technology can have a high risk to the rights of individuals. Also, AI algorithms can analyze data and identify potential risks, saving time and effort of the organizations in conducting the assessments. Furthermore, AI-powered chatbots can help interact with data subjects and obtain their consent for data processing. This chatbot can help present the privacy notice and respond to questions about data collection and its use, allowing individuals to provide their consent in a conversational manner. Additionally, an AI system could be trained in order to predict which data subjects are likely to provide consent for data processing depending on their past behavior and demographic information. This information can be further used to target and optimize the consent management process. Moreover, smart forms or AI-powered forms can be used to obtain the consent of individuals in a user-friendly and efficient manner. Also, these forms can automatically adjust to the data subject's preferences and provide personalized privacy notices based on the collected data. Thus, all the above benefits of AI in consent management are expected to boost its demand in various companies, creating an opportunity for the growth of the consent management market during the forecast period.
Crownpeak Technology Inc, consentmanager AB, International Business Machines Corp, Didomi SAS, HIPAAT International Inc, TrustArc Inc, OneTrust LLC, Piwik PRO LLC, PossibleNOW Inc, Rakuten Marketing LLC, Syrenis Ltd, and Didomi SAS are among the key consent management market players that were profiled in the report. Several other major consent management market players were studied and analyzed during this market research study to get a holistic view of the consent management market and its ecosystem. The consent management market report provides detailed market insights, which help the key players strategize their growth.
In North America, the US is dominating the consent management market in 2022. The US has various federal and state laws that cover different aspects of data privacy, such as health data and financial information. Various US states have passed legislation and introduced several regulatory policies to protect people's information. In January 2020, the California Consumer Privacy Act (CCPA) came into effect; it was designed to protect the data privacy rights of citizens and force companies to provide all the additional information to consumers regarding the way their data is being collected, stored, and used. This act also helps to provide consumers with more transparency and control over their private data, propelling the growth of the consent management market. In addition, the Federal Trade Commission Act (FTC Act) (15 US Code 41 et seq.) allows more access to authorities of the FTC and takes enforcement actions, such as federal privacy and data protection regulations, to protect consumers from unfair or deceptive practices. According to the FTC, "deceptive practices" include a company's inability to comply with its advertised privacy claims and failure to ensure proper security of personal information, coupled with the use of deceptive advertising or marketing strategies. Thus, such laws and regulations by the government are expected to fuel the consent management market growth in the US during the forecast period.
Contact Us

Phone: +1-646-491-9876
Email Id: sales@theinsightpartners.com
Download Free PDF Brochure
---
Related Readings
---