Rising Vision Problem and Aesthetics Need is Catalyzing the Contact Lenses Market
According to our latest market study, titled " Contact Lenses Market Forecast to 2028 – COVID-19 Impact and Global Analysis – by Material, Design, Application, And Distribution Channel, and Geography," the market was valued at US$ 9.22 billion in 2021 and is likely to reach a US$ 13.05 Bn in 2028 at an estimated CAGR of 5.1% from 2022 to 2028.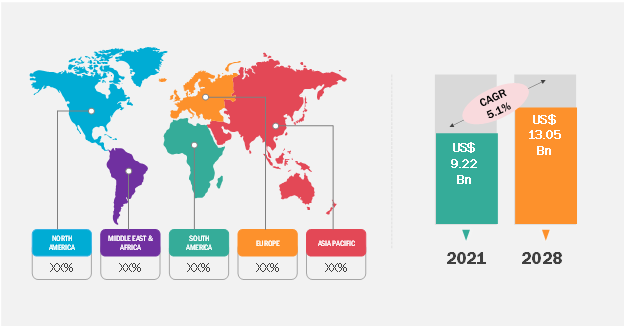 Report : Contact Lenses Market Forecast to 2028 - COVID-19 Impact and Global Analysis by Material (Gas Permeable, Silicone Hydrogel, and Others), Design (Monovision, Spherical, Multifocal, and Toric), Application (Corrective, Therapeutic, Cosmetic, and Others), and Distribution Channel (E-commerce, Hospitals and Clinics, and Retail Stores)
Source: The Insight Partners Analysis
The growing prevalence of myopia and other visual disorders and increasing vision disorders among the rising geriatric population influence the market growth of contact lenses. In addition, the rising tendency to improve aesthetics among the young population and the increasing disposable income of consumers are further boosting the market. Emerging economies are creating opportunities for the market. However, alternative treatments for visual disorders are hampering the market.
According to the article published in Healio Journal (2022) titled 'Census shows a high prevalence of pediatric myopia in the US', a group of researchers reported a total of 19,512,708 children with myopia and a nationwide prevalence of 36.1% among the US population in 2020. Furthermore, according to the statistics published by the National Eye Institute, in 2019, around 34.1 million Americans were nearsighted, and 14.1 million were farsighted. These numbers are expected to increase in the upcoming years as it is estimated that 39 million will be nearsighted and 20 million will be farsighted by 2030.
Further, these statistics also represented that approximately 1.3 million Americans were blind, and 2.9 million people were estimated to have low vision. It is estimated that around 2.2 million Americans will be blind by 2030. Likewise, approximately 5 million Americans will have low vision by 2030. Hence, an increase in eye disorders will lead to a growing demand for contact lenses over the next few years.
Further, the rising disposable incomes in the US & Europe and expanding healthcare expenditure in various countries, including Switzerland, Norway, Sweden, and others, have created ample opportunities for developing nations to provide better services and facilities to their people. Further, the use of various decorative contact lenses will increase in North America and Europe due to the high disposable income. As per the US Bureau of Economic Analysis, the total disposable personal income in the United States in Jan 2022 was US$ 18.24 trillion, increasing from US$ 16.62 trillion in Jan 2020. Thus, the rising disposable income among consumers will increase the uptake of contact lenses with a preference for spectacles, which will help the market to grow in the coming years.
Similarly, contact lenses are likely to increase in emerging regions, such as Asia Pacific and the Middle East & Africa. The people in these regions invest significantly in their lifestyles and personal aesthetics. Additionally, according to United Nations, there were around 703 million persons aged 65 years or over in 2019 globally. This older population is projected to double to 1.5 billion in 2050, which is expected to boost the market during the forecast period. The geriatric population in Asian countries, such as Japan, India, and China, is also offering potential opportunities for the growth of the contact lenses market.
Partnerships, mergers, and new product launches by market players are propelling the contact lenses market. For instance, in April 2022, Alcon launched the Precision, a disposable silicone hydrogel contact lens for Astigmatism in Canada. These daily disposable silicone hydrogels (SiHy) contact lenses are designed for astigmatic patients, marking the continuation of Alcon's mission to improve the vision of people.
Additionally, in April 2021, CooperVision announced the completion of the acquisition of No7 Contact Lenses. The company designs and manufactures specialty contact lenses in the UK. No7 will operate within the CooperVision Specialty EyeCare group, complementing a portfolio of innovative products used by eye care professionals to manage challenges such as myopia progression in children and irregular cornea. Further, various players in the market are focusing on various organic approaches to boost the contact lenses market.
EssilorLuxottica; Alcon Inc.; Johnson & Johnson Services, Inc.; Bausch & Lomb Incorporated; The Cooper Companies Inc.; HOYA Corporation; SynergEyes, Inc.; STAAR Surgical Company; X-Cel Specialty Contacts; and Medenniumare are the key market players profiled in the study. Several other major companies were also studied and analyzed in this research study to get a holistic view of the contact lenses market and its ecosystem.
Contact Us
Contact Person: Sameer Joshi
Phone: +1-646-491-9876
Email Id: sales@theinsightpartners.com