Growing Emphasis on Data-Centric Security Model by Enterprises Drives Data-Centric Security Market
According to The Insight Partners market study titled "Data-Centric Security Market Forecast to 2028 – COVID-19 Impact and Global Analysis – by Component, Deployment Mode, Organization Size, and Verticals," the data-centric security market size is projected to reach US$ 16,518.1 million by 2028 from US$ 4,510.6 million in 2022. The data-centric security market share is expected to grow at a CAGR of 24.2% from 2022 to 2028.
The COVID-19 outbreak accelerated the shift from office environments to remote work scenarios (work from home), emphasizing data-centric security more. In 2020, organizations had to navigate a wave of IT architectural change and move to a remote work environment. The employee's sudden and unexpected move to home offices accelerated enterprises' need to move to the cloud to keep their business running. Integrating meeting solutions, cloud servers, and security quickly became commonplace. Based on the survey conducted by Barracuda, 53% of respondents said the COVID-19 crisis prompted them to accelerate their plans to move all their data to a 100% cloud-based model. Hence, the plan to move all data to a 100% cloud-based model increased the emphasis on data-centric security in the cloud, as companies are highly concerned about sharing crucial data with unauthorized internal users.
Furthermore, according to a McAfee Enterprise and FireEye report, 81% of global businesses experienced an increase in cyber threats during the COVID-19 pandemic, and 79% experienced downtime due to increased cyber incidents during the peak season of the demand for cybersecurity solutions. In addition, several medium- and large-sized enterprises increased their annual data security spending. CSO's 2021 Security Priorities Report shows that 44% of security leaders expect their budgets to increase in the next 12 months. There is a slight increase from the 41% budget increase in 2021 compared to 2020. Similarly, the government's growing emphasis on the data center security model is also pushing the market growth. For instance, state governments in India are pushing a data-centric approach to governance to ensure that funds are properly utilized and the profits are reaching the last mile. Hence, owing to the new and unforeseen breaches, organizations are evolving from traditional infrastructure-centric security measures with multiple layers of defense to a data-centric approach that protects the data. Data-centric security solutions enable organizations to collaborate while maintaining high levels of security and transparency and revoking access to sensitive data accidentally shared via email. Thus, the factors mentioned above are driving the data-centric security market growth.
The Data-Centric Security market is analyzed on the basis of component, deployment mode, organization size, verticals, and geography. Data-centric security market analysis by component, the market is segmented into solution and service. Data-centric security market analysis by deployment mode, the market is segmented into on premise and cloud based. By organization size, the market is segmented into small and medium enterprises (SMEs) and large enterprises. Based on vertical, the data-centric security market is segmented into IT and telecommunication, BFSI, healthcare and pharmaceutical, government and defense, and others. By geography, the market is divided into 5 regions including North America, Europe, Asia Pacific, the Middle East & Africa, and South & Central America.
Impact of COVID-19 Pandemic on Data-Centric Security Market
The COVID-19 pandemic resulted in severe consequences for the security service providers. Lockdown restrictions were imposed as the pandemic significantly impacted numerous enterprises, manufacturing facilities, and retail operations. Although many CISOs' Budgets for the fiscal Year 2020 were already allotted before the pandemic, the budget for the third and fourth quarters witnessed an increased concentration of several companies on security services. Based on the survey by FireEye, 200+ global CISOs and security coverage experts stated that the crisis-inspired security measures are likely to remain top budget priorities in Q3 and Q4 of 2020. As increased remote work led to more cyber risk exposure, several companies focused on cybersecurity. Due to the COVID-19 pandemic, cyber attackers saw an opportunity to step up their criminal activities, exploiting the vulnerability of employees working from home. However, adopting a work-from-home policy has raised awareness among enterprises about data security and cyberattacks, which led to the demand for cloud-based security solutions. Many major and small businesses have increased their annual spending on cybersecurity-related products. Thus, it is determined that the COVID-19 pandemic changed the management approaches of several companies toward cybersecurity and has favorably affected the data-centric security market.
IBM Corporation; Broadcom Inc.; Informatica; Micro Focus International plc; NetApp, Inc.; Imperva; Forcepoint; Orange Cyberdefense; Talend; and Varonis Systems are the key players operating in the Data-Centric Security market.
Data-Centric Security Market – by Region, 2021 and 2028 (%)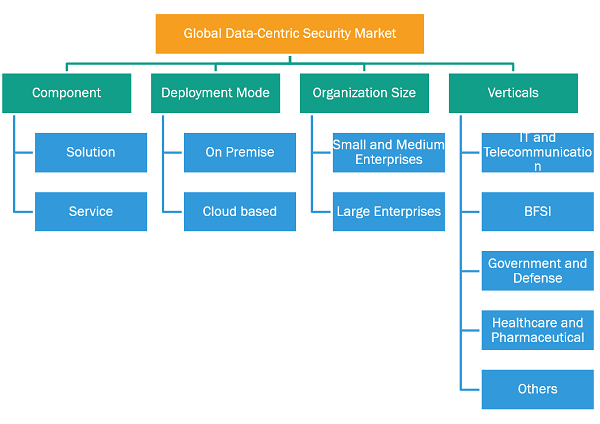 Report : Data-Centric Security Market Forecast to 2028 - COVID-19 Impact and Global Analysis By Component (Solution and Service), Deployment Mode (On Premise and Cloud based), Organization Size (Small and Medium Enterprises (SMEs) and Large Enterprises), and Verticals (IT and Telecommunication, BFSI, Government and Defense, Healthcare and Pharmaceutical, and Others)
Contact Us
Contact Person: Sameer Joshi
Phone: +1-646-491-9876
Email Id: sales@theinsightpartners.com