Injectable to Dominate Drug Delivery Market During 2023–2028
According to our new research study on "Drug Delivery Market Forecast to 2028 – COVID-19 Impact and Global Analysis – by Route of Administration, Distribution Channel, and End User," the market is expected to grow from US$ 20,99,856.7 million in 2022 to US$ 32,54,594.2 million by 2028; it is estimated to register a CAGR of 7.7% from 2023 to 2028.
Key factors driving the market growth are rising incidence of chronic diseases, growing demand for noninvasive drug delivery systems, and increasing R&D expenditures in pharmaceutical companies propel the market growth. However, high cost associated with development of drugs and delivery systems and product recalls in drug delivery systems hinder the market growth.
North America is leading the global drug delivery market due to increased demand for rare disease medications from biopharmaceutical and biotechnology companies, the presence of key market players, and extensive R&D conducted by various academic and research institutes. In addition, extensive research in pharmaceutical and biotechnology companies is expected to stimulate the growth of the drug delivery market in North America. The US is the largest market share holder for drug delivery in the world. Increasing prevalence of chronic diseases such as diabetes and asthma, growing number of product launches by key players, and increasing use of drug delivery devices for disease management primarily drive the market.
Drug Delivery Market, by Geography, 2022 (%)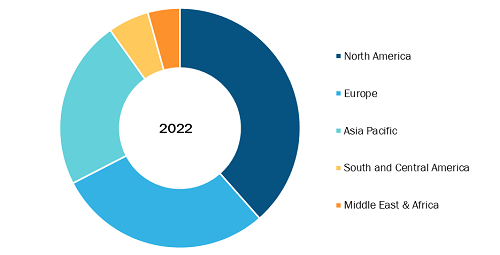 ---
---
Drug Delivery Market Forecast to 2028 - Global Analysis By Route of Administration (Injectable Drug Delivery, Oral Drug Delivery, Transmucosal Drug Delivery, Topical Drug Delivery, Implantable Drug Delivery, and Ocular Drug Delivery), Distribution Channel (Hospital Pharmacies, Retail Pharmacies, and Online Pharmacies), and End User (Hospitals and Clinics, Home Care Settings, and Other End User)

Source: The Insight Partners Analysis
The National Diabetes Statistics Report of the Centers for Disease Control and Prevention (CDC) stated that in 2022, nearly 37.3 million people in the US had diabetes, of which type 1 diabetes accounted for nearly 3.75%, which was ~1.45 million people. Thus, the increasing diabetic population in the country is expected to propel the demand for various drug delivery systems for treating patients who have diabetes.
Infusion therapy is widely used in the treatment of cancer, dehydration, gastrointestinal diseases, congestive heart failure, Crohn's disease, hemophilia, immune deficiencies, multiple sclerosis, and rheumatoid arthritis. These diseases require long-term treatments, and patients are eventually given treatments at their homes. Due to technological advancements, infusion therapies can be safely and effectively managed at home. Infusion therapy at home has evolved into a completely cost-effective medical therapy also it has resulted in growth of inpatient treatment in a hospital or skilled nursing facility, thereby proliferating the drug delivery market in the US.
Moreover, a favorable reimbursement scenario in the US is driving the market. For instance, the insulin syringes and pen needles by Montméd Inc. are reimbursed by the government and healthcare providers. Additionally, efforts taken by international players to penetrate the US market, advancements in drug delivery technology through extensive research and innovation undertaken by leading players, and increased awareness about various drug delivery methods among the populace are fueling the drug delivery market growth.
The drug delivery market, by route of administration, is segmented into oral drug delivery, transmucosal drug delivery, topical drug delivery, implantable drug delivery, and ocular drug delivery. The injectable drug delivery segment held the largest market share in 2022. However, topical drug delivery segment is anticipated to register the highest CAGR during the forecast period. Injectable drug delivery is considered one of the effective routes of drug administration due to the speed and effectiveness of delivery to the target site and improved patient experience. The injections help administer drugs, vaccines, or any other therapeutic agents into the body. The drug delivery technique via a route other than the digestive tract is termed as parenteral. Parenteral route of administration includes intramuscular, subcutaneous, and intravenous. The development of needle-free injectors has improved insulin drug delivery as it reduces the risk of needlestick injuries in diabetic patients.
Increasing usage of injections in complex drug delivery procedures due to advancements in injectable drug delivery systems and the introduction of next-generation injectable devices with superior functional capabilities enhance the global drug delivery market growth for the injectable drug delivery segment.
Pfizer Inc, Johnson & Johnson, Becton Dickinson and Co, Novo Nordisk AS, Boston Scientific Corp, Baxter International Inc, Gerresheimer AG, Kindeva Drug Delivery LP, GlaxoSmithKline Plc, Bausch Health Companies, Novartis AG, Sever Pharma Solutions, Boehringer Ingelheim International are among the key companies operating in the drug delivery market.
The report segments the drug delivery market as follows:
Based on route of administration, is segmented into oral drug delivery, transmucosal drug delivery, topical drug delivery, implantable drug delivery, and ocular drug delivery. Based on distribution channel, the drug delivery market is segmented into hospital pharmacies, retail pharmacies, and online pharmacies. By end user, the drug delivery market is bifurcated into hospitals and clinics, home care settings, and other end users. Based on geography, the drug delivery market is segmented into North America (the US, Canada, and Mexico), Europe (France, Germany, the UK, Italy, Spain, Russia, Poland, and the Rest of Europe), Asia Pacific (China, Japan, India, Australia, South Korea, and the Rest of Asia Pacific), the Middle East & Africa (Saudi Arabia, South Africa, the UAE, Israel, Lebanon, and the Rest of Middle East & Africa), and South & Central America (Brazil, Argentina, Venezuela, and the Rest of South & Central America).
Contact Us

Phone: +1-646-491-9876
Email Id: sales@theinsightpartners.com
Download Free PDF Brochure
---
Related Readings
---