According to the latest market study on "Electronic Contract Assembly Market Forecast to 2028 – COVID-19 Impact and Global Analysis – by Service and End-User," the market is expected to grow from US$ 142,795.06 million in 2022 to US$ 251,637.62 million by 2028; it is anticipated to register a CAGR of 10.3% from 2023 to 2028.
Integration of Advanced Technologies in Electronic Manufacturing
The electronic manufacturing industry is witnessing the rising adoption of cloud-based design and analysis, artificial intelligence (AI), machine learning (ML), the Internet of Things (IoT), and augmented reality (AR) in manufacturing operations. Utilizing these advanced technologies requires high capital investment, a skilled workforce, and industrial expertise. The contract assembly services help OEMs by offering flexibility to focus on core capabilities with reduced production costs and improved operational efficiencies. Owing to such benefits, various key market players in the electronic manufacturing industry are outsourcing electronic manufacturing to third-party electronic contract assembly market players. For instance, in March 2023, Offshore Electronics signed an agreement with Fireco to design manufacturing support and PCB assembly services. Thus, the integration of advanced technology in electronic manufacturing has been gaining popularity in recent years, which is aiding to increase the electronic contract assembly market share.
Electronic Contract Assembly Market Share — by Geography, 2022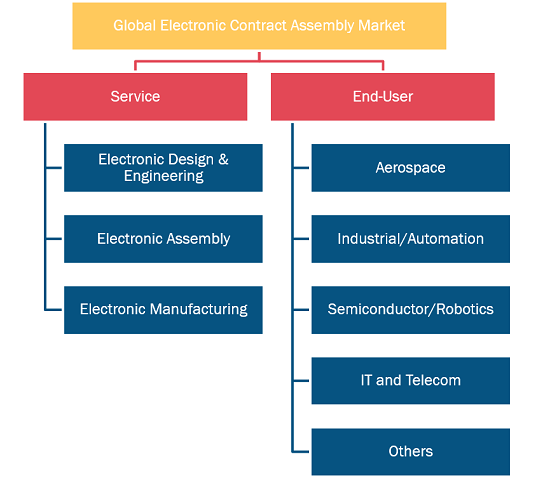 ---
---
Electronic Contract Assembly Market Forecast to 2028 - Global Analysis By Service (Electronic Design & Engineering, Electronic Assembly, and Electronic Manufacturing) and End User (Aerospace, Industrial Automation, Semiconductor, IT & Telecom, and Others)

Source: The Insight Partners Analysis
The electronic contract assembly market offers several advantages such as cost savings through economies of scale, increased flexibility and agility in manufacturing processes, access to specialized expertise and technology, and reduced lead times for the companies looking for manufacturing benefits. Additionally, by outsourcing electronic contract assembly services, companies can focus on their core competencies and strategic initiatives while relying on the expertise of external partners to handle the manufacturing and assembly of their electronic products. This results in improved efficiency, faster time-to-market, and higher-quality products, ultimately driving business growth and competitiveness. All such benefits are offering promising growth opportunities for electronic contract assembly market players.
The Europe electronic contract assembly market is segmented into France, Germany, Italy, Russia, the UK, and the Rest of Europe. The European aerospace industry is experiencing rapid growth due to the increasing production of civil aircraft in countries such as France, Germany, and Italy to meet the rising demand for fuel-efficient and lighter aircraft. The adoption of automation, artificial intelligence, and other digital technologies in the aerospace industry contributes to its uninterrupted growth. Any spacecraft or aerospace system would be ineffective without electronics. The use of PCBs in the aerospace industry indicates the high dependency of a spacecraft system on electronics. Navigation, traveling, and communication in space would not be possible without electronic components that contain PCB assemblies. Thus, the large-scale use of electronics in aerospace manufacturing favors the electronic contract assembly market growth in Europe.
According to the European Commission, in 2020, European organizations invested ~US$ 2.14 billion in the aerospace industry. Several key players in the European aerospace industry are signing contracts with electronic companies. In January 2023, Lynred launched an EU project to produce electronic components for infrared (IR) sensor manufacturing. Lynred provides high-quality infrared detectors for the aerospace, defense, and commercial markets. It has launched HEROIC, a project supported by the European Defense Fund, to develop highly advanced electronic components for next-generation infrared (IR) sensors while consolidating the supply chain of these state-of-the-art products in Europe. These factors favor the electronic contract assembly market growth.
Contact Us

Phone: +1-646-491-9876
Email Id: sales@theinsightpartners.com
Download Free PDF Brochure
---
Related Readings
---