[Research Report] The electronic contract assembly market is expected to grow from US$ 142,795.06 million in 2022 to US$ 251,637.62 million by 2028; it is anticipated to register a CAGR of 10.3% from 2023 to 2028.
The increasing demand for functionalities such as sub-assembly manufacturing, functional testing, and component assembly from various manufacturers is likely to boost the electronic contract assembly market growth during the forecast period. Implementation of advanced technologies by service providers and expansion of their manufacturing capacities are also expected to contribute to electronic contract assembly market growth in the coming years. Rising purchasing power of consumers and growing demand for electronics will also fuel market growth in the future. There is an emerging trend among service providers to invest heavily in research and development activities and adopt advanced technologies to improve their manufacturing capacity and strengthen their market position. According to the Consumer Electronics and Appliances Manufacturers Association (CEAMA), the appliances & consumer electronics industry in India is anticipated to report significant growth by 2026 with an estimated market size increase of more than two-fold, reaching a value of up to US$ 26.81 billion. This industry valuation is expected to create new business opportunities, attract investments, and stimulate economic growth in the country. Growth in the electronic contract assembly market opportunities can be created for its end users such as Apple and IBM to manufacture their components.
The rising consumption of consumer electronics, computing technology, data storage technology, and wireless devices is contributing to the semiconductor industry's growth. According to the Semiconductor Industry Association (SIA), in the second half of 2022, global semiconductor sales were valued at US$ 574 billion, a 3.3% increase over 2021 sales. Semiconductors play an essential role in a wide range of products across all segments of the global economy as a key technology enabler. As a result, various governments are focusing on enhancing their semiconductor production capabilities. For instance, in December 2021, the Indian government announced a US$ 10 billion incentive plan to boost the semiconductor chip manufacturing of the country. The government offered support of up to 50% of the project cost to eligible companies under this incentive plan. Such government initiatives are attracting global market players to expand their manufacturing facilities in India. For instance, in September 2022, Foxconn, a Taiwanese multinational electronics contract manufacturer, and Vedanta, a local conglomerate of India, announced a US$ 19.5 billion investment to set up a semiconductor and display production facility in India. Thus, the growing semiconductor industry is contributing to the growth and different electronic contract assembly market opportunities.
Electronic Contract Assembly Market - Strategic Insights
Report Coverage - Electronic Contract Assembly Market
Report Coverage
Details
Market Size Value in
US$ 142,795.06 million in 2022
Market Size Value by
US$ 251,637.62 million by 2028
Growth rate
CAGR of 10.3% from 2023 to 2028
Forecast Period
2023-2028
Base Year
2022
No. of Pages
152
No. of Tables
56
No. of Charts & Figures
73
Historical data available
Yes
Segments covered
Service, and End User
Free Sample Copy Available
Impact of COVID-19 Pandemic on Electronic Contract Assembly Market
Various European countries imposed strict lockdowns and restrictions on human movement in 2020. The supply chain industry experienced major disruptions during the COVID-19 pandemic. However, the pandemic has positively impacted the automation technology market due to the increased demand of electronic devices. There are several prominent players in the automation industry, such as Siemens, ABB, and Schneider Electric which are taking initiatives to drive automation market. The Netherlands/Belgium, the UK, the Nordics, and DACH are European automation hotspots. According to World Economic Forum, in 2021, Western Europe's automation and integration technology market grew by 16%. The growth of the automation industry will provide several opportunities to the electronic contract assembly market as the use of automation in electronic devices is increasing immensely Therefore, the growing automation industry may contribute to the growth of the electronic contract assembly market.
Lucrative Regions for Electronic Contract Assembly Market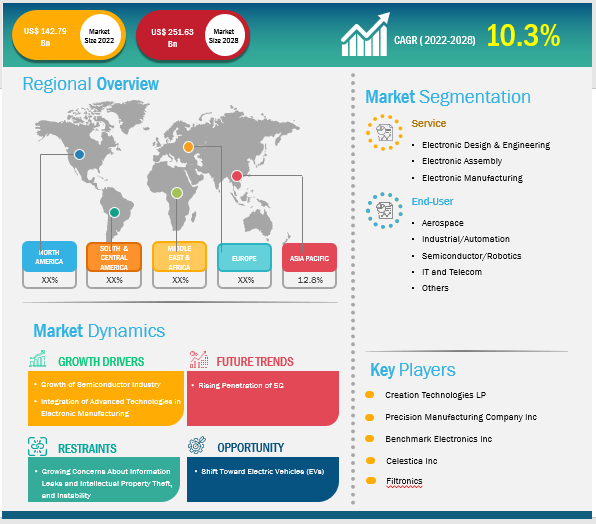 Get more information on this report :
Market Insights – Electronic Contract Assembly Market
The electronic contract assembly market in North America is sub segmented into the US, Canada, and Mexico. Electronic products are increasingly adopted in industries such as automation, semiconductors, and IT & telecom. According to Semiconductor Industry Association (SIA), in 2022, the region registered the highest increase in semiconductor production to date. Semiconductor companies in the US invest nearly one-fifth of their annual revenues in R&D; collectively, they recorded an investment of US$ 50.2 billion in R&D in 2021.
In technology, semiconductors are vital to powering everything, such as toys, cars, smartphones, and thermostats. Semiconductors have also contributed to the proliferation of the electronics industry and the introduction of breakthrough technologies such as machine learning and artificial intelligence. In May 2021, chip makers, tech giants, and cloud companies in the US partnered to push semiconductor funding for launching new semiconductor products. The availability of such robust funding for semiconductor chips would help the US build the surplus capacity required to have sturdier supply chains to ensure access to different technologies when needed.
Based on geography, the electronic contract assembly market is segmented into North America, Europe, Asia Pacific (APAC), the Middle East & Africa (MEA), and South America (SAM). Creation Technologies LP, Precision Manufacturing Company Inc, Benchmark Electronics Inc, Celestica Inc, Compal Electronics Inc, Fabrinet Co Ltd, Flex Ltd, Matric Group Inc, Jabil Inc, and Filtronic Plc are key electronic contract assembly market players.
Electronic contract assembly market players mainly focus on tailor-made solutions to create customer value.
In April 2023, Benchmark Electronics' launched new Precision Technologies facility in Mesa, Arizona, which is a strategic move to support the semiconductor industry's growth in the United States. The company is investing US$20 million in providing engineering and manufacturing solutions for semiconductor capital equipment building blocks and solutions.
In May 2020, Celestica, a company specializing in design, manufacturing, and supply chain solutions, was awarded a contract to produce 7,500 ventilators for StarFish Medical, a Canadian medical device manufacturer.
Frequently Asked Questions