Introduction of Big Data to Provide Growth Opportunities for Employment Screening Services Market during 2021–2028
According to our latest market study on "Employment Screening Services Market Forecast to 2028 – COVID-19 Impact and Global Analysis – by Services, End-Use Industry, and Organization Size," the market was valued at US$ 4,191.94 million in 2020 and it is projected to reach US$ 6,390.09 million by 2028; it is expected to grow at a CAGR of 5.5% from 2021 to 2028.
Big data refers to data collected from huge groups. The internet has been a one of the prime factors driving the big data application in employee screening market. Internet has made it easy for social networking sites, search engines, marketers, and other sources to collect huge amounts of information about employees. Information collected from big data can be used by companies to create employee wellness programs, improve their health care policies, and improve internal promotions. According to the American Statistical Association (ASA), 53% of the HR departments uses big data to help make strategic decisions for recruitment and selection and managing talent and performance.


Big Data offers merged information that shrinks unfairness in employment judgments and help employers make better decisions in recruitment, appraisal and performance evaluations. Big Data, when paired with present advance techniques, can improve selection of right candidate, intensify the ability to recognize talent from cross-border, help overcome implicit and explicit biasness in the work area and raise equality in access to jobs. Big data brings with it huge opportunity in recruitment and employee screening process and can be one of the significant tools for employer to make decision.
The employment screening services market is segmented on the basis of services, end-use industry, organization size, and geography. Based on services, the market is segmented into background check, verification, and medical & drug testing. The verification segment held the largest market share in 2020. Based on end-use industry, the employment screening services market is segmented into IT & telecom, BFSI, government agencies, travel & hospitality, manufacturing, retail, healthcare, and others. The manufacturing segment is projected to register the highest CAGR during the forecast period. Geographically, the global employment screening services market is broadly segmented into North America, Europe, Asia Pacific (APAC), the Middle East & Africa (MEA), and South America (SAM). In 2020, North America accounted for the significant share in the global market.
Impact of COVID-19 Pandemic on Employment Screening Services Market
The consequent economic downturn, due to COVID-19 outbreak pandemic, has led to the rise in number of jobless candidates across the globe. For instance, in the US, the number of jobless candidates reached 20.5 million in May 2020 from 6.2 million in February 2020. As a result, in 2020, the rate of unemployment was increased from 3.8% in February to 13.0% in May in the US. The rise in unemployment rate continued in April 2020 as well with 14.4%. However, post Q3 of 2020, the number of COVID-19 cases in the US started to fall, which is triggering the gradual normalization of economic activities in the country. This resulted in the rise in demand for products and services across the region. Moreover, with the improved vaccine distribution and administration drives, the US witnessed a more than expected increase in job openings in February 2021. According to a data released by the Job Openings and Labor Turnover Survey (JOLTS), the number of job openings rose to 7.4 million in March 2021 from 7.1 million in February 2021. Nonetheless, the labor market has a long way to go before resuming its late-2019 status. The US hiring rate increased to 4% in February 2021 from 3.8% in February 2020 Thus, despite the steep decline in the first two quarters of 2020, the employment screening services market in North America started experiencing substantial growth as the economy of region started reviving back to normal, leading to the acceleration of hiring processes across industries.
Pinkerton Corporate Risk Management; HireRight, LLC; A-Check America, Inc.; Verity Screening Solutions LLC; Capita Plc; Triton; DataFlow Group; Sterling Talent Solutions; First Advantage; Accurate Background; AuthBridge; Insperity; and GoodHire are among the major companies operating in the employment screening services market.


Employment Screening Services Market - by Geography (2020, %)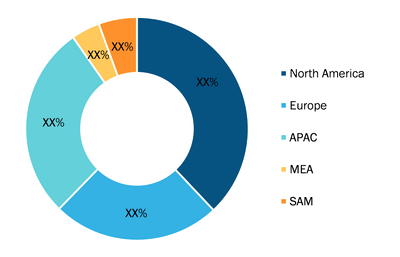 Report : Employment Screening Services Market Forecast to 2028 - COVID-19 Impact and Global Analysis By Services (Background Check, Verification, and Medical & Drug Testing), End-Use Industry (IT & Telecom, BFSI, Government Agencies, Travel & Hospitality, Manufacturing, Retail, Healthcare, and Others), and Organization Size (SMEs and Large Enterprise); and Geography
The report segments the global employment screening services market as follows:
By Services
Background Screening

Verification

Driver Management

Medical & Drug Testing
By Background Screening
Credit Check

Criminal Record
By Verification
By End-Use Industry
IT & Telecom

BFSI

Government Agencies

Travel & Hospitality

Manufacturing

Retail

Healthcare

Others
By Organization Size
By Geography
Contact Us
Contact Person: Sameer Joshi
Phone: +1-646-491-9876
Email Id: sales@theinsightpartners.com