Growing Construction Industry in China to Provide Growth Opportunities for Façade Market During 2021–2028
According to our latest market study on "Façade Market Forecast to 2028 – COVID-19 Impact and Global Analysis – by Material, Application, and Product Type," the façade market is expected to grow from US$ 195.42 billion in 2021 and is projected to reach US$ 270.91 billion by 2028; it is expected to register a CAGR of 4.8% from 2021 to 2028.
China has one of the highest urbanization rates in the world. According to data by the American Institute of Architects (AIA) Shanghai, China is expected to have constructed the equivalent of 10 New York-sized cities by 2025. According to the report Analysis of the Development Trend of China's Architectural Design Industry in 2019, the country's architectural design industry revenue reached US$ 189.3 billion in 2018. Based on the five-year plan for the development of the construction industry (2015–2020), the year-on-year (y-o-y) rate of the architectural design industry was increased to 7%, and total income reached US$ 220.8 billion by 2020. Recent trends in China's design and construction sector are shifting toward local communities, younger people, and culture-related projects.
There are bans and restrictions on new super-high buildings over 500 m and high buildings over 250 m, respectively. The advent of new technologies plays an increasingly crucial role in increasing buildings' quality and safety, such as Building Information Modelling (BIM), green building and smart city solutions, and artificial intelligence applications. The current developments in the Chinese construction sector require the US architectural design companies to work with local design firms on projects in China since trade restrictions and strict regulations mark the market. Therefore, mergers and acquisitions are creating growth opportunities for the façade market in China.
The façade market is segmented into material, application, and product type. Based on material, the façade market is segmented into glass and metal, concrete and steel, ceramic, wood, UPVC, and others. The glass and metal segment held the largest market share in 2020 due to adoption in commercial applications. Based on application, the façade market is categorized into residential, commercial, and industrial. The commercial façade segment dominated the market pertaining to the fact that façade is a traditional system used in the construction industry to improve aesthetics. Based on product type, the façade market is segmented into windows, doors, curtain walling, and others. The curtain walling segment led the market share in 2020. Geographically, the façade market is segmented into five key regions—North America, Europe, APAC, MEA, and SAM. Asia Pacific held the largest revenue share in 2020, followed by Europe and North America.


Impact of COVID-19 Pandemic on Façade Market
The onset of the COVID-19 pandemic in 2020 led to a grinding halt in infrastructure and construction activities worldwide. As per analysis reports, all regions suffered a significant downturn in workloads during the first half of 2020. However, the pandemic has led to a shift in people's preference to spend their time indoors, which creates a critical requirement of ventilation and cooling. The COVID-19 pandemic stimulated the need to create a healthy environment in residential, office, and public spaces, which accelerated the demand for opening elements for curtain wall façades. Since the onset of the pandemic and the consequent restart of commercial activities, building occupants have a higher requirement of circulation of fresh air, access to outdoor spaces, and lower density for physical distancing. Therefore, the global façade market is expected to regain momentum in the post-COVID-19 scenario due to its efficient functionality in ventilation, lighting, and cooling applications.
The enactment of lockdowns and travel restrictions, shutdown of production facilities, and shortage of employees had adversely affected the performances of major players in the construction and real estate industries in North America. Notably, the construction industry in the US witnessed the most severe impact of the COVID-19 pandemic in 2020 through labor shortage, suspension and cancellation of projects, and disrupted supply and logistics. This created a negative short-term impact on the North America façade market. However, owing to the inherent properties of modern façades that improve ventilation and cooling of the building, the infrastructurally sound region has been swift in the adoption of façade systems in the construction of new buildings. Prominent players in the façade market in North America are actively taking initiatives and signing projects to accelerate market growth in the post-pandemic period, i.e., mid-2020. In September 2021, Atlas Holdings, in Greenwich (US), acquired Permasteelisa Group. Atlas Holdings owns and operates 22 manufacturing and distribution companies across the world. In July 2020, Enclos Corp. was recognized as the 2020 Specialty Contractor of the Year by ENR Southwest for consistent regional development and numerous accomplishments. The recently constructed Allegiant Stadium and major developments in the works at Resorts World Las Vegas and circa have all contributed to the region's façade market growth.
Axis Facades; Bouygues SA; Enclos Corp.; JML (UAE) LLC; PERMASTEELISA S.P.A; ROCKWOOL International A/S; Ramboll Group A/S; Lindner Group; Aluplex India Pvt Ltd; Benson Curtain Wall (MiTek Industries, Inc.); seele verwaltungs GmbH; Meinhardt Group; Qingdao REXI Industries Co.,Ltd; YKK AP FAÇADEPTE LTD; and Lindner Prater Limited. are among the key players profiled in the global façade market.
Façade Market – by Geography, 2020 and 2028 (%)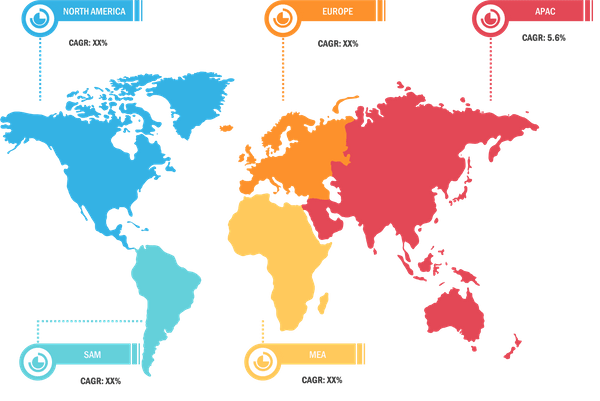 Contact Us
Contact Person: Sameer Joshi
Phone: +1-646-491-9876
Email Id: sales@theinsightpartners.com