Anemia Segment to Register Highest CAGR in Ferritin Testing Market During 2020–2027
According to our latest study on "Ferritin Testing Market Forecast to 2027 – COVID-19 Impact and Analysis – by Indication and End User," the market was valued at US$ 372.05 million in 2019 and is projected to reach US$ 556.19 million by 2027; it is expected to grow at a CAGR of 5.3% from 2020 to 2027. The report highlights the key factors driving the market growth and prominent players with their developments in the market.
Based on indication, the ferritin testing market is segmented into anemia, hemochromatosis, pregnancy, and lead poisoning. The anemia segment held the largest share of the market in 2019. The growth is ascribed to the rising malnutrition in developing countries, aging population, changing dietary habits, and lack of awareness regarding iron deficiency.
In North America, the US is profoundly affected by the outbreak of COVID-19. The country has marked the highest number of positive cases. Across the nation, various healthcare research centers are working on COVID-19 therapeutics. Additionally, during the initial phase of COVID-19 crisis, lockdowns and supply chain disruptions negatively impacted the demand for ferritin testing.
The growth of the ferritin testing market is attributed to the growing burden of iron deficiency disorders, and increasing prevalence of iron deficiency in aging population. However, the availability of advanced technologies hinders the growth of this market. Eurolyser Diagnostica GmbH, Cortez Diagnostics Inc., bioMérieux SA, Doctorcall, Aviva Systems Biology Corporation, Biopanda Reagents Ltd, Monobind Inc., Orgentec Diagnostika, Thermo Fisher Scientific Inc, and Sekisui Diagnostic are among the leading companies operating in the global ferritin testing market.
Ferritin Testing Market, by Region, 2019 (%)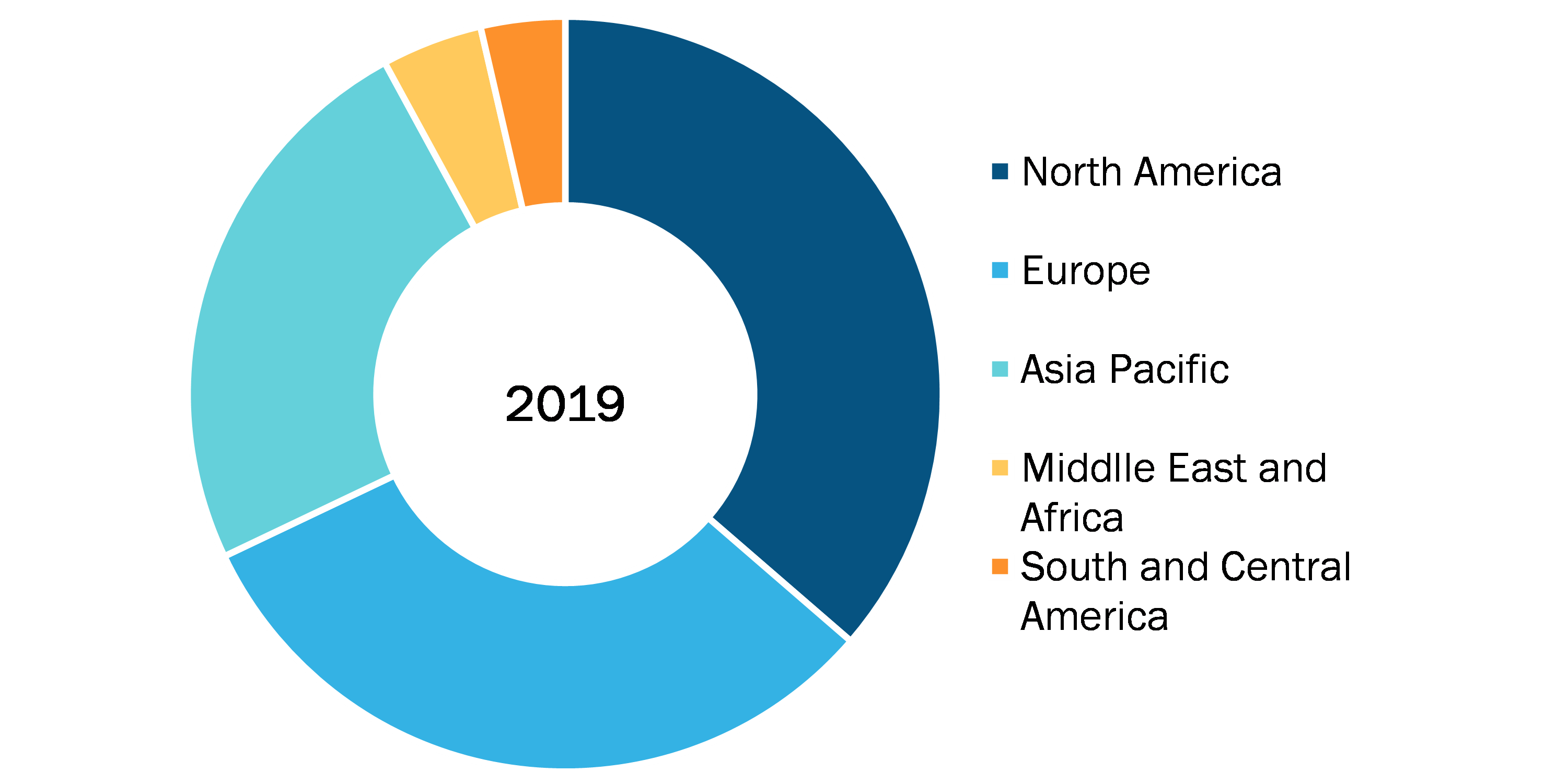 The report segments global ferritin testing market as Follows:
By Indication
Anemia

Hemochromatosis

Pregnancy

Lead Poisoning
By End User
Hospitals

Diagnostic Laboratories

Specialty Clinics
By Geography
North America

Europe

France

Germany

UK

Spain

Italy

Rest of Europe

Asia Pacific (APAC)

China

India

Japan

Australia

South Korea

Rest of APAC

Middle East and Africa (MEA)

Saudi Arabia

UAE

South Africa

Rest of MEA

South and Central America (SCAM)

Brazil

Argentina

Rest of SCAM
Contact Us
Contact Person: Sameer Joshi
Phone: +1-646-491-9876
Email Id: sales@theinsightpartners.com