Increasing Demand for Protein Rich Animal Feed to Drive Fishmeal Market Growth during 2021–2028
According to our latest market study on "Fishmeal Market Forecast to 2028 – COVID-19 Impact and Global Analysis – by Source (Salmon, Mackerel, Anchovy, Capelin, and Others) and Application (Animal Feed, Agriculture, and Others)," the market was valued at US$ 8,153.6 million in 2020 and is projected to reach US$ 15,264.6 million by 2028; it is expected to grow at a CAGR of 8.3% from 2021 to 2028.
Fishmeal is produced using fish by-products from the food processing and filleting industries. It is mainly used as a high protein (60–72%) ingredient in feed produced for farmed animals and aquaculture species. The demand for fishmeal exceeds the supply for it; therefore, the feed industry has considerably changed the composition of fishmeal in feed. The fishmeal market has witnessed the growth over historic period owing to the development of aquaculture due to rising demand for seafood products and increasing reliance on aquaculture by developing countries to resolve food scarcity. Also, fishmeal is sustainable in nature as it is produced from waste components of other industry. Therefore, it is a part of various environmental conservation programs. The market is thereby benefitting from sustainable practices, such as organic farming.
The industrialization of animal farming has increased the demand for protein-rich animal feed ingredients to raise the feed conversion rate. Industrially raised livestock are mainly fed on concentrates made from cereal and vegetable protein such as soybean meals to assist them in gaining weight and producing protein-rich meat. Farm animals depend on proteins and other elements as building blocks essential for growth. Proteins in animal feeds are an excellent energy source and essential amino acids, such as lysine and methionine. The growing awareness about the health benefits of proteins on animal health has created a substantial demand for various protein feeds, such as animal protein meals, feather meals, fishmeal, bone meal, and blood meal. Fishmeal is a rich source of protein, minerals, and fatty acids and is easily digested by the livestock upon consumption. High-quality fishmeal enables the formulation of nutrient-dense livestock diets, promoting their optimal growth. As livestock and farm animals contribute significantly to the global food supply chain, the demand for protein-rich nutritious animal feed is rising and is expected to continue during the forecast period. The constantly burgeoning demand for protein-rich animal feeds to promote growth in livestock at all stages of life is driving the overall fishmeal market substantially.
A few of the major key players operating in the global fishmeal market are TripleNine, The Scoular Company, FF SKAGEN A/S, Pelagia AS, Soytex LTD, Pesquera Diamante S.A., TASA, Oceana Group Limited, Omega Protein Corporation, and COPEINCA.
Impact of COVID-19 Pandemic on Fishmeal Market
The ongoing COVID-19 pandemic has affected economies and industries in various countries due to lockdowns, travel bans, and the shutdown of production facilities. The animal feed and aquaculture industries are amongst the worst hit sectors from this pandemic, going through severe disruptions, such as supply chain breaks and the shutdown of production plants. The shutdown of various plants and factories in various regions, such as North America, Europe, and Asia-Pacific, has affected the global supply chain and negatively impacted the manufacturing, delivery schedules, and sales of various animal feed ingredients and raw materials for agrochemicals. Additionally, the global travel bans imposed by countries in Europe, Asia, and North America are affecting the business collaborations and partnership opportunities. All these factors negatively impact the fishmeal market and, thus, act as a restraint in its growth.
The COVID-19 pandemic has negatively impacted the fisheries industry with disruptions in its supply chain. The decline in the demand for seafood has resulted in the decreased production of fish. Low fish demand reduced fish fleet activities, which negatively impacted the production of fish by-products, especially fishmeal. However, with the launch of vaccination drives globally, the economies are reviving, and industries are witnessing demand for their products. Various governments are also taking initiatives to minimize the loss of the fisheries industry due to this pandemic. With this, the fishmeal market is expected to witness growth in the coming years.
Fishmeal Market Breakdown – by Region, 2020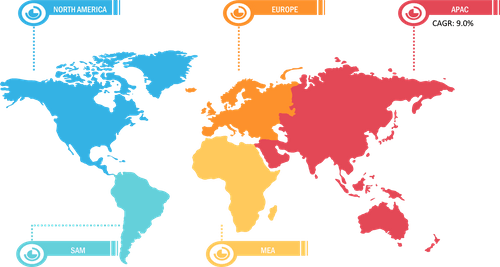 The report segments the fishmeal market as follows:
Based on source, the global fishmeal market is segmented into salmon, mackerel, anchovy, capelin, and others. By application, the market is segmented into animal feed, agriculture, and others. Based on geography, the fishmeal market is segmented into North America, Europe, Asia-Pacific (APAC), Middle East and Africa (MEA), and South America (SAM).

Contact Us
Contact Person: Sameer Joshi
Phone: +1-646-491-9876
Email Id: sales@theinsightpartners.com