Market for Interferon Gamma Released Assay (IGRA) to Grow at Highest CAGR during 2020–2027
According to our new market research study on "Latent TB Detection Market to 2027 – COVID-19 Impact and Global Analysis – by Test and End User," the market is expected to reach US$ 1,684.86 million in 2027 from US$ 1,131.82 million in 2019. The market is estimated to grow with a CAGR of 5.2% from 2020-2027. The growth of the market is attributed to the increasing prevalence of tuberculosis and government initiatives to promote tuberculosis detection. However, multidrug resistant tuberculosis (MDR-TB) is likely to hamper the growth of the market to a certain extent.
Based on test, the latent TB detection market was segmented into Tuberculin Skin Test (TST) and Interferon Gamma Released Assay (IGRA). In 2019, the Interferon Gamma Released Assay (IGRA) segment accounted for the highest share in the market and is likely to retain its dominant share. Also, the similar segment is expected to witness fastest growth in the market owing to the accuracy obtained through these tests. The IGRA test has numerous advantages over the TST of not needing the patient to return for test result evaluation. Current IGRAs do not cross-react with most non-TB mycobacteria, including Bacille Calmette-Guerin (BCG) strains.
Tuberculosis (TB) can stay dormant for years before developing into an active TB disease. This condition is known as latent TB. Diagnosis of latent TB is imperative, as it will develop into infectious TB disease when the immune system becomes weak. The World Health Organization (WHO) stated that a total of 1.4 million people died from TB in 2019, making TB one of the top 10 causes of mortality in the world. The data also stated that in 2019 TB affected 10 million people in the world, of which 56% were adult males, 32% were adult females, and 12% were children. The disease is prevalent in all age groups worldwide. Furthermore, according to the Global Health Education (GHE), a UK-based registered charity, the high TB burden countries accounted for 86% of the estimated cases worldwide. India, Indonesia, China, the Philippines, Pakistan, Nigeria, Bangladesh, and South Africa are among the countries that are highly affected with TB. Therefore, the high prevalence of TB is driving the need for TB tests, in turn, propelling the growth of the latent TD detection market.
The COVID-19 pandemic was first reported in December 2019 in Wuhan (China). The COVID-19 pandemic has threatened the national TB programs worldwide. The WHO have also notified that pandemic is threatening to reverse global progress against tuberculosis. The COVID-19 response has affected multiple sectors of public health, recommended preventive screening, and clinical care around the globe.
QIAGEN, BioMeriux S.A., F. Hoffmann La-Roche Ltd., BD, ARKRAY, Inc., Abbott, Serum Institute of India Pvt. Ltd, Oxford Immunotec Ltd, Lionex GmbH are among the leading companies in the latent TB detection market.


Latent TB Detection Market, by Region, 2019 (%)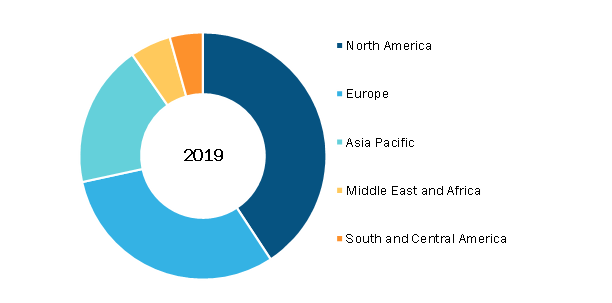 The Report Segments Latent TB Detection Market as Follows:

By Test
Tuberculin Skin Test (TST)

Interferon Gamma Released Assay (IGRA)
By End User
Hospitals

Diagnostic Centers

Laboratories

Others
By Geography
North America

Europe

France

Germany

UK

Spain

Italy

Asia Pacific (APAC)

China

India

Japan

Australia

South Korea

Middle East and Africa (MEA)

Saudi Arabia

UAE

South Africa

South and Central America (SCAM)
Contact Us
Contact Person: Sameer Joshi
Phone: +1-646-491-9876
Email Id: sales@theinsightpartners.com