The industrial starch market is expected to reach US$ 98,426.74 million by 2028; registering at a CAGR of 6.5% from 2022 to 2028, according to a new research study conducted by The Insight Partners.
Increased Demand from Food and Beverage Industry Drives Industrial Starch Market Growth
The report highlights key factors driving the market growth and prominent players and their key developments in the market.
Starch is a naturally occurring, biodegradable, economic, and abundantly available polysaccharide molecule. It is widely distributed in the form of tiny granules as the major reserve carbohydrate in stems, grains, roots, and fruits of all forms of green-leafed plants. Cereal grains, such as corn, wheat, sorghum, and tubers, and roots, such as potato, tapioca, and arrowroot,, are some of the commercial sources of starch for industrial exploitation. Industrial starch has various functional characteristics, including thickeners, sizing, stabilizers, fat replacers, and binding in various food and non-food applications. Industrial starch is manufactured using various sources, including cassava, corn, potato, and wheat. Moreover, starch derivatives are used as an effective fermentation base for the mass production of various biotechnological products such as vitamins, organic acids, hormones, and antibiotics.
Starch can be used to develop bioplastics due to its high polysaccharide content. Amylose in starch causes retrogradation and gelatinization, which are crucial for film formation. Moreover, the thermoplastic properties of starch are favorable for bioplastic production. The biodegradability of starch-based plastics makes them a sustainable alternative to conventional petroleum-based plastics. Manufacturers are investing in research and development to develop starch-based bioplastics with properties that resemble conventional plastics. For instance, in December 2018, AGRANA Beteiligungs-AG, a Europe-based manufacturer of industrial products, developed a bioplastic with a 50:50 blend of thermoplastic starch and biodegradable polyester. According to the TÜV-certified compost test, the product is completely biodegradable and leaves no microplastic residues. Thus, the increasing use of starch for the development of industrial bioplastics and biodegradable materials is expected to create lucrative opportunities in the industrial starch market during the forecast period.
Although in 2021, the food industry held the largest share of the industrial starch market, industrial starch is also increasingly used in various other end-use applications, such as building materials, paper, pharmaceuticals, and cosmetics. In addition, native starch is used in a variety of applications. However, due to its structure, it is restricted in some applications such as building materials, paper, cosmetics, and pharmaceuticals. Industrial starches are used in different food types such as baby foods, baked food, snacks, and confectionaries. The demand for industrial starch is increasing for bakery and other convenience food products. Due to their functional properties, native starches are considered essential ingredients in the industry. Some key functions include shelf-life extension, preventing undesired hydration, rendering the desired texture and mouthfeel, and encapsulating other ingredients.
Agrana Beteiligungs-AG; ADM; Ingredion Incorporated; Roquette Frères; Tereos Group; Cargill, Incorporated; Tate & Lyle PLC; Grain Processing Corporation; Royal Cosun; and AVEBE are among the key players that collectively hold the majority of the industrial starch market share.
Impact of COVID-19 Pandemic on Industrial Starch Market
The COVID-19 pandemic led to adverse effects on the global food and beverage industry due to the shutdown of manufacturing facilities, challenges in procuring raw materials and components, and restrictions on logistic operations. Disruptions in the supply of raw materials to manufacturers and containment measures hampered industrial starch production. The discontinuation of operations and value chains due to the shutdown closure of national and international boundaries hampered the growth of the packaging, consumer goods, automotive and transportation, textiles, and building & construction industries. However, many businesses started gaining ground as governments worldwide eased out the previously imposed restrictions from 2021. Further, end-use industries are increasingly focusing on using eco-friendly and sustainable products, encouraging manufacturers to focus on developing industrial starch products.
Industrial Starch Market Size, by Region, 2021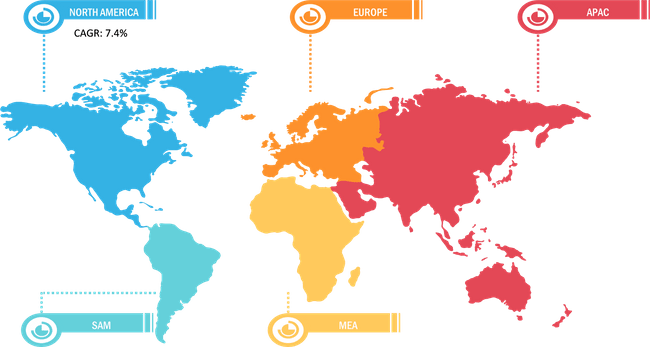 ---
---
Industrial Starch Market Forecast to 2028 - COVID-19 Impact and Global Analysis By Type (Native Starch and Starch Derivatives & Sweeteners), Source (Wheat, Corn, Potato, Cassava, and Others), and Application (Food & Beverages, Pulp & Paper, Animal Feed, Pharmaceuticals, and Others)
The "Industrial Starch Market Analysis to 2028" is a specialized and in-depth study of the food & beverage industry, focusing on the industrial starch market trend analysis. The report aims to provide an overview of the industrial starch market with detailed segmentation. The industrial starch market is segmented on the basis of type, source, application, and geography. Based on type, the market is segmented into native starch and starch derivatives & sweeteners. Based on source, the industrial starch market is segmented into wheat, corn, potato, cassava, and others. Based on application, the industrial starch market is segmented into food & beverages, pulp & paper, animal feed, pharmaceuticals, and others. Based on geography, the industrial starch market is segmented into five main regions North America, Europe, Asia Pacific, the Middle East & Africa, and South & Central America. In 2021, Asia Pacific dominated the industrial starch market.
Contact Us
Download Free PDF Brochure
---
Related Readings
---