Market for Breast Tomosynthesis Systems to Grow at Highest CAGR during 2020–2027
According to our latest study on "Mammography Systems Market Forecast to 2027– COVID-19 Impact and Global Analysis– by product, technology, and end user," the market was valued at US$ 2,172.8 million in 2019 and is projected to reach US$ 3,790.5 million by 2027; it is expected to grow at a CAGR of 7.4% during 2020–2027. The report highlights trends prevailing in the global mammography systems market, and the drivers and hindrances pertaining to the market growth.
The global mammography systems market, based on product, is segmented into full field digital mammography systems, breast tomosynthesis systems, and analog systems. The full field digital mammography systems segment held the largest share of the market in 2019, and this growth is ascribed to the increasing adoption of advanced devices for breast examinations and growing number of modern diagnostic imaging facilities. However, the breast tomosynthesis systems segment is estimated to register the highest CAGR during the forecast period. Also, the COVID-19 pandemic has negatively impacted the global market. A few of the countries have almost stopped breast screening and diagnostics, while other hospitals around the globe are prioritizing treatments only for the patient who require urgent immediate care. Social distancing measures imposed in various regions are leading to reduction in workforce in mammography settings, thereby impacting number of screening tests performed.
The growth of the mammography systems market is attributed to factors such as growing prevalence of breast cancer, and increasing public–private investments, grants, and funds. However, the concerns associated with mammography such as false results, and radiation restrain the growth of the market. Carestream Health Inc.; General Electric Company; Hologic, Inc.; Koninklijke Philips N.V.; PLANMED OY; Fujifilm Corporation; IMS Giotto S.P.A.; Canon Medical Systems; Siemens Healthineers AG; and Metaltronica S.p.A are among the leading companies operating in the global mammography systems market.
Mammography Systems Market, by Region, 2019 (%)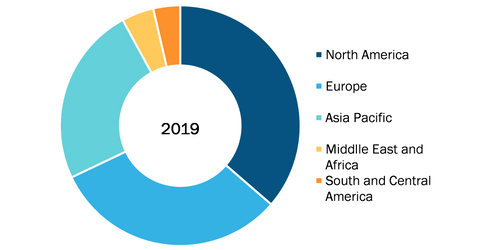 The report segments global mammography systems market as follows:
By Technology
By End User
By Geography
North America

Europe

France

Germany

UK

Spain

Italy

Rest of Europe

Asia Pacific (APAC)

China

India

Japan

Australia

South Korea

Rest of APAC

Middle East and Africa (MEA)

Saudi Arabia

UAE

South Africa

Rest of MEA

South and Central America (SCAM)

Brazil

Argentina

Rest of SCAM
Contact Us
Contact Person: Sameer Joshi