Packets Segment to Grow at Faster CAGR during 2019–2027
According to our new research study on "Medical Foods for Inborn Errors of Metabolism Market Forecast to 2027- Covid-19 Impact and Global Analysis by Product, Age group, Disease, Forms, Packaging, and Distribution Channel" the market is expected to reach US$ 5,768.79 million in 2027 from US$ 2,507.80 million in 2019; it is estimated to grow at a CAGR of 11.2% from 2020 to 2027. The report highlights trends prevailing in the market, and the factors driving and hindering the market growth. The growth of the global medical foods for inborn errors of metabolism market is attributed to the increasing incidence of inborn errors of metabolism and increasing preference towards dietary food supplements. However, limitations associated to medical foods for inborn errors of metabolism is the major factor hindering the market growth.
Based on packaging, the global medical foods for inborn errors of metabolism market is segmented into can, jar, packet, bottle, and others. The can segment held the largest share of the market in 2019. However, the packets segment is expected to grow at the highest CAGR during the forecast period. The ease of use provided by packet packaging offer lucrative opportunities for the growth of packet segment.
The global medical foods for inborn errors of metabolism market is expected to witness substantial growth post-pandemic. The COVID-19 has affected economies and industries in various countries due to lockdowns, travel bans, and business shutdowns. The COVID-19 crisis has overburdened public health systems in many countries and highlighted the strong need for sustainable investment in health systems. As the COVID-19 pandemic progresses, the healthcare industry is expected to see a drop in growth. The life sciences segment thrives due to increased demand for invitro diagnostic products and rising research and development activities worldwide. However, the medical technologies and imaging segment is witnessing drop in sales due to a smaller number of surgeries being carried out and delayed or prolonged equipment procurement. Additionally, virtual consultations by healthcare professionals are expected to become the mainstream care delivery model post-pandemic. With telehealth transforming care delivery, digital health will continue to thrive in coming years. In addition, disrupted clinical trials and the subsequent delay in drug launches is also expected to pave the way for entirely virtual trials in the future. New technologies such as mRNA is expected to emerge and shift the pharmaceutical industry and market is also expected to witness more vertical integration and joint ventures in coming years.
Nestlé Health Science, Abbott, Reckitt Benckiser Group Plc, Ajinomoto Cambrooke, Inc., Solace Nutrition, Primus Pharmaceuticals, Inc., BioMarin Pharmaceutical, Danone SA, Galen Limited and PKU-MDmil are among the leading companies operating in the medical foods for inborn errors of metabolism market.
Medical Foods for Inborn Errors of Metabolism Market, by Region, 2019 (%)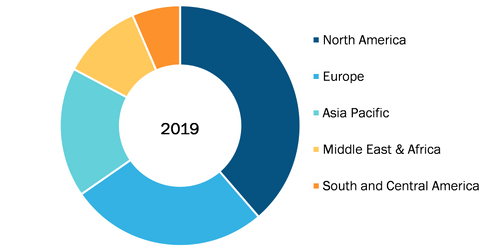 The report segments medical foods for inborn errors of metabolism market as follows:
By Product
Amino Acid

Glytactin with GMP

Amino Acid-Modified Infant Formula With Iron

Low-Calcium/Vitamin D-free Infant Formula With Iron

Low Protein Food

Others
By Age Group
Infants

Weaning

Adolescents

Adults
By Disease
Phenylketonuria(PKU)

Maple Syrup Urine Disease(MSUD)

Homocystinuria

Urea Cycle Disorders

Methylmalonic Acidemia

Organic Acidurias

Propionic Acidemia

Isovaleric aciDemia

Disorders of Leucine Metabolism

Glutaric Acidemia Type I

Renal Disease

Tyrosinemia Types I and II

Others
By Forms
By Packaging
Can

Jar

Packets

Bottle

Others
By Distribution Channel
Retail Pharmacies

Hospital Pharmacies

Online Pharmacies

Drugstores

Others
By Geography
North America

Europe

France

Germany

UK

Spain

Italy

Rest of Europe

Asia Pacific (APAC)

China

India

Japan

Australia

South Korea

Rest of APAC

Middle East & Africa (MEA)

Saudi Arabia

UAE

South Africa

Rest of MEA

South and Central America (SCAM)

Brazil

Argentina

Rest of SCAM
Contact Us
Contact Person: Sameer Joshi
Phone: +1-646-491-9876
Email Id: sales@theinsightpartners.com