Medical Second Opinion Marketfor Orthopedic Diseases to Grow at FastestCAGR duringForecast Period
According to our new marketresearch study on "Medical Second Opinion Marketto 2027 ? GlobalAnalysis and Forecast by Disorder and Service Provider,"the market is expected to reach US$ 10,739.48 million in 2027 from US$ 3,204.57 millionin2019; it is estimated to grow at a CAGR of 16.8% from 2020 to 2027. The report highlightstrends prevailing in the global medical second opinion marketand the driversand restraints pertaining to the market growth.
Based on disorder, theglobal medical second opinion market is segmented into cancer,orthopedic disorders, cardiac disorders, neurological disorders, nephrologicaldisorders, hematologic blood disorders, chronic obstructive pulmonary diseases(COPD), organ transplants, and other diseases. The cancer segment held thelargest share of the market in 2019. However, orthopedic disorders segment isestimated to register the highest CAGR in the market during the forecast period.Increasing prevalence of orthopedic conditions, and growing focus on improvingaccuracy of diagnosis and treatment are the factors boosting the market for theorthopedic disorder segment.
The global medical secondopinion market growth is mainly attributed to factors such asincreasingprevalence of chronic diseases, growing emphasis on superior treatmentoutcomes, and rising preference for healthcare cost optimization. However, the lackof awareness and reluctance toward opting for medical second opinion in emergingnations hinders the growth of the market.
Medisense HealthcareSolutions Pvt. Ltd.; Second Opinion International; Elite Medical Services;Cigna; Helsana; WorldCare; Vidal Health Insurance TPA Pvt Ltd; Medix; 2nd.MD;and AXAare among the leading companies operating in the medical second opinionmarket.
Global Medical Second Opinion Market, By Region, 2019 (%)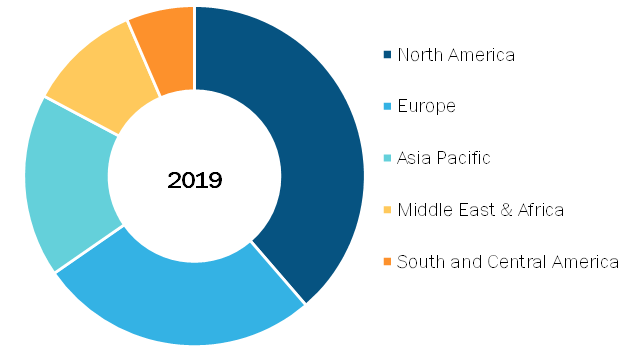 The report segments global medical second opinion marketasfollows:
Cancer

OrthopaedicDisorders

CardiacDisorders

NeurologicalDisorders

NephrologicalDisorders

HematologicBlood Disorders

ChronicObstructive Pulmonary Diseases (COPD)

Organ Transplants

Other Disorders
By Service Providers
By Geography
North America

Europe

France

Germany

UK

Spain

Italy

Asia Pacific(APAC)

China

India

Japan

Australia

South Korea

Middle East andAfrica (MEA)

Saudi Arabia

UAE

South Africa

South andCentral America (SCAM)
Contact Us
Contact Person: Sameer Joshi
Phone: +1-646-491-9876
Email Id: sales@theinsightpartners.com