Homecare Segment to Lead Mobility Aids Market Based on End User During 2022–2030
According to our new research study on "Mobility Aids Market Forecast to 2030 – Global Analysis – by Product Type, Application, End User, Distribution Channel, and Geography," the mobility aids market size was valued at US$ 7,554.74 million in 2022 and is projected to reach US$ 13,344.61 million by 2030; the market is expected to register a CAGR of 7.4% from 2022 to 2030. Key factors driving the mobility aids market growth are the increasing geriatric population and rising mobility impairment disorder cases. Additionally, the development in the design of mobility aids, such as lightweight and compactness, is likely to fuel the growth of the market in the forecast period.
Based on end user, the mobility aids market is segmented into homecare, hospitals and clinics, rehabilitation centers, and ambulatory surgical centers. The homecare segment held the largest share of the market in 2022. According to a study published by the World Health Organization in 2020, ~1 billion people across the globe are suffering from some kind of mobility challenge. The same study states that low- and middle-income countries together account for a majority number of patients with challenged mobility. Homecare plays a crucial role in aiding mobility and ensuring the independence of patients who prefer to receive treatments at their homes. Many people, including elderly people and individuals with disabilities, prefer to remain at home while receiving healthcare services. As more individuals choose to receive healthcare services in their homes to cut down hospital costs, the need for mobility aids becomes more prominent. The increasing prevalence of conditions such as muscle injuries, spinal cord injuries, and muscular dystrophy is also likely to boost the growth of the mobility aid market for the homecare segment. In addition, the burgeoning cases of age-related conditions such as orthopedic conditions also support the growth of the mobility aid market for the homecare segment. Aids such as walkers and canes help improve mobility and reduce the risk of falls or accidents of individuals undergoing treatments for the abovementioned conditions at their homes.
Mobility Aids Market, by Region, 2022(%)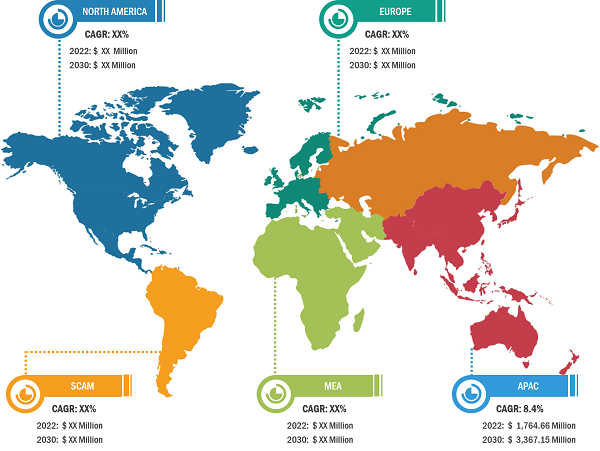 ---
---
Mobility Aids Market Size and Forecasts (2020 - 2030), Global and Regional Share, Trends, and Growth Opportunity Analysis Report Coverage: By Product Type (Wheelchairs and Walking Aids), Application (Neurologically Impaired, Handicap Patients, and Other Applications), End User (Hospitals and Clinics, Rehabilitation Centers, Ambulatory Surgical Centers, and Homecare), Distribution Channel (Online and Offline), and Geography (North America, Europe, Asia Pacific, Middle East & Africa, and South & Central America)
Source: The Insight Partners Analysis
The hospitals and clinics segment is expected to register the highest CAGR during 2022–2030. Hospitals provide healthcare facilities with specialized scientific equipment. In hospitals, teams of trained and highly skilled staff members are assigned to resolve the problems associated with modern medical sciences in hospitals. Hospitals offer advanced treatment choices for patients to treat chronic and hard-to-heal wounds. Most surgeries are performed in hospitals due to their continuous patient care and monitoring services. Individuals requiring mobility aids for post-surgery recovery, injury rehabilitation, and managing chronic health conditions also seek assistance from hospitals. Hospitals, with their advanced infrastructure and specialized departments, are well-equipped to provide comprehensive care, including the provision of mobility aids. Additionally, the availability of advanced equipment in hospitals such as remote-controlled wheelchairs and innovative gadgets capable of upgrading the quality of patient care is another reason for patients' preference to take treatments at hospitals.
Clinics serve as the primary setting where individuals seek medical care, diagnosis, and treatment for various conditions. With expertise in specific medical fields, patients' mobility needs are assessed at clinics, based on which the qualified personnel appointed in these facilities recommend aids. Moreover, clinics play a significant role in promoting the use of mobility aids alongside providing essential services, expertise, and accessibility to patients in need of assistance.
Based on region, the mobility aids market is primarily segmented into North America, Europe, Asia Pacific, South & Central America, and the Middle East & Africa. Asia Pacific is anticipated to register the highest CAGR in the market during 2022–2030 attributed to the growing geriatric population in Asian countries. China, India, and Japan are three major contributors to the growth of the market in this region. Based on projections from the Population Reference Bureau, 366 million people in China are estimated to be aged 65 or more by 2050. As per the article titled "Japan's aging population is ticking towards disaster," published in January 2023, the elderly population aged 65 or above accounted for 29.1% of the total population in Japan in 2021, and the number is anticipated to rise to ~33% by 2036. More than 1 in 10 people in the country are aged 80 or older.
Moreover, innovative product development is likely to favor the market growth. For instance, in November 2019, IIT Madras along with Phoenix Medical Systems launched India's first indigenously designed "Standing Wheelchair" that enables a specially-abled person requiring a wheelchair to independently shift from sitting to standing position, and vice versa. The wheelchair allows these movements in a controlled manner. In June 2023, Jin Medical International Ltd., a holding company in the Cayman Islands with Chinese operating entities, introduced a new ultralight electric wheelchair model and a new electric mobility vehicle model for the aging population. The two new versions have been developed in collaboration with Nanjing Tech University, which is a top-tier university and is known for its training programs for engineers in China.
Invacare Corporation; Medline Industries, Inc; NOVA Medical Product; Stryker Corporation; Sunrise Medical LLC; Otto Bock HealthCare; Karman Healthcare; Carex Health Brands Inc.; Pride Mobility Products Corporation; and ETAC AB are among the leading companies operating in the mobility aids market.
Based on product type, the mobility aids market is bifurcated into wheelchairs and walking aids. In terms of application, the market is segmented into neurologically impaired, handicapped patients, and other applications. The mobility aids market, by end user, is categorized into homecare, hospitals and clinics, rehabilitation centers, and ambulatory surgical centers. In terms of distribution channel, the market is segmented into online and offline. The mobility aids market, by geography, is segmented into North America (US, Canada, and Mexico), Europe (France, Germany, UK, Spain, Italy, and Rest of Europe), Asia Pacific (China, India, Japan, Australia, South Korea, and Rest of APAC), the Middle East & Africa (Saudi Arabia, the UAE, South Africa, and Rest of MEA), and South & Central America (Brazil, Argentina, and Rest of South & Central America).
Contact Us

Phone: +1-646-491-9876
Email Id: sales@theinsightpartners.com
Download Free PDF Brochure
---
Related Readings
---