Infectious Diseases Segment to Hold Largest Market Share by Application During 2021–2028
According to our new research study on "Molecular Quality Controls Market Forecast to 2027 – COVID-19 Impact and Global Analysis – by Product, Application, Analyte Type and End User," the market is expected to reach US$ 372.64 million in 2028 from US$ 184.62 million in 2021; it is estimated to grow at a CAGR of 10.6% during 2021–2028. The report highlights trends prevailing in the market and factors driving its growth. The growth of the molecular quality controls market is mainly attributed to the factors such as growing funds for genomics, declining cost of sequencing procedures, and increasing prevalence of genetic diseases fuel the growth of the market. However, the dearth of skilled professionals hinders the market growth.
Based on application, the molecular quality controls market is segmented into infectious diseases, oncology, genetic testing, and other applications. The infectious diseases segment held the largest share of the market in 2020, whereas the oncology segment is anticipated to register the highest CAGR in the market during the forecast period. Infectious diseases segment is expected to capture significant market share owing to high incidences of infectious disease outbreaks all over the world, technological advancements in molecular diagnostic testing and product developments by the market players. For instance, in 2018, Microbiologics Inc. launched 8 quality control products: Human Papillomavirus (HPV) Control Panel, Vaginal infection Control Panel, Blood Culture (BCID) Control Panel, Enteric Viral Control Panel and others.
Thermo Fisher Scientific Inc; Bio-Rad Laboratories Inc; F. Hoffmann la-Roche Ltd; Abbott; Quidel Corporation; Qnostics; Maine Molecular Controls Inc; Zeptometrix Corporation; Microbiologics, and Seracare Life Sciences are among the leading companies operating in the molecular quality controls market.
Molecular Quality Controls Market, by Region, 2020 (%)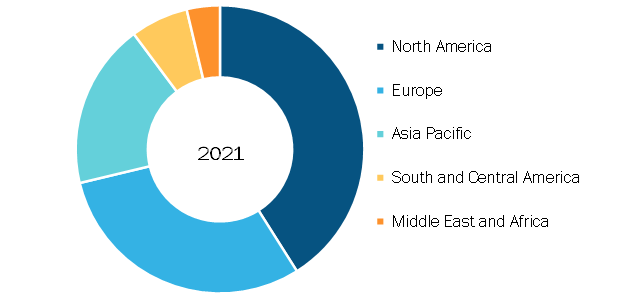 The report segments the molecular quality controls market as follows:
By Product
By Analyte Type
By Application
By End User
By Geography
Contact Us
Contact Person: Sameer Joshi
Phone: +1-646-491-9876
Email Id: sales@theinsightpartners.com