Large EnterprisesSegment to DominateNorth AmericaTowing SoftwareMarket during 2020–2027
According to The Insight Partners market research study on "North America Towing Software Market Forecast to 2027 – COVID-19 Impact and Analysis – by Deployment (Web-Based and Cloud) and Enterprise Size (Large Enterprises, and Small and Medium Enterprises); and Countries"is expected to reach US$ 76.5Mn by 2027 from US$ 56.3Mn in 2019. The market is estimated to grow at a CAGR of 4.3% from 2020 to 2027.Installation of towing software on the smartphones of drivers enables them to access the software in a truck. The software helps them to easily locate the customers, know traffic status on their route, and select alternative routes.
Towing software plays a vital role in professional towing and roadside carrier management. It helps make a dispatch process more organized and assists in the logistics management. The software also helps companies to efficiently handle sequential routing, miscalculations, and data design problems. Additionally, timely alarms and notifications increase the accountability of truck drivers. Towing software also helps send invoices and payment details to customers through fax or email.
Towing companies need to monitor every vehicle in consignment. Further, availability of information of the gear required for each towing is also essential. The companies also need to receive continuous calls from clients. There is an uncertainty on the number of calls they may receive on a particular day, as several of them work 24×7. Thus, towing companies need to have a quick customer query resolution ability to maintain continuity in operations, and towing software helps them to provide improved user experience.
The North America region consists of developed economies such as the U.S. and Canada and developing economy Mexico. The region is highly developed and has a leverage over other geographies in adoption of advanced technologies. The software industry at a global level is booming at a fast pace from single-digit to double-digit. Moreover, with an increase in the usage of automated solutions in various industries to simplify business operations, the demand for software solutions is experiencing exponential growth in North America. This has raised the adoption of cloud-based software as well. Cloud technology provide massive data storage space and enables companies to access their information from anywhere. Business models are evolving at a fast rate with changing technology trends, more and more cloud service providers are offering services that integrate with the towing ecosystem for efficient operations.
The ongoing COVID-19 outbreak is adversely affecting the business activities and company revenues in the towing software market in North America. The US is a prominent market for towing software; however, the increasing number of confirmed cases and reported deaths in the country has declined the demand for this software. The imposition of business shutdowns and social distancing norms across the US, Canada, and Mexico, among others, is restricting the growth of the towing software market.


North America Towing Software Market, By Country, 2019 and 2027 (%)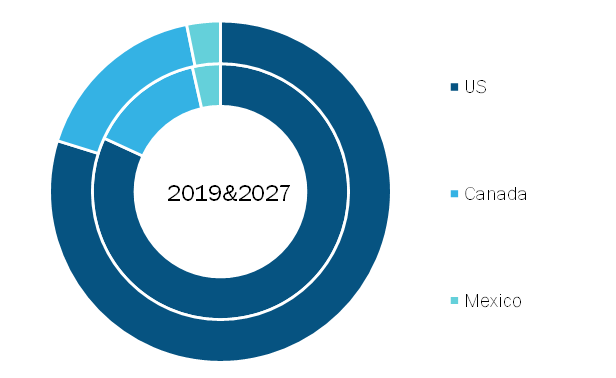 The report segments the North AmericaTowing Softwaremarketas follows:
Towing Software Market – By Deployment
· Web-based
· Cloud
Towing Software Market – By Enterprise Size
· Small & Medium Enterprises
· Large Enterprises
Towing Software Market- By Region
· North America
o US
o Canada
o Mexico


Contact Us
Contact Person: Sameer Joshi