The optical coatings market was valued at US$ 13.38 billion in 2022, registering at a CAGR of 9.0% during 2022–2028, according to a new research study conducted by The Insight Partners.
Rise in Demand for Optical Coatings from Electronics & Semiconductor Industry is Driving Optical Coatings Market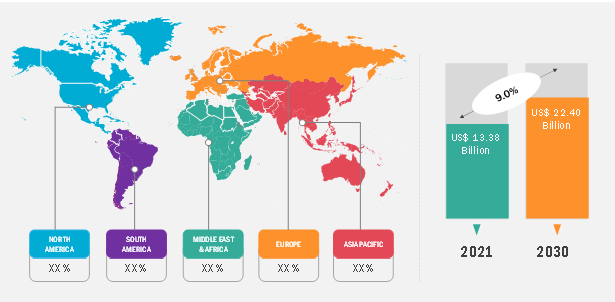 Report : Optical Coating Market Forecast to 2028 - Covid-19 Impact and Global Analysis - by Type (Anti-reflection, High Reflection, Transparent Conductive, Filter, Beamsplitter, Electrochromic, Partial Reflection Coatings); Technology (Vacuum Deposition Technology, E-Beam Evaporation Technology, Sputtering Technology, Ion-Assisted Deposition (IAD) Technology, Others); End-Use Industry (Electronics & Semiconductor, Military & Defense, Automotive, Construction, Solar, Medical, Others)

Source: The Insight Partners Analysis
An optical coating is a thin-film deposit used to enhance transmission, change reflective properties, or change the polarization of light transmitted through an optical component. An optical coating may be a simple layer of metal such as aluminum, or it can be a complex dielectric coating formed by multiple thin layers of material, where the composition, thickness, and number of layers are carefully controlled for a precise result.
The rapid rise in demand for solar photovoltaic (PV), driven by the increasing focus on the generation of clean energy and the growing demand for consumer electronics, is expected to fuel the optical coatings market growth during the forecast period. The growing use of reflective coatings in environmentally friendly buildings for heat retention and reducing energy consumption is expected to fuel their demand over the forecast period. In addition, increasing usage of handheld consoles and rising demand for portable consumer electronics are expected to propel the market growth during the forecast period.
The increasing use of handheld consoles, along with the rising demand for portable consumer electronics, is also expected to boost the growth of the optical coatings market. Growing younger population, higher disposable income, inexpensive internet data, the introduction of new generation gaming genres, and an increased number of smartphones and tablet users are the factor for the increased use of handheld consoles. The development of electronics and electrical sectors, together with a demand for inventive and advanced coatings, is pushing advancements in the optical coatings market. LED lighting, screens, and consumer electronics all need different kinds of optical coatings, including polarizers, bandpass filters, anti-reflective coatings, antiglare coatings, color selection coatings, and high reflectance coatings.
Based on type, the optical coatings market is segmented into anti-reflection, high reflection, transparent conductive, filter, beamsplitter, electrochromic, and others. The anti-reflection segment is expected to grow at the highest CAGR from 2022 to 2028. Anti-reflective coatings are thin-film optical coatings made of several layers of coatings of various refractive indexes within each sheet. They are ideal for glass lens distortion, monitor displays, camera lenses, and eyeglasses used on plastic and glass substrates. The growing demand for anti-reflective coatings for photovoltaic (PV) solar panel production, mirrors, vehicle screens, and GPS navigation systems is expected to fuel the market growth during the forecast period.
The rising demand for cost-effective film coatings such as filter and anti-reflective in laser, biomedical, and defense industries is driving the optical coatings market. Furthermore, the demand for optical coatings is driven by its capacity to provide high-performance and environmentally friendly coatings in end-use industries such as biomedical, wind, aerospace, defense & security, and sensors. Vacuum deposition is the primary technological division in the optical coatings industry, owing to its improved working properties, such as robustness and curing at room temperature. Vacuum deposition also gives the optic part greater mechanical strength and thermal stability.
DuPont de Nemours, Inc.; PPG Industries, Inc.; Nippon Electric Glass Co., Ltd.; Reynard Corporation; Abrisa Technologies; Alluxa, Inc.; Artemis Optical Ltd.; Cascade Optical Corporation; Chroma Technology Corp.; and Coherent Corp. are among the key players profiled in the study of the optical coatings market. Several other major companies were analyzed in this research study to get a holistic view of the market and its ecosystem.
Contact Us
Contact Person: Sameer Joshi
Phone: +1-646-491-9876
Email Id: sales@theinsightpartners.com