University of Wisconsin solution (UW) Segment Held Largest Share of Organ Preservation Solutions Market
According to our new research study on "Organ Preservation Solutions Market Forecast to 2028 – COVID-19 Impact and Analysis – by Solution, Technique, Organ Type, and Geography," the market is projected to reach US$ 367,262.34 thousand by 2028 from US$ 235.56 Million in 2021; it is expected to register a CAGR of 6.5% during 2021–2028. The report highlights trends existing in the market, and drivers and hindrances pertaining to the market growth. Factors such as the need for organ transplantation, the prevalence of chronic diseases leading to kidney failure, and growing geriatric population are the key factors driving the market growth. However, the expensive organ transplant surgeries and limited numbers of donors for organ transplant surgeries are the factors hindering the market growth.
Based on solution, the organ preservation solutions market is segmented into University of Wisconsin solution , custodiol HTK, perfadex, and others. The UW solution segment accounted for the largest market share in 2020. The major use of this solution for the flushing and storage of kidneys, liver, and pancreas is a high request in the segment. The demand for Perfadex is expected to grow significantly in the coming years, and the projected growth of the market for this segment is ascribed to its wide use in the preservation and perfusion of lungs, making it the gold standard for lung storage.
Waters Medical Systems LLC; XVIVO Perfusion; TransMedics, OrganOx Limited; Paragonix Technologies, Inc.; Dr. Franz Koehler Chemie GmbH; Accord Healthcare; 21ST Century medicine; Shanghai Genext Pharmaceutical Technology; and Bridge to Life Ltd.; are among the leading companies operating in the organ preservation solutions market. These companies are adopting inorganic and organic growth strategies to expand their global footprints and product portfolio to meet the rising demands for organ preservation solutions. In February 2021, Bridge to Life Ltd. and Tevosol, Inc. announced their merger to develop and commercialize groundbreaking new products for organ transplantation procedures. Bridge to Life's significant financial commitment to manufacture, trial, and launch Tevosol's portable ex-vivo lung perfusion (EVLP) machine and normothermic organ preservation platform is a highlight of this merger.
Organ Preservation Solutions Market, by Region, 2021(%)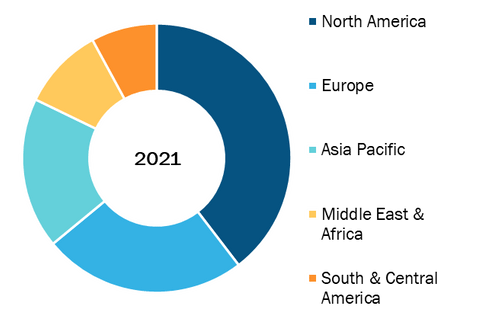 On the basis of solution, the organ preservation solutions market is segmented into University of Wisconsin, solution (UW), custodiol HTK, perfadex, and others. Based on organ type, the market is segmented into kidneys, liver, lungs, heart, and others. By technique, the market is categorized into static cold storage, hypothermic machine perfusion, normothermic machine perfusion, and others. On the basis of geography, the organ preservation solutions market is segmented into North America (the US, Canada, and Mexico), Europe (France, Germany, the UK, Spain, Italy, and the Rest of Europe), Asia Pacific (China, India, Japan, Australia, South Korea, and the Rest of APAC), the Middle East & Africa (Saudi Arabia, the UAE, South Africa, and the Rest of MEA), and South and Central America (Brazil, Argentina, and the Rest of SCAM). 

Contact Us
Contact Person: Sameer Joshi
Phone: +1-646-491-9876
Email Id: sales@theinsightpartners.com