Intestine Organ Type Dominated Global Organoids Market
According to our new research study on "Organoids Market Forecast to 2030 – COVID-19 Impact and Global Analysis – by organ type, application, source, and type," the market was valued at US$ 2,507.28 million in 2022 and is expected to reach US$ 12,206.15 million by 2030. It is anticipated to register a CAGR of 21.9% during 2022–2030.
Organoids, i.e., laboratory-grown organ models developed from stem cells, are emerging tools for disease modeling, studying organ physiology, and drug development. Organoids range from less than a hair's width to 5 mm. According to the International Society for Stem Cell Research, until 2022, 35 human organoid systems have been reported related to nearly 15 organs from the brain to the bladder, comprising the thyroid gland, retina, stomach, blood vessels, and mammary glands.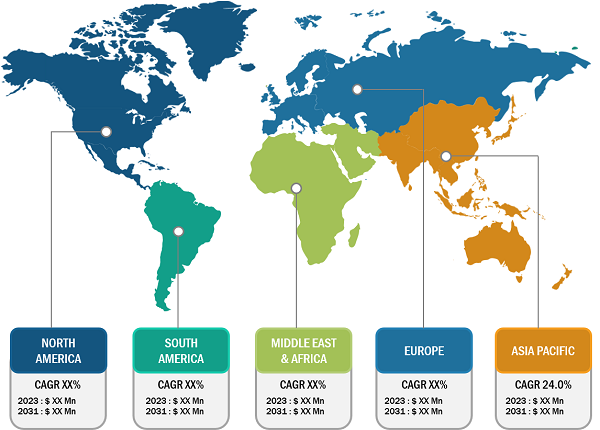 ---
---
Organoids Market Size and Forecasts (2020 - 2030), Global and Regional Share, Trends, and Growth Opportunity Analysis Report Coverage: By Organ Type (Intestine, Liver, Stomach, Pancreas, Lung, Brain, Kidney, and Others), Application (Development of Biology Disease, Pathology of infectious Disease, Regenerative Medicines, Drug Discovery and Personalized Medicine, Drug Toxicity and Efficacy Testing, and Others), Source (Pluripotent Stem Cell and Organ Specific Adult Stem Cell), Type (Instruments, Consumables, and Services), and Geography
The organoids market, by organ type, is categorized into intestine, liver, pancreas, lung, stomach, brain, kidney, and others. In 2022, the intestine segment held the largest share of the market and is estimated to register a significant CAGR of 21.6% during 2022–2030 due to higher adoption of intestine organoids in various applications such as pathogenesis, drug screening, disease modelling, and regenerative medicine. Intestinal organoids exhibit the potential to differentiate between safe and toxic drugs. Funding for life science research and development in organoid products is rising. This research was undertaken by various organizations such as the US National Science Foundation, the Department of Health and Human Services (DHHS), the National Institute of Allergy & Infectious Diseases, and the National Institutes of Health (NIH).
Region Analysis – Organoids Market
The Organoids market is geographically segmented into North America, Europe, Asia Pacific, the Middle East & Africa, and South & Central America. The North American organoids market is segmented into the the US, Canada, and Mexico. The US held the largest share of the market in this region. The market in this region is expected to maintain its dominance during the forecast period owing to the increasing prevalence and incidence of various chronic diseases such as arthritis, COPD, asthma, cancer, and others, rapid technological innovations, and continuous development of healthcare infrastructure.
Many clinical trials are conducted in the US in collaboration with hospitals, research institutes, manufacturing companies, government bodies, etc.
The study titled "Characterization of Biliary Cell-derived Organoids From Bile of PSC and Non-PSC Patients" was conducted for studying primary sclerosing cholangitis and cholangiocarcinoma disease conditions at Mayo Clinic in Rochester, Rochester, Minnesota, US.
Study titled "Novel 3D Hematological Malignancy Organoid to Study Disease Biology and Chemosensitivity" was conducted for preventive treatment of hematologic malignancy at Wake Forest Baptist Comprehensive Cancer Center, Winston-Salem, North Carolina, US.
The higher demand for new and advanced drugs drives the overall pace of drug discovery, research, and development. According to ClinicalTrials.gov, the number of clinical trial studies in 2020 was estimated to be 356,282. A recent survey by the Hubrecht Institute states that organoids can potentially make expensive treatment drugs more cost-effective by identifying patients who are not likely to benefit from the drug. An increasing number of clinical trials worldwide is expected to fuel the demand for advanced medical technologies, including organoid models.
Impact of COVID-19 Pandemic on Organoids Market
Before the COVID-19 pandemic, the organoids market growth experienced steady growth and was influenced by various factors that shaped its dynamics. Scientists have used these techniques to test and identify promising medicines for chronic diseases. Post onset of COVID-19 pandemic, the study slowed to a certain extent, and continued efforts were made to study the SARS-CoV-2 pathogen using bronchial, liver, intestine, and brain organoids.
STEMCELL Technologies Inc., Hubrecht Organoid Technology, Definigen, Cellesce Ltd, Organoid Therapeutics, 3Dnamics Inc., Corning Inc., Merck KGaA, Thermo Fisher Scientific Inc., and InSphero are among the leading companies operating in the organoids market.
The report segments the organoids market as follows:
The organoids market is segmented into organ type, application, source, type, and geography. By organ type, the organoids market is divided into intestine, liver, stomach, pancreas, lung, brain, kidney, and others. By application, the organoids market is categorized into developmental biology disease, regenerative medicine, drug toxicity and efficacy testing, pathology of infectious disease, drug discovery and personalized medicine, and others. By source, the organoids market is bifurcated into pluripotent stem cells and organ-specific adult stem cells. By source, the organoids market is segmented into instruments, consumables, and services. Geographically, the Organoids market is segmented into North America (the US, Canada, and Mexico), Europe (the UK, France, Germany, Italy, Spain, and the Rest of Europe), Asia Pacific (China, Japan, India, South Korea, Australia, and the Rest of Asia Pacific), the Middle East & Africa (the UAE, Saudi Arabia, South Africa, and the Rest of Middle East & Africa), and South & Central America (Brazil, Argentina, and the Rest of South & Central America).
Contact Us

Phone: +1-646-491-9876
Email Id: sales@theinsightpartners.com
Download Free PDF Brochure
---
Related Readings
---