Booming Commercial Sector to Provide Growth Opportunities for Power over Ethernet Market during 2020–2027
According to our latest market study on "Power over Ethernet Market Forecast to 2027 – COVID-19 Impact and Global Analysis – by Type, Application, and End User," the market was valued at US$ 820.4 million in 2019 and is projected to reach US$ 1,917.4 million by 2027; it is expected to grow at a CAGR of 11.8% from 2020 to 2027.
The PoE has to follow various standards such as 802.3af standard, 802.3at standard, and 802.3bt standard. The rising adoption of the PoE technology for security applications is boosting the overall market, and the 802.3af standard is used for the IP camera application. The advanced version of PoE follows a standard of 802.3at, which is also known as PoE Plus and is used to deliver around 34.2 W of power to powered devices (PD). Additionally, Ethernet cable applications are increasing globally, which is estimated to boost the growth of the PoE market. These standards support various devices such as building management devices and video-conferencing device components, digital signage devices, and point of sale (PoS) devices. Further, the application of PoE-based solutions is surging in building automation owing to its flexibility, reliability, scalability, and cost efficiency in terms of reduced cabling infrastructure and labor costs. PoE's application enables the data network to be adopted for lighting applications that are integrated with advanced sensing technologies, which range from the sensors used for people-counting to operate air quality controls. The rising requirement of intelligent buildings, demands the usage of PoE in sensors, connected lighting, and other building controls.
Geographically, North America held the largest share of the global Power over Ethernet market in 2019, followed by Europe and Asia Pacific. Further, Asia Pacific is projected to witness the highest growth rate during the forecast period. The Power over Ethernet market is segmented on the basis of type, application, end user, and geography. Based on type, the global Power over Ethernet market is segmented into power sourcing equipment (PSE) and powered devices (PDs). The powered devices (PDs) segment represented a larger share of the overall market in 2019. Based on application, the market is segmented into IoT connectivity, lighting control, infotainment, access control and security, communication applications, and others. Based on end user, the market is segmented into residential, commercial, and industrial. In 2019, the commercial segment accounted for the substantial share in the global Power over Ethernet market.
Impact of COVID-19 Pandemic on Power over Ethernet Market
The emergence and rapid spread of the novel coronavirus has adversely affected numerous developed and developing countries across the world. The continuous surge in the count of COVID-19 patients is threatening several industries worldwide. The outbreak of the COVID-19 has severely disrupted the supply chain and manufacturing of semiconductors and electronics. This disruption is expected to create tremors through 2020 till mid-2021. The production of the semiconductors and electronics are anticipated to gain pace from 2021, which is further foreseen to positively influence the semiconductors and electronics manufacturing including Power over Ethernet components and chips. The US is the most affected country in North America. The growing number of infection in has led the government to impose various containment measures such as factories shut down, travel restrictions, closure of international boarders, and lockdowns. The manufacturing facility in this region have now lately implemented operation on a rotational basis, regular sanitization of around the facilities, and various measures in order to avoid and minimize human contact.
Broadcom, Inc.; Cisco Systems, Inc.; Dell Inc.; Huawei Technologies Co., Ltd.; Maxim Integrated Products, Inc; STMicroelectronics N.V.; Texas Instruments Incorporated; Silicon Laboratories, Inc.; ON Semiconductor Corporation; and Monolithic Power Systems, Inc. are among the companies operating in the Power over Ethernet market.
Power over Ethernet Market — by Geography, 2019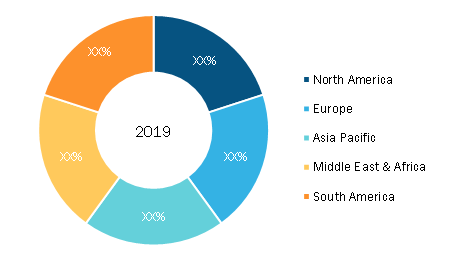 The report segments the global Power over Ethernet market as follows:
By Type
By Application
IoT Connectivity

Lighting control

Infotainment

Access control and security

Communication Applications

Others
By End User
Residential

Commercial

Industrial
By Geography
North America

Europe

France

Germany

Italy

UK

Russia

Rest of Europe

Asia Pacific

China

India

South Korea

Japan

Australia

Rest of APAC

Middle East & Africa

South Africa

Saudi Arabia

UAE

Rest of MEA

South America

Brazil

Argentina

Rest of SAM
Contact Us
Contact Person: Sameer Joshi
Phone: +1-646-491-9876
Email Id: sales@theinsightpartners.com