Rise in Adoption of Big Data Technologies Drives Predictive Analytics Market
According to our latest market study on "Predictive Analytics Market Forecast to 2028 – COVID-19 Impact and Global Analysis – by Component, Deployment Mode, Organization Size, and Industry Vertical," the predictive analytics market size is projected to grow from US$ 12,492.94 million in 2022 to US$ 38,038.83 million by 2028; the predictive analytics market share is estimated to grow at a CAGR of 20.4% from 2022 to 2028.
The adoption of Big Data requires careful consideration. While the three Vs—volume, velocity, and variety—are frequently used to define Big Data, the use of big data-enabled technologies is not limited to how these three are defined. Using big data effectively requires changing perspectives about the ways it can be used. While other technologies help solve problems, such as streamlining the inventory management processes or providing online systems to track order shipments in real-time, big data helps find issues that need special attention. A key factor in the success of any new program is how it is approached since its inception phase. Any big data program that requires data integration into strategic planning is critical, and failing to integrate these data may lead to heavy penalties. Thus, the implementation of big data analytics within an organization requires an appropriate framework. Data flow, governance, and data need to be further integrated into big data platforms to find a more comprehensive solution to manage compliance tasks and upgrade existing legacy systems to newer and faster software-based services. For instance, Hexanika is a FinTech Big Data software company that has developed an end-to-end solution for financial institutions to address regulatory compliance reporting and data sourcing. Hexanika's innovative solutions improve data quality, keep regulatory reporting in line with the dynamic regulatory requirements, and keep pace with the new developments and latest regulatory updates. Thus, the growing adoption of big data technologies, with continuous developments in them, is boosting the predictive analytics market growth.
The predictive analytics market is segmented on the basis of component, deployment mode, organization size, industry vertical, and geography. The predictive analytics market analysis, by component, is segmented into solutions and services. The predictive analytics market based on solution is segmented into risk analytics, marketing analytics, sales analytics, customer analytics, and others. The predictive analytics market analysis, by deployment mode, is bifurcated into cloud and on-premises. The predictive analytics market, by organization size, is segmented into large enterprises, and small and medium-sized enterprises (SMEs). The predictive analytics market, by vertical, is segmented into BFSI, manufacturing, retail and e-Commerce, IT and telecom, energy and utilities, government and defense, and others. In terms of geography, the predictive analytics market is segmented into North America (US, Canada, and Mexico), Europe (UK, Germany, France, Italy, Russia, and Rest of Europe), APAC (China, Japan, India, Australia, South Korea, and Rest of APAC), MEA (South Africa and Rest of MEA), and SAM (Brazil, Argentina, and Rest of SAM).
Impact of COVID-19 Pandemic on Predictive Analytics Market
The COVID-19 pandemic affected almost all businesses globally. The imposition of lockdowns resulted in the lesser production of commodities, goods, and services. Manufacturing, automotive, semiconductor & electronics, oil & gas, mining, aviation, and other industries witnessed a decline in operations due to the temporary shutdown of activities. Organizations and governments are using big data technology to store real-time data and information about COVID-19 patients, including details on the spread and control of SARS-CoV-2 infection. With the ability to capture extensive data, predictive analytics solutions can be utilized to reduce the danger of spreading the infection as the gathered information can be used to develop future strategies for preventing COVID-19 spread. The rising cases of COVID-19 compelled industries to encourage remote working environments and follow work-from-home policies. Subsequently, the use of third-party networks, digital platforms, and personal computing devices surged in 2020. However, the implementation of such network connectivity solutions puts businesses at risk of cyberattacks and other malware. Furthermore, the surge in digital traffic presents an opportunity for numerous online frauds, phishing attacks, denial of inventory, and ransomware attacks. Therefore, enterprises harnessed the capabilities of predictive analytics-based security solutions to detect and manage abnormal network behavior. Thus, with the rise in remote working models, the need for predictive analytics solutions also increased amid this global health crisis.
IBM Corporation; Microsoft Corporation; Oracle Corporation; SAP SE; Google LLC; SAS Institute Inc.; Salesforce.com, inc.; Amazon Web Services; Hewlett Packard Enterprise Development LP (HPE); and NTT DATA Corporation are among the leading players operating in the predictive analytics market.
Predictive Analytics Market – by Region, 2021 and 2028 (%)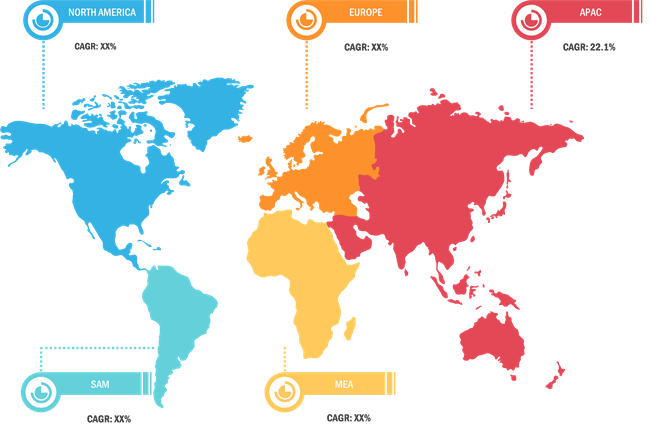 Report : Predictive Analytics Market Forecast to 2028 - COVID-19 Impact and Global Analysis By Component [Solution (Risk Analytics, Marketing Analytics, Sales Analytics, Customer Analytics, and Others) and Service], Deployment Mode (On-Premise and Cloud-Based), Organization Size [Small and Medium Enterprises (SMEs) and Large Enterprises], and Industry Vertical (IT & Telecom, BFSI, Energy & Utilities, Government and Defence, Retail and e-Commerce, Manufacturing, and Others)
Contact Us
Contact Person: Sameer Joshi