The print management software market size is expected to reach US$ 4,675.65 million by 2028, registering at a CAGR of 15.2% from 2022 to 2028, according to a new research study conducted by The Insight Partners.
Improved Security and Management of Data Boosts Demand for Print Management Software Market
A security breach is a major concern associated with the printing task. Print management software protects confidential documents for user authentication before publication, ensuring that sensitive documents can be printed and collected only by authorized users. This software can also be configured for print approval, making sure managers, teachers, or system administrators authorize the printing job. In many companies, employees regularly report confidential correspondence, salary information, and other sensitive information on papers lying in print trays. The print management software addresses such vulnerabilities with its capability to facilitate secure print releases. They prevent the premature release of sensitive documents into print trays to keep the company's information safe. Additionally, print management software provides print environment monitoring with the help of automated print queue control to maintain the continuity of projects; the system alerts when devices require maintenance, updates, or advanced troubleshooting. Such attributes contribute to the print management software market growth.
Print Management Software Market – by Region, 2021 and 2028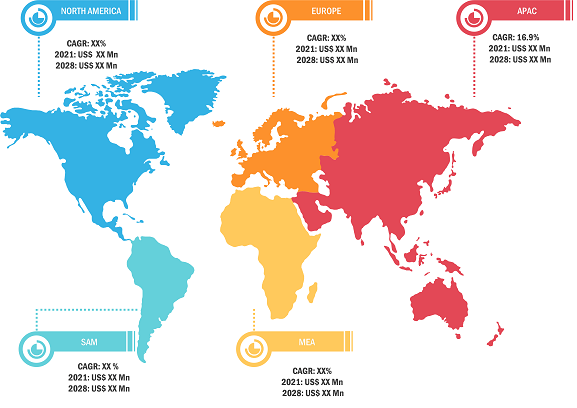 Report : Print Management Software Market Forecast to 2028 - COVID-19 Impact and Global Analysis By Deployment (On-Premise and Cloud), Enterprise Size (Large Enterprises and Small and Medium Enterprises), and Industry (BFSI, IT & Telecom, Healthcare, Retail, and Other)

Source: The Insight Partners Analysis
The print management software market is segmented on the basis of deployment, enterprise size, industry, and geography. Based on deployment, the market is bifurcated into on-premises and cloud. In terms of enterprise size, the market is bifurcated into small and medium enterprises, and large enterprises. Based on industry, the print management software market is segmented into IT & telecom, BFIS, healthcare, retail, and others. Based on geography, the market is segmented into North America, Europe, Asia Pacific (APAC), Middle East & Africa (MEA), and South America (SAM).
Impact of COVID-19 Pandemic on Print Management Software Market Growth
The COVID-19 pandemic led to significant disruptions in industries such as logistics, retail, and e-commerce. An increase in the number of COVID cases affected the manufacturing and sales of smartphones and digital cameras in North America. The factory and business shutdowns across the US, Canada, and Mexico hampered the adoption of print management software. However, the health and economic crisis boosted digitalization in several countries, supporting remote working & learning processes, delivery services, and telemedicine. North America is one of the most critical regions for adopting and growing new technologies due to favorable government policies implemented to boost innovation, the presence of a vast industrial base, and high purchasing power in developed countries such as the US and Canada. The US is a significant for print management software market, especially in the retail & e-commerce sectors. The global health crisis created lucrative opportunities for cloud-based print management software providers in the region. In addition, several businesses moved to cloud-based operations, ensuring that remote and office workers have secure, flexible access to prints and other confidential documents. The key players in the printing sector in the region continued to engage in strategic partnerships and digitalization efforts.
AND Technologies, Inc.; Canon Inc.; ePaper Ltd; KOFAX, INC.; PrinterLogic; PaperCut Software International Pty Ltd; Process Fusion; The Hewlett-Packard Company; ThinPrint GmbH; and Xerox Corporation are among the key players operating in the print management software market.
Contact Us
Contact Person: Sameer Joshi