Emergence of Autonomous Ride Sharing to Provide Growth Opportunities for Ride-Hailing Service Market during 2021–2028
According to our latest market study on "Ride-Hailing Service Market Forecast to 2028 - COVID-19 Impact and Global Analysis - by Service Type, Vehicle Type, Location and End User," the Market is expected to grow from US$ 48,922.78 million in 2021 to US$ 98,745.11 million by 2028; it is estimated to grow at a CAGR of 10.6% from 2021 to 2028.

Autonomous vehicles are still in the early stages of development. Many OEMs have working prototypes that are being tested in various parts of the world. Many businesses are vying to be the first to market with a completely autonomous vehicle. Lyft, Ford, Uber, Honda, Toyota, and Tesla are among them. Waymo, Alphabet's autonomous vehicle business, has started testing trip pricing with its early users as it gets closer to launching its commercial ride-hailing service in Phoenix this year. The rapid economic growth assures a steady stream of development, from transportation infrastructure to smart city development. Many countries, including Mexico, Canada, and the United States, are building digital infrastructure to enable communication between automobiles and infrastructures in order to collect crucial information, reducing traffic congestion and improving road safety. The autonomous vehicle market is predicted to be fueled by an increase in the construction of smart cities. Considering the factors, the development of autonomous vehicles will drive the ride-hailing service market in the next 6–7 years.
Based on Service Type, the Ride-Hailing Service market is characterized into E-hailing, Car Sharing, Car Rental, and Station-based Mobility. The E-hailing segment was valued at US$ 27,566.61 million in 2020. Based on Vehicle Type, the Ride-Hailing Service market is characterized into Two-Wheeler, Three-Wheeler, Four-Wheeler, and Others. Based on Location, the Ride-Hailing Service market is characterized into Urban, and Rural. Similarly, based on end-user, the Ride-Hailing Service market is segmented into Institutional, and Personal.
Impact of COVID-19 Pandemic on Ride-Hailing Service Market
The North American market had suffered considerable economic losses in the first two quarters of 2020, owing to high count of COVID-19 cases, especially in the US. The economic growth was slowed, which directly impacted the ride-hailing service across the region. North America is one of the leading regions in terms of new technology development and adoption, owing to favorable government policies that encourage innovation and improve infrastructure capabilities. As a result, any impact on the industrial sector's expansion hinders the region's economic growth. Due of the COVID-19 outbreak, the United States is currently the world's worst-affected country. Owing to the impact of COVID-19 pandemic, the lower cross-border activities and implications of social distancing regulation for supporting the slow-down of the virus spread, the ride-hailing industry is being impacted negatively. However, increasing cost of ownership supported the market growth in the year 2021 and expected to continue in forecasted period. For instance, according to American Automobile Association (AAA), the average cost of owning and operating a new car grew by US$ 279 from 2019 to US$ 9,561 in 2020.
ANI Technologies Pvt. Ltd.; Daimler AG; Delphi Technologies Plc; DiDi Global Inc.; Gett; Grab Holdings Inc.; Lyft, Inc.; TUKTUK RIDE; Uber Technologies Inc.; and zTrip are a few major companies operating in the Ride-Hailing Service market.
Ride-Hailing Service Market - by Geography, 2020 and 2028 (%)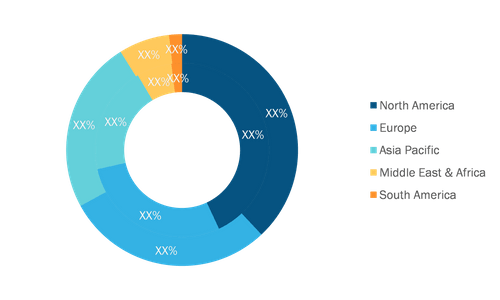 Contact Us
Contact Person: Sameer Joshi
Phone: +1-646-491-9876
Email Id: sales@theinsightpartners.com