Developing Regions to Provide Growth Opportunities for Rugged phones Market during 2021–2028
According to our latest market study on "Rugged Phones Market Forecast to 2028 – COVID-19 Impact and Global Analysis – by Type, Screen size, and End User," the market is projected to reach US$ 4,850.42 million by 2028 from US$ 2,918.66 million in 2021; it is expected to grow at a CAGR of 7.5% from 2021 to 2028.
The rugged phones market in Asia Pacific is expected to grow at the fastest CAGR of 8.9% during the forecast period. The growing trend of factory automation and digitalization across industries, rising investments in industrial development, and government expenditure in Asian countries such as China and India are a few of the key factors fueling the demand for semi-rugged and ultra-rugged phones in the military & defense, commercial, and industrial sectors in APAC. Thus, China, India, Japan, South Korea, and several Southeast Asian countries are anticipated be the chief adopters of rugged phones in the coming years. Huge population growth; rising disposable income; growing urbanization & industrialization; high smartphone / mobile phone adoption; favorable government policies promoting industrial growth;, and high R&D investments, especially in mobile phone and communication technologies, are among the other key factors boosting the rugged phones market growth in APAC.
The rugged phones market is segmented on the basis of type, screen size, and end-user. Based on type, the market is divided into smartphone and featured phones. The featured phones segment accounted for a larger revenue share in 2020. Based on screen size, the rugged phones market is segmented into below 5 inch, 5 inch to 6 inch, and above 6 inch. The 5 inch to 6 inch segment contributed the largest revenue share in 2020, and it is also projected to be the fastest-growing segment during 2021–2028. On basis of end-user, the market is segmented into industrial, government, commercial, military & defense, and consumer. In 2020, industrial segment led the rugged phones market globally. In terms of geography, the rugged phones market is segmented into North America, Europe, APAC, the MEA, and SAM. North America held the largest market share in 2020, followed by Europe and APAC.
Impact of COVID-19 Pandemic on Rugged Phones Market
The COVID outbreak has affected a large number of businesses in North America, leading them to financial and logistics challenges. Enterprises either had to suspend their operations or reduce their activities, owing to the containment measures. Several countries across the region represent a major market for rugged phones owing to the presence of a strong military & defense, industrial, and government & public safety sectors. In countries such as the US, lockdown restrictions are disturbing the schedule of new product launches, investments in R&D, and revenue of companies due to reduced demands, and disruptions in supply and delivery schedule, which is restraining the overall growth of rugged phones market in the region.
The key companies operating in the rugged phones market include Blackview, Caterpillar, DOOGEE, OUKITEL, Juniper Systems Inc., AGM Mobile, Sonim Technologies Inc., Ulefone Mobile, Unitech, Zebra Technologies Corp., and Electronics Co., LTD.
Rugged Phones Market – by Region, 2020 and 2028 (%)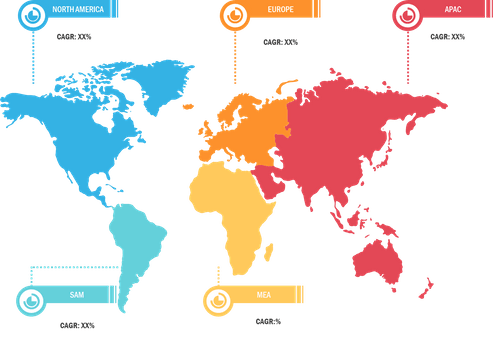 Contact Us
Contact Person: Sameer Joshi
Phone: +1-646-491-9876
Email Id: sales@theinsightpartners.com