Health benefits offered by seaweed and seaweed derivatives projected to escalate seaweed derivatives market growth at CAGR of 6.5%
Latest market study on "Global Seaweed Derivatives Market to 2027 – COVID-19 Impact and Global Forecast Analysis by Source (Red Seaweed, Brown Seaweed, Green Seaweed); Form (Liquid, Powder, Flakes); End-Use (Food and Beverages, Agricultural Products, Animal Feed Additives, Pharmaceuticals, Others), and Geography" accounted for US$ 2,210.35 million in 2018 and is expected to grow at a CAGR of 6.5% during 2019–2027 to reach US$ 3,903.91 million by 2027. The report highlights key driving factors and also the prominent players and their developments in the market.
Seaweeds are basically red, brown and green marine microalgae, whose extracts are used in the horticultural crops for its plant growth promoting effects. The chemical derivatives of seaweed include fatty acids and vitamins, mineral nutrients, phytoharmones, and complex polysaccharides, among others. Major derivatives of seaweed include alginates, carrageenans, and agars. Alginates are largely extracted from brown seaweeds, while carrageenans and agars are largely extracted from red seaweeds. Alginates, carrageenans, and agars are increasingly used in food and beverage, animal feed, and agriculture industry among others. In 2018, Red seaweed dominated the market.
The health and nutritional benefits offered by the regular consumption of seaweed and seaweed derivatives is the key factor leading the growth of seaweed derivatives market. Seaweed offers various health benefits such as it contains iodine and tyrosine, which support thyroid function, and it is a rich source of minerals and vitamins. Also, seaweed contains a variety of protective antioxidants, provides fiber and polysaccharides that support gut health, and it reduces heart disease risk. Moreover, regular consumption of seaweed also helps to lose weight by delaying hunger. In 2018, Liquid segment captured largest share in the global market by forms type. There are several types of seaweed, such as nori, kelp, wakame, kombu, dulse, and blue-green algae, such as spirulina and chlorella. These seaweeds generally contain many healthful minerals that are easy for the body to break down. According to the study by Marine Drugs suggest that seaweed is a good supply of protein, carbohydrates, minerals, polyunsaturated fatty acids, and fiber. A study in the Journal of Applied Phycology states that the various types of seaweed contain nutrients such as vitamin C, B, A, and E, iron, and iodine.
The global seaweed derivatives market is concentrated with a few well-established players such as W Hydrocolloids, Inc., KIMICA Corporation, DuPont de Nemours, Inc., Gelymar S.A., CP Kelco, Algaia, Compañía Española de Algas Marinas, S.A., Cargill, Incorporated, Arthur Branwell & Co., and Agarmex, S.A. DE C.V.
Global Seaweed Derivatives Market Breakdown-by Region, 2018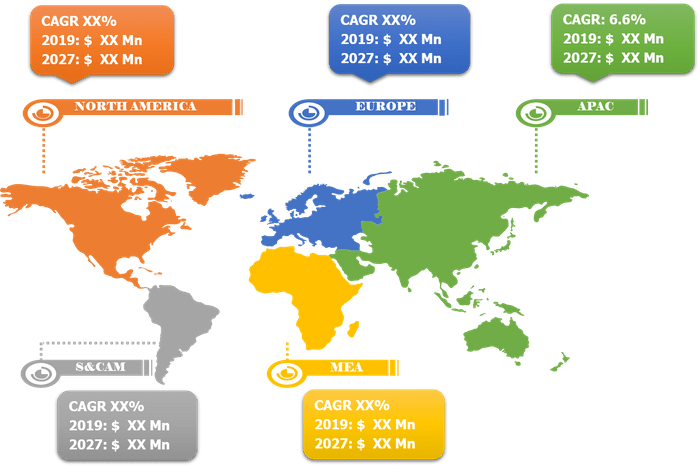 The report segments the global seaweed derivatives market as follows:
By Source
Red Seaweed

Brown Seaweed

Green Seaweed
By Form
By End-Use Industry
Food and Beverages

Agricultural Products

Animal Feed Additives

Pharmaceuticals

Others

Contact Us
Contact Person: Sameer Joshi