Positive Airway Pressure Segment to Grow at Faster CAGR during 2016–2025
According to our new research study on "Sleep Apnea Devices Market Forecast To 2025 –Global Analysis – by Diagnostic Devices, Therapeutic Devices, and End User," the market is expected to reach US$ 8,305.3 million in 2025 from US$ 4,033.0 million in 2016; it is estimated to grow at a CAGR of 7.9% from 2016 to 2025. The report highlights trends prevailing in the market, and the factors driving and hindering the market growth. The growth of the global sleep apnea devices market is attributed to the technological advancements, rising geriatric population and the declining prices of sleep apnea devices are likely to have a positive impact on the growth of the market in the coming years. However, absence of patient compliance is the major factor hindering the market growth.
Based on therapeutic devices, the global sleep apnea devices market is segmented into facial interfaces, adaptive servo- ventilation instruments (ASV), positive airway pressure (PAP) devices, oxygen concentrators, airway clearance systems, oral appliances, and accessories. The positive airway pressure segment held the largest market share in 2017, and the same segment is estimated to register the highest CAGR during the forecast period. Rising easy usage and handy nature offer lucrative opportunities for the growth of positive airway pressure segment.
The global sleep apnea devices market is impacted by the pandemic. The COVID-19 has affected economies and industries in various countries due to lockdowns, travel bans, and business shutdowns. The COVID-19 crisis has overburdened public health systems in many countries and highlighted the strong need for sustainable investment in health systems. As the COVID-19 pandemic progresses, the healthcare industry is expected to see a drop in growth. The medical technologies and imaging segment is witnessing drop in sales due to a smaller number of surgeries being carried out and delayed or prolonged equipment procurement. Additionally, virtual consultations by healthcare professionals are expected to become the mainstream care delivery model post-pandemic. With telehealth transforming care delivery, digital health will continue to thrive in coming years. In addition, disrupted clinical trials and the subsequent delay in drug launches is also expected to pave the way for entirely virtual trials in the future. New technologies such as mRNA is expected to emerge and shift the pharmaceutical industry and market is also expected to witness more vertical integration and joint ventures in coming years.
Braebon Medical Corporation, Compumedics Limited, BMC Medical Co., Ltd, Fisher & Paykel Healthcare Limited, ResMed, SomnoMed Limited, Weinmann Emergency Medical Technology, Devilbiss Healthcare LLC., Koninklijke Philips N.V. and Whole You, Inc. are among the leading companies operating in the global sleep apnea devices market.


Global Sleep Apnea Devices Market, by Region, 2017 (%)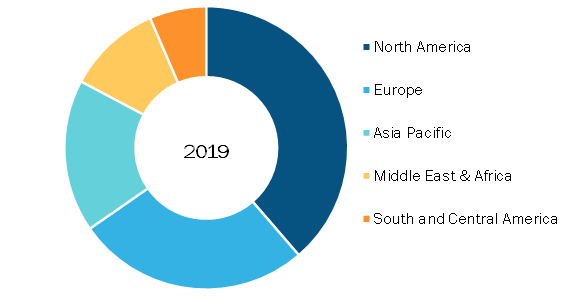 The report segments global sleep apnea devices market as follows:
By Diagnostic Devices
Polysomnography Devices

Respiratory Polygraphs

Actigraphy systems

Oximeters
By Therapeutic Devices
Facial Interfaces

Adaptive Servo-Ventilation Instruments (ASV)

Positive Airway Pressure (PAP) Devices

Oxygen Concentrators

Airway Clearance Systems

Oral Appliances

Accessories
By End User
Home Healthcare

Sleep Laboratories and Hospitals
By Geography
North America

Europe

France

Germany

UK

Spain

Italy

Rest of Europe

Asia Pacific (APAC)

China

India

Japan

Australia

South Korea

Rest of APAC

Middle East & Africa (MEA)

Saudi Arabia

UAE

South Africa

Rest of MEA

South and Central America (SCAM)

Brazil

Argentina

Rest of SCAM
Contact Us
Contact Person: Sameer Joshi
Phone: +1-646-491-9876
Email Id: sales@theinsightpartners.com