The sleep apnea devices market is anticipated to reach US$ 8,305.3 Mn in 2025 from US$ 4,033.0 Mn in 2016. The market is expected to grow with a CAGR of 7.9% from 2016-2025.
Among the regions, Asia Pacific is expected to witness significant growth opportunities during the forecast period due to a rise in the number of people receiving treatment of sleep apnea and other sleep disorder, strategic approaches by market players such as expansion and new product launch. Additionally, increasing demand for technologically advanced devices for respiratory devices also speeds up the growth of the market during the forecast period.
Lucrative Regional Sleep Apnea Devices Markets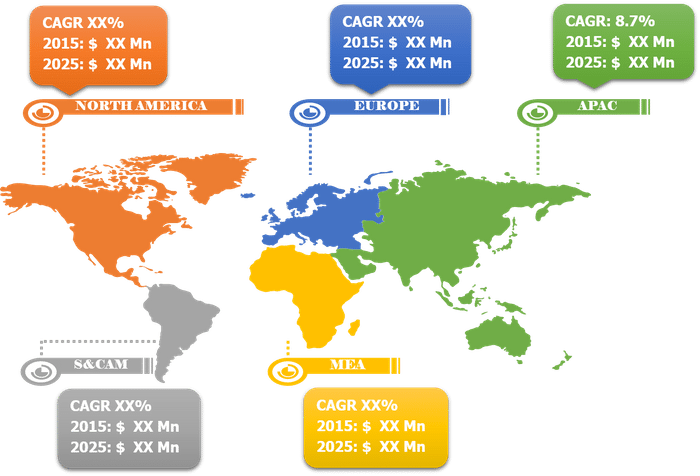 Get more information on this report :
Market Insights
Increased Prevalence of Sleep Apnea
Obstructive sleep apnea (OSA) is a common disorder which is categorized by the repetitive, complete or partial closure of the upper airway while asleep, which helps in the fragmentation of sleep and oxygen desaturation. Sleep apnea leads to significant morbidities, such as impairment of daytime functioning, which also impacts the quality of life. Moreover, a recent indication from the controlled trials is the proof for oral appliance therapy, which is very useful in controlling OSA in up to 50.0% of patients, which includes some patients with severe forms of OSA. This evidence is fit for the use of oral appliances for the short term, and emerging for long-term treatment of OSA. Various companies have launched innovative products and related accessories for the treatment of sleep apnea, which has helped them gain a strong position in the market. For instance, SomnoDent devices by SomnoMed Limited have increased in the previous year, 2016, from 68% to 68.6%, which signifies that the products have achieved on the signature-line of products. Moreover, SomnoDent Alpha received FDA approval in September 2016. The device is used in the sleep clinics for offering the patient and deliver efficacy data of a continuous open airway therapy (COAT) treatment relating to a specific patient before a device is a custom made for the patient.


Owing to the rising usage of the oral devices in the various regions, the need and demand for improved and advanced oral appliances for the treatment of the OSA, and it increases the market in the future years.
Technological Developments Made by Market Players
Many industry players have developed innovative types of sleep apnea devices during recent years. For instance, during May 2017, Fisher & Paykel launched the advanced F&P SleepStyle CPAP Device, used for the diagnosis and treatment of obstructive sleep apnea or OSA patients. Also, in May 2017, ResMed launched AirTouch F20 full face mask with UltraSoft memory foam mask cushion. AirTouch F20 full face mask can be used along with any CPAP that includes AirMini. In April 2016, BMC launched a Polypro sleep monitoring device, which is a home sleep testing device and portable PSG. The product is easily accessible in sleep labs because of the mobile application of Polypro. Advancement in sleep apnea devices has made the treatment of OSA easy and accurate. These innovative developments made by the market players are likely to propel the market growth during the forecast period.
Diagnostic Devices Insights
The global sleep apnea devices market, based on the diagnostic devices is segmented into polysomnography devices, respiratory polygraphs, oximeters, and actigraphy system. In 2016, the polysomnography devices segment accounted for the largest market share in the global sleep apnea devices market by diagnostic devices. Polysomnography devices play an essential role in the treatment of sleep apnea, as they help in conducting sleep diagnostic tests in hospitals and sleep centers to study the pattern sleep disorders observed in patients.
Sleep Apnea Devices Market, by Diagnostic Devices



Get more information on this report :
Strategic Insights
Growth strategies such as product launch have been significantly witnessed in the sleep apnea devices market, which has helped the company to strengthen its customer base. For instance, in April 2017, ResMed reveals World's Smallest CPAP AirMini developed to provide treatment to sleep, apnea people. With ResMed's AutoSet, AirMini is presented with a built-in humidification system.
Global Sleep Apnea Devices Market – By Diagnostic Devices
Polysomnography Devices

Respiratory Polygraphs

Actigraphy systems

Oximeters
Global Sleep Apnea Devices Market – By Therapeutic Devices
Facial Interfaces

Adaptive Servo-Ventilation Instruments (ASV)

Positive Airway Pressure (PAP) Devices

Oxygen Concentrators

Airway Clearance Systems

Oral Appliances

Accessories
Global Sleep Apnea Devices Market – By End User
Global Sleep apnea devices Market – By Geography
North America

Europe

Asia Pacific (APAC)

Middle East & Africa (MEA)

Saudi Arabia

South Africa

UAE

South and Central America
Company Profiles
RedMed

Koninklijke Philips N.V.

Fisher & Paykel Healthcare Limited

Braebon Medical Corporation

Compumedics Limited

BMC Medical Co., Ltd.

SomnoMed Limited

Weinmann Emergency Medical Technology GmbH + CO. KG

Devilbiss Healthcare LLC

Whole You, Inc.