Growing Demand for Sophorolipid from Numerous End-Use Industries Escalates Sophorolipid Market Growth
According to our latest market study on "Sophorolipid Market Forecast to 2027 – COVID-19 Impact and Global Analysis – by Type (Lactonic Sophorolipid and Acidic Sophorolipid) and Application (Household Detergents, Personal Care, Food Processing, Industrial and Institutional Cleaners, Oilfield Chemicals, and Others )," the market was valued at US$ 374.85 million in 2019 and is projected to reach US$ 547.02 million by 2027; it is expected to grow at a CAGR of 5.0% from 2020 to 2027. The report highlights key factors driving the market growth and prominent players along with their developments in the market.
Sophorolipids are potential biosurfactants as they have qualities such as biodegradability and low eco-toxicity. Sophorolipid are extracted from natural sources and are expected to be an alternative to petrochemicals such as detergents and pesticides. It is expected that the efficacy of sophorolipid in breaking down oil into droplets will increase market penetration in untapped market as dispersants of oil. Sophorolipid is useful in hard surface cleaning and automatic dishwashing rinse aid formulations. It has potential use in additional applications owing to its low foaming profile and surface activity properties.
The effectiveness of sophorolipid mainly to break down oil into droplets is anticipated to increase market penetration as oil dispersants. Also, the growing importance of cleaning agents particularly for cleaning oil spills in the energy sector due to reducing exposure to marine life located offshore is further expected to drive this market. The increasing use of sophorolipid for bioremediation applications in agriculture for the effective reduction of oil and pesticides from the soil, rising application of sophorolipid in manufacturing biopesticides to remove pathogens, and growing application in the pharmaceutical industry due to its antiviral and immune regulatory properties bolsters the sophorolipid market growth. Due to biosurfactant properties, sophorolipid are gaining popularity in manufacturing personal care products such as shampoos and deodorants. Sophorolipid also possess antifungal properties that increase its application in manufacturing anti-dandruff shampoos and bacteriostatic agents. Sophorolipid is widely used in the energy sector, agriculture sector, pharmaceutical industry, and cosmetic and personal care industry due to its natural or bio-based properties, which propels the growth of the sophorolipid market.
Allied Carbon Solutions Co., Ltd; Givaudan; Evonik Industries AG; Holiferm, Saraya Co., Ltd; and Mg Intobio Co., Ltd are among the well-established players in the global Sophorolipid market.
Impact of COVID-19 Pandemic on Sophorolipid Market
The COVID-19 outbreak was first reported in Wuhan, China, in December 2019. As of November 2020, China, Italy, Iran, Spain, republic of Korea, France, Germany, and The US are among the worst affected countries in terms of COVID-19 confirmed cases and reported deaths. According to the latest WHO figures, there are ~54,771,888 confirmed cases and ~1,324,249 total deaths globally. Lockdowns, travel bans, and business shutdowns are adversely affecting economies and industries in various countries. The global chemicals and materials industry is one of the major industries that are suffering due to supply chain breaks, technology events cancellations, and office shutdowns. For instance, China is the global manufacturing hub and largest raw material supplier for various industries, and it is also one of the worst affected countries due to the outbreak. The lockdown of various plants and factories in leading regions such as North America, Europe, and Asia Pacific is restricting the global supply chains and hindering the manufacturing activities, delivery schedules, and various goods sales. In addition, the global travel bans imposed by countries in Europe, Asia, and North America are hampering the business collaborations and partnership opportunities. All these factors are adversely affecting the chemicals and materials industry, and are restraining the growth of various markets related to this industry.

Global Sophorolipid Market Breakdown – by Region, 2019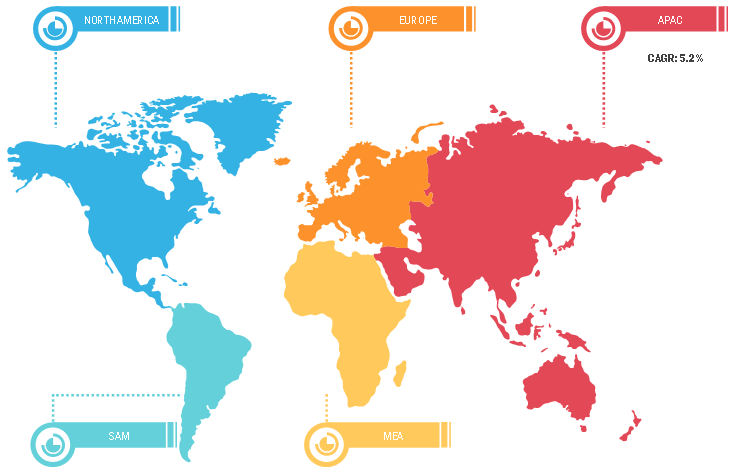 The report includes the segmentation of the global sophorolipid market as follows:
Sophorolipid Market, by Type
Lactonic Sophorolipid

Acidic Sophorolipid

Sophorolipid Market, by Application

Sophorolipid Market, by Geography
North America
Europe

Germany

France

UK

Italy

Russia

Rest of Europe

Asia Pacific (APAC)

Australia

China

India

Japan

South Korea

Australia

Rest of

Asia Pacific

Middle East & Africa (MEA)
South America

Brazil

Argentina

Rest of South America
Contact Us
Contact Person: Sameer Joshi
Phone: +1-646-491-9876
Email Id: sales@theinsightpartners.com