Sports Supplements Segment to Hold Major Sports Nutrition Market Share During 2022–2028
According to our new research study on "Sports Nutrition Market Forecast to 2028 – COVID-19 Impact and Global Analysis – by type, formulation, distribution channel, and geography" the market was valued at US$ 72,178.2 million in 2028 from US$ 44,968.14 million in 2022. The market is estimated to grow with CAGR of 8.2% from 2022–2028. The report highlights the trends and drivers prevailing in the sports nutrition market growth.
Based on type, the sports nutrition market is segmented into sports supplements, sports food, sports drinks, and others. sports supplements can be defined as products intended to supplement the diet which has ingredients like vitamins, carbohydrate, protein, fat, minerals, herbs or other botanicals, amino acids, and substances such as enzymes, and organ tissues, and glandular extracts. Sports supplements are very convenient to consumers because it helps to meet necessary energy or macronutrient. Also, they are designed to deliver support towards at managing caloric intake, weight gain, weight loss, and/or performance enhancement. Therefore, this segment is expected to register a higher CAGR in the market during the forecast period.
Sports Nutrition Market, by Region, 2019 (%)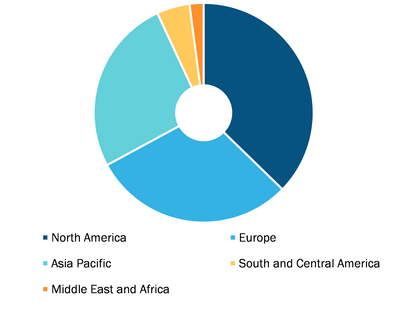 ---
---
Sports Nutrition Market Forecast to 2028 - COVID-19 Impact and Global Analysis by Type (Sports Supplements, Sports Food, Sports Drinks, and Others); Formulation (Powder, Tablets, Capsules, and Others) Distribution Channel (Convenience Stores, Supermarkets and Hypermarkets, Specialty Stores, and Others)

Source: The Insight Partners Analysis
Based on formulation, the sports nutrition market is segmented into powder, capsules, tablets, and others. The powder segment held the largest share of the market in 2021, moreover the same is expected to grow over the forecasted period due to the increasing demand for various flavored drinks. Powder products can be made into a drink or mixed with food, like whey, soy, and egg protein powders. Powder formulation dominates the key sports nutrition categories. Another advantage is that its ingredient types affect the taste, with proteins tied mostly to creamy dessert flavors and many energy ingredients locked into fruity and acidic flavors. Powders have more demand in sports nutrition than in different formats, including capsules, bars, etc. Consumers seek more food- and drink-like experiences rather than a litany of pills due to the range of palatable flavors offered. Additionally, powder-based formulas are the best-selling sports nutrition products and are all over top retailers' lists, including Amazon, Walmart, and Bodybuilding.com. While many multi-ingredient pre-and post-workout formulas have fifteen or more dietary ingredients, some popular products focus on one part, such as creatine, or a group of like ingredients, such as proteins or amino acids.
Increasing Prevalence of Obesity to Boost the Sports Nutrition Market Growth
Obesity is also referred to as "globesity" as it has become a global public health crisis. The condition has a considerable effect on the musculoskeletal system, resulting in the degeneration of bones, cartilage, and ligaments. According to the study published by the WHO, the incidence of obesity among the global population has tripled during 1975–2020. Furthermore, 38 million children below 5 years of age were overweight worldwide in 2019. The vast prevalence of obesity is associated with unhealthy habits such as frequent junk food consumption, sedentary lifestyle, genetic conditions, and mental health deprivation. According to a study published by the Centers for Disease Control and Prevention (CDC), the prevalence of obesity grew from 30.5% to 42.4% during the last past two decades in the US. Per a study published in the British Journal of Sports Medicine in 2015, athletes with a body–mass index (BMI) of more than 30 kg/m2 are highly susceptible to sports injuries. In common, most athletes and enthusiastic individuals who want to lose weight fall into two categories:
One who is obese based on body-fat levels.

One who is already lean but desires additional body fat loss. Some of these athletes fall into weight-
sensitive, for example, endurance athletes, ski jumping, weight-class (e.g., wrestling, judo), or aesthetically judged (e.g., gymnastics, figure skating) sports.
For athletes with extra body fat, weight loss could improve sports performance and lower the risk of chronic disease. For instance, a research study found that 21 % of their division 1 college football players (mean age, 20 years) were obese (≥25 % body fat) and had insulin resistance, while 9% had metabolic syndrome (all obese). Thus, for these athletes, weight loss could enhance performance and prevent the development of severe chronic disorders. Hence, the increased prevalence of obesity is anticipated to drive the sports nutrition market during the forecast period Thus, overweight status among athletes drives their focus on sports nutrition products, thereby boosting the sports nutrition market growth.
Impact of COVID-19 Pandemic on Sports Nutrition Market
The COVID-19 pandemic has led to a decline in sales of sports supplements as consumers focus on shopping for essentials. In addition, the temporary closure of gyms, fitness centers, health clubs, and sports institutes has negatively impacted sales of sports nutrition products. However, online sales grew rapidly in 2020 as consumers turned to e-commerce to avoid crowded places and maintain hygiene due to COVID-19. It is estimated that increased health awareness and a healthy lifestyle will drive demand for sports nutrition. The growing demand for sports nutrition products containing functional ingredients and the increasing demand for online sales channels are estimated to impact the market's growth positively. Increased investment and new product development in the sports nutrition industry are expected to boost the market potential. With people becoming more and more concerned about their health, the use of natural and branded products is likely to grow in popularity. After COVID-19, the number of fitness enthusiasts is at its highest. As a result, more and more consumers are turning to a healthy lifestyle. As a result, the adoption of plant-based and vegan sports drinks and energy bars is driving sales. The trend of clean labels in the country after the COVID-19 outbreak has increased sharply across China. Consumer demand for foods free of artificial flavors and synthetic chemicals has forced manufacturers to produce more products with organic and natural flavors. These factors thus encouraged the sports nutrition market growth in rest of the world.
Glanbia Plc, PepsiCo Inc., The Coca-Cola Company, LOVATE HEALTH SCIENCES, Clif Bar & Company, BULK POWDERS, Abbott, Yakult Honsha Co., Ltd., MUSCLEPHARM CORPORATION, and GNC HOLDINGS INC. are among the several players engaged in addressing the growing demands for sports nutrition market.
The report segments the Sports Nutrition market as follows:
Based on type, the sports nutrition market is segmented into sports supplements, sports food, sports drinks, and others. Sports supplements is further segmented into protein supplements, vitamins, minerals, and others. Sports food is sub-segmented into protein bars, energy bars, and energy gels. The sports drinks segment is sub-segmented into hypotonic, isotonic, and hypertonic. Based on formulation, the sports nutrition market is segmented into powder, capsules, tablets, and others. Based on distribution channel, the global sports nutrition market is divided into convenience stores, supermarkets/hypermarkets, specialty stores, and others. Based on geography, the sports nutrition market is segmented into North America (the US, Canada, and Mexico), Europe (the UK, Germany, France, Italy, the Netherlands, and the Rest of Europe), Asia Pacific (China, Japan, India, Australia, Thailand, and the Rest of Asia Pacific), the Middle East & Africa (the UAE, Saudi Arabia, South Africa, and the Rest of Middle East & Africa), and South & Central America (Brazil, Argentina, and the Rest of South & Central America).
Contact Us

Phone: +1-646-491-9876
Email Id: sales@theinsightpartners.com
Download Free PDF Brochure
---
Related Readings
---