The unmanned underwater vehicle market is expected to reach at US$ 4.44 billion by 2028; registering at a CAGR of 7.8% from 2022 to 2028, according to a new research study conducted by The Insight Partners
Surging Demand for Undersea Vehicles from Defense Forces to Provide Growth Opportunities for Unmanned Underwater Vehicle Market During 2022–2028
Unmanned underwater vehicles (UUVs) are drones operating underwater with or without human interference. The majority of the global UUV market is captured by the defense forces, owing to the ever-increasing demand for subsea monitoring. The adoption trend of UUVs is increasing among various commercial sectors, such as oil & gas exploration organizations, hydrographic and oceanographic survey organizations, environmental monitoring organizations, and search & recovery teams. Various scientific research organizations are also adopting unmanned underwater vehicles for conducting oceanic studies and maritime surveys, among others.
The major defense forces across the globe are experiencing maritime security threats such as torpedo threats, underwater mines, diesel-electric submarine attacks, and short-range anti-ship missiles. Owing to these threats, the demand for technological alternatives, such as unmanned marine systems, is peaking among the defense forces. Technological advancement has reduced the risk to humans in critical and complex situations. Although underwater vehicles operate with human interference, the demand for unmanned solutions is increasing significantly over time. Hence, developers are integrating underwater drones with enhanced ISR systems to offer defense forces advanced surveillance capabilities. Applications of unmanned underwater vehicles include oil & gas exploration centers, hydrography, and oceanography, and environmental monitoring. The commercial sectors are increasingly adopting unmanned underwater technology to map and monitor the condition of seas or oceans, as well as explore various oil & gas sites.
Unmanned Underwater Vehicle Market ­– by Region, 2022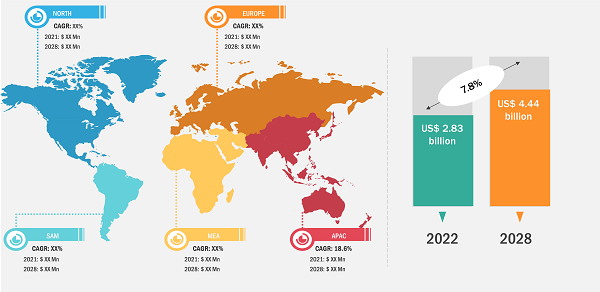 Report : Unmanned Underwater Vehicle Market Forecast to 2028 - COVID-19 Impact and Global Analysis by Type (Remotely Operated Vehicle and Autonomous), Accessories (Camera, Sensor, Sonar, Navigation System, Communication System, and Others), and Application [Commercial (Oil & Gas Industries, Environmental Monitoring, Hydrography, Search & Recovery, and Harbor Surveys), Defense, and Research]
Source: The Insight Partners Analysis
The unmanned underwater vehicle market is much more prominent in North America, owing to significant investments in developing innovative products from the US Government and other privately held manufacturers. The demand for such unmanned marine vehicles is increasing in the region at a fair rate. On the other hand, the increase in applications of unmanned underwater vehicles in Asia Pacific is resulting in a significant rise in demand for unmanned marine drones. Defense applications such as submarine detection, torpedo detection, intelligence, surveillance, and reconnaissance (ISR), and military operations other than war (MTOOW) are increasing rapidly in the region, creating a huge requirement for unmanned underwater vehicles. Commercial applications such as harbor surveillance, oil & gas and other offshore explorations, environmental monitoring, and hydrographic and oceanographic surveys are growing significantly, propelling the market to expand at a prime rate globally. Furthermore, the rise in oceanographic surveys, hydrographic studies, and environmental monitoring studies in the region is leading institutions and organizations to adopt advanced unmanned underwater systems.
Moreover, the presence of two of the top five military spending countries worldwide, i.e., China and India, in Asia Pacific is another major factor catalyzing the deployment of unmanned underwater vehicles among the naval forces across the region. This is further propelled by the need for strengthening the armed forces across the respective countries due to rising tensions among countries of the region. For instance, the constant tensions among the countries of Asia Pacific, such as China-India, China-Taiwan, and India-Pakistan, are further generating new deployments of UUVs for ocean border surveillance and other operations across the countries and contributing to the growth of the unmanned underwater vehicle market across the region.
Based on application, the unmanned underwater vehicle market is segmented into commercial, defense, and research. The commercial segment is further classified into oil & gas industries, environmental monitoring, hydrography, search & recovery, and harbor surveys. The defense segment is expected to dominate the unmanned underwater vehicle market in 2022 and is expected to retain its dominance during the forecast period. This can be attributed to the applications of UUVs in naval forces and coastguards, ranging from object detection, mine detection, and submarine detection to border & coastal surveillance and continuous monitoring. Manufacturers of UUVs are also experiencing substantial demand for their products from commercial sectors, resulting in significant adoption of unmanned naval vehicles across the globe.
The key players operating in the unmanned underwater vehicle market include Kongsberg Gruppen, Teledyne Marine, Lockheed Martin Corporation, Saab AB, L3Harris Technologies Inc, SUBSEA7, ATLAS ELEKTRONIK GmbH, International Submarine Engineering Limited, ECA Group, and Gabri Srl. The unmanned underwater vehicle market players are constantly working on the development of innovative solutions to cater to different end-use industry demands and remain competitive in the market. Also, the defense forces are awarding different contracts to the market players. For instance:
In December 2022, the UK navy awarded a contract to Plymouth-based MSubs to supply them with a new extra-large autonomous underwater vehicle (XL-AUV) for supporting the Royal Navy (RN) for exploring the utility of uncrewed submarines in the future underwater battlespace.

In December 2022, the US Navy awarded a contract worth US$ 7.8 million to Metron Inc for Advanced Algorithm Development for Autonomous Marine Systems.
Contact Us
Contact Person: Sameer Joshi
Phone: +1-646-491-9876
Email Id: sales@theinsightpartners.com