The unmanned underwater vehicle market is expected to grow from US$ 2.83 billion in 2022 to US$ 4.44 billion by 2028; it is estimated to grow at a CAGR of 7.8% from 2022 to 2028.
With the increase in coastal developments, the maritime domain is increasingly becoming congested, fueled by both state and non-state actors using the sea for various activities. This increases the need for maritime surveillance and protection. As a result, the demand for modern assets, such as unmanned vehicles, which can be deployed to reduce human life risks and mitigate enemy contact by moving into other domains such as scientific research, inspection, and search & rescue, is increasing. Moreover, the surging application of digital connectivity acts as a major factor in the growth of unmanned oceanic systems. Connectivity plays a paramount role for the modern networked sea and subsea forces, as the value of every sensor and effector is determined by the degree of its integration in the overall C4ISR chain. Major countries are substantially investing in the defense sectors for the development of connected subsea-based sensors and submerged platforms as this factor is anticipated to trigger more expanding operations of unmanned assets to counter any potential adversary threat.
More autonomous unmanned systems are expected to be developed and deployed by the prime countries in the coming years. This will provide them with significant knowledge of operating such systems and facilitate measuring their future requirements. In pursuit of elevating the robustness of existing force capabilities, defense organizations are expected to continually invest in developing and procuring enhanced systems in the coming years. Distinguished innovations in terms of software and hardware are expected to fuel the demand for unmanned systems among defense forces.
Based on application, the defense segment is expected to account for the largest share of the global unmanned underwater vehicle market in 2022. Unmanned underwater vehicles have a wide range of applications in defense and commercial sectors and research organizations. The deployment of such unmanned marine vehicles in naval forces dates long back, and the major defense forces, such as the US, the UK, Russia, France, and China, are investing substantial amounts in developing robust UUVs. Moreover, defense forces across the globe are encountering maritime security threats such as seabed mines, submarine warfare, and anti-ship & anti-submarine missiles. These potential threats are pressurizing the defense forces to use unmanned underwater systems to counter these threats and reduce risk to human lives. In addition, the manufacturers of unmanned underwater vehicles are integrating enhanced ISR capabilities and improved sensors for smart and connected underwater vehicles, which is increasing the interest among the defense forces to deploy advanced UUVs and strengthen their naval forces.
Strategic Insights
Report Coverage - Unmanned Underwater Vehicle Market
Report Coverage
Details
Market Size Value in
US$ 2.83 billion in 2022
Market Size Value by
US$ 4.44 billion by 2028
Growth rate
CAGR of 7.8% from 2022 to 2028
Forecast Period
2022-2028
Base Year
2022
No. of Pages
160
No. of Tables
11
No. of Charts & Figures
54
Historical data available
Yes
Segments covered
Type, Accessories, and Application
Free Sample Copy Available
Regional Analysis of Unmanned Underwater Vehicle Market
Asia Pacific (APAC) has been an active participant in the UUV market for over a decade and has made significant development since then. China and Japan are the pioneers in UUV development in APAC, whereas India is a rapidly emerging economy in the UUV market. Moreover, majority of the Asian economies, including Australia, Japan, China, Singapore, and Vietnam, use UUVs that are manufactured by domestic and international suppliers such as Xi'an Tianhe Maritime Technologies, Beijing Unbtek Innovation Technology Co Ltd, Tianjin Deepinfar Ocean Technology Co Ltd, Hydroid Inc, and Mitsubishi Heavy Industries Ltd for mine countermeasures (MCM), underwater research, and border surveillance applications. MCM are the key missions for UUVs, and in APAC, most of the navies conglomerate MCM-based UUVs with intelligence, surveillance, and reconnaissance (ISR). However, the ISR missions that are beyond MCM require maturity in terms of concepts and technologies. Such factors are generating new market opportunities for market vendors across the global unmanned underwater vehicles market.
Lucrative Regions – Unmanned Underwater Vehicle Market Share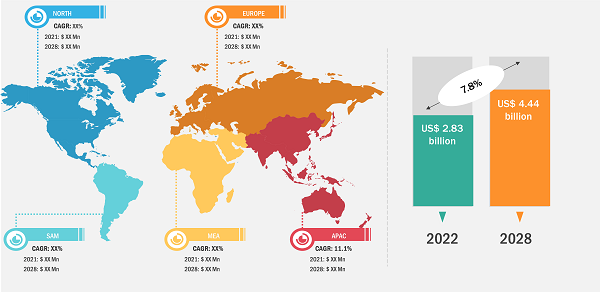 Get more information on this report :
Market Insights – Unmanned Underwater Vehicle Market
Accessories-Based Insights
Based on accessories, the unmanned underwater vehicle market is segmented into camera, sensor, sonar, navigation system, communication system, and others. The others segment includes components such as lighting systems and video screens. The camera segment is expected to dominate the unmanned underwater vehicle market in 2022, and it is expected to retain its dominance during the forecast period as well. Cameras are being installed on underwater vessels or vehicles for detecting and monitoring nearby and distant obstacles on the way. The imaging companies are constantly focusing on increasing the capabilities of cameras as the demand for high-end and high-megapixel cameras is increasing among unmanned marine drone manufacturers. The high-end cameras provide better output with high quality, facilitating the end users to gather a clear understanding of the underwater world. This factor is compelling the manufacturers of UUVs to pressure the imaging component manufacturers to design and develop high-end cameras, thereby propelling the demand for cameras in the unmanned underwater vehicle market in the current scenario. It is also expected to bolster the market in the coming years.
Players operating in the unmanned underwater vehicle market are collaboratively working with the end users to cater to the rising number of contracts for military drones across different regions.
In 2019, the US Navy awarded a contract worth US$ 15.8 million to KONGSBERG HYDROID for the MK 18 Family of unmanned underwater vehicle systems.
In July 2022, the US Defense Advanced Research Projects Agency (DARPA) awarded a contract worth US$ 8.5 million to Boeing for integrating an advanced undersea payload-delivery system aboard the company's Orca extra-large unmanned underwater vehicle (XLUUV).
Kongsberg Gruppen, Teledyne Marine, Lockheed Martin Corporation, Saab AB, L3Harris Technologies Inc, SUBSEA7, ATLAS ELEKTRONIK GmbH, International Submarine Engineering Limited, ECA Group, and Gabri Srl are among the key players operating in the unmanned underwater vehicle market. The market report provides detailed market insights, which help the key players strategize growth in coming years.