Rise in User's Digital Experience Data to Provide Growth Opportunities for User Research Repositories Software Market during 2021–2028


According to our latest market study on "User Research Repositories Software Market Forecast to 2028 – COVID-19 Impact and Global Analysis – by Type and Application," the market is expected to grow from US$ 120.68 million in 2021 to US$ 364.00 million by 2028; and is estimated to grow at a CAGR of 17.1% from 2021 to 2028.
Growing digitalization and rising internet penetration worldwide influence businesses to accelerate their digital transformation and take necessary steps to deliver an engaging Digital Experience (DX). Nearly half of the tech companies comment that improving customer experience and satisfaction were among the leading factors to start a digital transformation. Large enterprises offering digital experiences, such as Amazon and Google, rely on a considerable amount of customer feedback data that provides a foundation for improving their digital product. The UX data requires to be easily accessible to all stakeholders engaged in product development to streamline the process of user research. The user research repositories software provides a platform to store the vast pool of customer/user-based data and collaborate it with product developers, marketers, and researchers to deduce useful insight using analytics tools. The growing need to keep the user experience at the priority of product development has resulted in an increase in the amount of feedbacks and surveys taken from the customers. Therefore, the advent of a vast amount of research data pertaining to user's digital experience is creating ample opportunities for key players in the user research repositories software market.


Based on type, the user research repositories software market is bifurcated into and cloud-based and on-premises. The market for the cloud-based segment was valued at US$ 80.5 million in 2020. Based on application, the user research repositories software market is segmented into government, retail and ecommerce, healthcare and life sciences, BFSI, transportation and logistics, telecom and IT, manufacturing, and others.
Impact of COVID-19 Pandemic on User Research Repositories Software Market
According to the United Nations Conference on Trade and Development, the COVID-19 pandemic has led to a surge in e-commerce and digital transformation amid slowing economic activities. Adjusting to the new normal, consumers are purchasing goods and services online. Retailers and delivery companies are aiming to meet the growing customer demand efficiently. After witnessing a significant drop in 2020 due to the COVID-19 pandemic, the global e-commerce market has begun witnessing a gradual recovery in consumer demand since the last quarter of 2020. Rapid recovery in online product sales is anticipated to boost the demand for user research repositories software during the forecast period to manage customer feedback and experience. However, fluctuating consumer preferences and behavior due to the changing pandemic scenario would also positively influence the user experience (UX) research software market in the coming years.
Aurelius Lab, LLC; Condens Insights GmbH; Crayon Bits, LLC; Dovetail Research Pty. Ltd.; Productboard, Inc.; Reveall B.V.; Savio Technology Inc.; Tetra Insights, Inc.; Usertimes Solutions GmbH; and UserZoom are a few major companies operating in the user research repositories software market.
User Research Repositories Software Market — by Geography, 2020 and 2028 (%)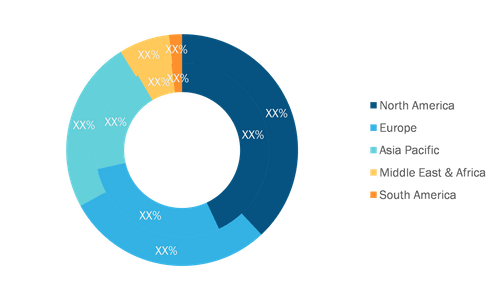 Contact Us
Contact Person: Sameer Joshi
Phone: +1-646-491-9876
Email Id: sales@theinsightpartners.com