The automated storage and retrieval system (ASRS) market was valued at US$ 2,417.6 million in 2020 and is projected to reach US$ 4,151.8 million by 2028; it is expected to grow at a CAGR of 6.9% from 2021 to 2028.
The growing population worldwide is remarkably impacting the demand for multiple product categories in automotive, pharmaceutical, retail, electronics, food & beverage, and many other industries. To cater to this enormously increasing demand, manufacturers have expanded their productions significantly. However, increased production demands for the extensive requirement of storage spaces, efficient in terms of both occupied floor space and cost incurred. Warehouses, storage centers, and distribution centers play a vital role in maintaining stocks of consumer goods of various companies. Minimal damage to the product while storage, limited storage costs, and fast pick and drop of goods, are the factors that manufacturers and supply chain partners are opting for storage purposes as well as for further movement of goods.
Diverse storage solutions such as unit load, mid-load, carousels, and AutoStore serve various purposes to their users with added value, thereby helping them in reducing costs. For instance, horizontal carousels save up to 66% of floor space, whereas, vertical carousels and vertical lift module save up to 75% and 85% of floor space, respectively. Also, these storage systems are designed in a way that storing and picking of goods becomes less time consuming and more efficient. It helps to increase productivity at the workplace. Similarly, horizontal and vertical carousels are used for storage of small parts and tools used either at the manufacturing plant shop floor or for the storage of consumer goods. Moreover, the modular structure of these systems ensures flexibility and scalability. Thus, the need for fast, space-efficient, and cost-effective storage systems along with maximum throughput and productivity, is driving the market for automated storage and retrieval system, across most of the end-user industries. The automated storage and retrieval system market is expected to witness a slight decline in growth over the next few years, due to the negative impact of COVID-19. However, it is expected to rise again at a healthy pace after the COVID-19 pandemic is over.
Lucrative Regional Markets for Automated Storage and Retrieval System Providers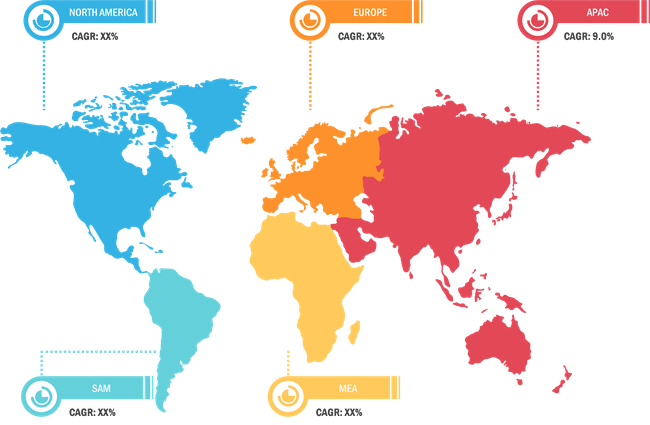 Get more information on this report :
Automated Storage and Retrieval System Market Insights
Increasing Demand for Efficient Supply Chain Across industries Fuels Growth of Automated Storage and Retrieval System Market
Rapid digitization across the globe among all industry verticals, coupled with a significantly high production rate, is pressurizing the organizations to rely more on machines for enhanced productivity and accuracy. In this era of automation, the automated and programmed machineries play a vital role in reducing the associated cost and time and provide additional features of control, monitoring, and security.
A supply chain is one of the key sources of competitive advantage for companies that drives their businesses. Supply chain systems have gained wider and vital importance in the last few years because of high competition in the product-based market. A strong supply chain ensures a proper balance between the supply of and demand for a product in the market. Thus, many industry verticals such as automotive, food & beverages, electronic & semiconductors, e-commerce, chemicals, aerospace, retail, and pharmaceuticals are ensuring a strong supply chain for reaching out to their customers. Automated storage and retrieval system supports the operational flow of the supply chain at the initial stage. ASRS is applied in slow and medium moving order fulfillment and inventory management applications, ensuring increased efficiency. Thus, rising demands for efficient supply chain implementations are driving the implementations of automated storage and retrieval system among industries.
Type-Based Market Insights
Based on Type, the automated storage and retrieval system market is further segmented into unit load automated storage and retrieval system, mini load automated storage and retrieval system, vertical carousels, horizontal carousels, vertical lift modules, autostore, and others. Vertical lift modules are the next generation automated systems mainly used in industrial applications for sorting, storage, and retrieval of items for an operator in a warehouse. These systems play significant roles in robotics, where these are used to guide the autonomous robots, also known as "self-navigating robots." Various industries including electronics, automotive, aerospace, pharmaceuticals, and electronics are concerned about reducing labor-intensive processes, increasing accuracy and speed for the task of storage, and retrieving their products whenever required.
Automated Storage and Retrieval System Market, by End User – 2021 and 2028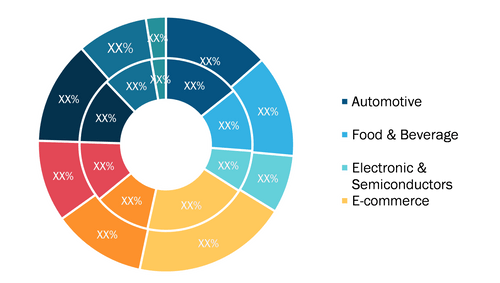 Get more information on this report :
Strategic Insights
Report Coverage - Automated Storage and Retrieval System Market
Report Coverage
Details
Market Size Value in
US$ 2,417.6 Million in 2020
Market Size Value by
US$ 4,151.8 Million by 2028
Growth rate
CAGR of 6.9% from 2021-2028
Forecast Period
2021-2028
Base Year
2021
No. of Pages
181
No. of Tables
71
No. of Charts & Figures
80
Historical data available
Yes
Segments covered
Type and End Users , Geography
Regional scope
North America, Europe, Asia Pacific, Middle East & Africa, South & Central America
Country scope
US, Canada, Mexico, UK, Germany, Spain, Italy, France, India, China, Japan, South Korea, Australia, UAE, Saudi Arabia, South Africa, Brazil, Argentina
Report coverage
Revenue forecast, company ranking, competitive landscape, growth factors, and trends
Free Sample Copy Available
The players operating in the automated storage and retrieval system market focus on strategies such as mergers, acquisitions, and market initiatives to maintain their positions in the market. A few developments by key players are listed below:
In April 2019, Daifuku Co. Ltd. acquired Vega Conveyors & Automation Private Limited, an India-based company. Vega Conveyors & Automation Private Limited is highly involved in the designing and manufacturing of material handling equipment. This acquisition would enable Daifuku to gain a large base of customers in the Indian market.
In May 2018, Toyota Advanced Logistics, with its subsidiary Bastian Solutions, acquired Peach State Integrated Technologies, a US-based company. This acquisition would enable both the companies to better serve automated solutions to their current and future customer base.


By Type
Unit Load ASRS
Mini Load ASRS
Vertical Lift Module
Vertical Carousels
Horizontal Carousels
AutoStore
Others
By End-User
Automotive
Food & Beverages
Electronic & Semiconductors
E-Commerce
Chemicals
Aerospace
Retail
Pharmaceuticals
Others
By Geography
North America

Europe

France
Germany
Italy
UK
Russia
Rest of Europe

Asia Pacific (APAC)

China
India
South Korea
Japan
Australia
Rest of APAC

Middle East & Africa (MEA)

Saudi Arabia
UAE
South Africa
Rest of MEA

South America (SAM)

Brazil
Argentina
Rest of SAM
Company Profiles
Bastian Solutions, Inc.
Daifuku Co., Ltd.
KION GROUP AG
Kardex Group
Knapp AG
Mecalux, S.A.
SSI Schaefer Group
Swisslog Holding AG
System Logistics Spa
Vanderlande Industries
Frequently Asked Questions
The growth of the automated storage and retrieval system market is primarily attributed to rising demand for optimized and space efficient storage systems. Moreover, the increasing demand for efficient in supply chain across industries, thereby substantially driving the automated storage and retrieval system market.
Rise in partnerships and acquisitions is expected to create significant opportunity of the browser isolation software market growth. The demand for browser security solutions is escalating at a substantial pace across industries. Large organizations are strongly emphasizing on the adoption of such technologies to secure the data and information on respective networks. In order to facilitate the buyers, the market players are either collaborating with well-established and industry-recognized software developers or conducting acquisition activities. The partnerships and acquisition activities are enabling the companies to gain a customer base by offering robust technologies.
The automated storage and retrieval system market is led by e-commerce segment with highest share and is expected to dominate in the forecast period. Having to store huge inventory, meet the fast delivery times expected by its customers, and to deal with a continuous flow of incoming orders have led the e-commerce industry to seize a large number of ASRS to meet the above-mentioned functions. The availability of pick-by-light systems integrated into ASRS has forced the e-commerce sector to depend upon ASRS to perform their day to day storage and retrieval functions. Additionally, with the increase of the customer base of e-commerce sites, the e-commerce players are facing a dearth of storage space in their warehouses. ASRS comes into action by smartly managing overhead and floor space available in the warehouse by freeing up ground space for better mobility.