The chronic total occlusion market was valued at US$ 280.7 million in 2017 and it is projected to reach US$ 516.1 million in 2025; it is expected to grow at a CAGR of 8.1% from 2016 to 2025.
Chronic total occlusion (CTO) happens when a coronary artery is completely blocked with plaque for more than three months. CTO obstructs the flow of blood to the heart and can have severe effects on the health. When one or more of coronary arteries are completely blocked, the patients are at higher risk for a heart attack. A percutaneous coronary interventional (PCI) procedure is the appropriate treatment option for patients that have poor blood flow through one or more coronary arteries. The growth of the global chronic total occlusion market is attributed to the increasing demand of minimally invasive surgeries, rising prevalence of artery diseases, technological advancements and rising geriatric population. However, side effects and risks associated with CTO procedures and high cost of chronic total occlusion procedures are the major factor hindering the market growth.
The global chronic total occlusion market is expected to witness substantial growth post-pandemic. The COVID-19 has affected economies and industries in various countries due to lockdowns, travel bans, and business shutdowns. The COVID-19 crisis has overburdened public health systems in many countries and highlighted the strong need for sustainable investment in health systems. As the COVID-19 pandemic progresses, the healthcare industry is expected to see a drop in growth. The life sciences segment thrives due to increased demand for invitro diagnostic products and rising research and development activities worldwide. However, the medical technologies and imaging segment is witnessing drop in sales due to a smaller number of surgeries being carried out and delayed or prolonged equipment procurement. Additionally, virtual consultations by healthcare professionals are expected to become the mainstream care delivery model post-pandemic. With telehealth transforming care delivery, digital health will continue to thrive in coming years. In addition, disrupted clinical trials and the subsequent delay in drug launches is also expected to pave the way for entirely virtual trials in the future. New technologies such as mRNA is expected to emerge and shift the pharmaceutical industry and market is also expected to witness more vertical integration and joint ventures in coming years.
Lucrative Regions for Global Chronic Total Occlusion Market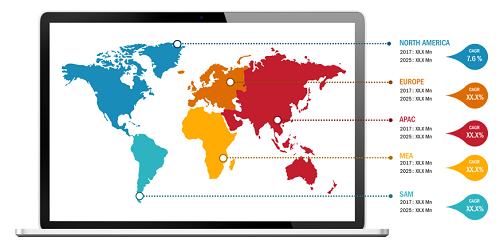 Get more information on this report :
Market Insights
Rising Prevalence of Artery Diseases to Drive Global Chronic Total Occlusion Market Growth
Cardiovascular diseases (CVDs) are the disorders of the heart and blood vessels and include cerebrovascular disease, coronary heart disease, rheumatic heart disease and other conditions. Some of the major factors which leads to the death and difficulties are use of tobacco, unhealthy diet, and physical inactivity which increases the risk of heart attacks and strokes. CVDs are the leading cause of death across the globe, it affects more people as compared to any other disease. For instance, in 2015, approximately 17.7 million people died from CVDs, which was 31.0% of all the global deaths. Among these approximately 7.4 million were due to coronary heart disease and 6.7 million were due to stroke. Among those 17 million deaths at the age of 70 due to non-communicable diseases in 2015, around 82.0% are in low- and middle-income countries, and 37.0% are caused by CVDs.
Since the last 25 years, the number of cardiovascular cases has increased in Europe and in the European Union. The addition in the cardiovascular cases are observed in most of the countries in this region. According to the European Cardiovascular Disease Statics in 2015, near about 85 million people in Europe and 49 million in EU were suffering with cardiovascular diseases. In Europe, every year cardiovascular disease (CVD) causes 3.9 million deaths and more than 1.8 million deaths in the European Union (EU). The CVD accounts for 45.0% of all deaths in Europe and 37.0% of all deaths in the EU. CVD is the major reason of the death in men and women in all countries.
According to the World health organization in 2017, cardiovascular diseases are number 1 cause of death all over the world. It also mentioned that in 2016, 17.9 million people across the globe died due to cardiovascular diseases. The increasing awareness of the patient population is driving the demand of surgical procedures to treat sudden unmet medical conditions. Along with the cardiovascular surgeries rise in the general surgeries are also increasing are driving the growth for the devices market during the forecast period. Owing to the rising cases of coronary artery diseases in the regions and in various countries, the need and demand for the chronic total occlusion for the treatment of the CVD and it increases the market in the future years.
Equipment -Based Insights
In terms of equipment, the global chronic total occlusion market is segmented into micro catheters, guide wires, crossing devices and re-entry devices. In 2017, the guidewires segment held largest share of the market. Also, the same segment is estimated to register the highest CAGR during the forecast period.
Global Chronic Total Occlusion Market, by Equipment – 2017 and 2025


Get more information on this report :
End User-Based Insights
In terms of end user, the global chronic total occlusion market is segmented into hospitals, ambulatory care centers and others. The hospitals segment held the largest share of the market in 2017. Also, the same segment is estimated to grow at the highest CAGR during the forecast period.
Strategic Insights
Report Coverage - Chronic Total Occlusion Market
Report Coverage
Details
Market Size Value in
US$ 280.7 Million in 2017
Market Size Value by
US$ 516.1 Million by 2025
Growth rate
CAGR of 8.1% from 2018-2025
Forecast Period
2018-2025
Base Year
2018
No. of Pages
144
No. of Tables
57
No. of Charts & Figures
52
Historical data available
Yes
Segments covered
Equipment ; End User and Geography
Regional scope
North America, Europe, Asia Pacific, Middle East & Africa, South & Central America
Country scope
US, Canada, Mexico, UK, Germany, Spain, Italy, France, India, China, Japan, South Korea, Australia, UAE, Saudi Arabia, South Africa, Brazil, Argentina
Report coverage
Revenue forecast, company ranking, competitive landscape, growth factors, and trends
Free Sample Copy Available
The global chronic total occlusion market players are adopting the product launch and expansion strategies to cater to changing customer demands worldwide, which also allows them to maintain their brand name globally.
Global Chronic Total Occlusion Market – by Equipment
Micro Catheters
Guide Wires
Polymer Coated Wires
Coil Wires
Crossing Devices
Re-Entry Devices
Global Chronic Total Occlusion Market – by End- User
Hospitals
Ambulatory Care Centers
Others
Global Chronic Total Occlusion Market – by Geography
North America

Europe

France
Germany
Italy
UK
Spain
Rest of Europe

Asia Pacific (APAC)

China
India
South Korea
Japan
Australia
Rest of APAC

Middle East & Africa (MEA)

South Africa
Saudi Arabia
UAE
Rest of MEA

South America and Central America (SCAM)

Brazil
Argentina
Rest of SCAM
Company Profiles
ASAHI INTECC CO., LTD.
SoundBite Medical Solutions
Integer Holdings Corporation
Baylis Medical Company, Inc.
SPECTRANETICS
C. R. Bard, Inc.
Boston Scientific Corporation
Medtronic
Terumo Corporation
Cordis
Abbott