The hemp derivatives market was valued at US$ 5,953.86 million in 2021 and is projected to reach US$ 20,977.94 million by 2028; it is expected to grow at a CAGR of 19.7% from 2021 to 2028.
Hemp or industrial hemp is a variety of cannabis sativa plant species, which are specifically grown for industrial use. Hemp derivatives, such as CBD, seed oil, and fibers, are derived from hemp and have various applications in several end-use industries, such as food and beverage, pharmaceuticals, personal care, and animal feed.
In 2021, Asia Pacific accounted for the largest share in the global hemp derivatives market. Rising awareness related to the medical benefits of hemp derivates increases their utilization in the region. Along with this, hemp derivatives find several applications in the textile industry. Furthermore, the booming market of cosmetics and personal care products in Asia Pacific and the legalization of industrial hemp in food supplements are estimated to drive the market in the region during the forecast period.
The ongoing COVID-19 pandemic has had a relatively positive impact on the hemp derivatives market. The pandemic helped to develop awareness and interest in the medical sector of hemp. The crisis has been a disagreeable and stressful time for most of the population across the world. Therefore, people worldwide have started consuming hemp derivative products to treat their anxiety and stress. Several significant users have increased their consumption. Consumption to be used for a sleep disorder and depression is conjointly hyperbolic. Due to an increased focus on health and wellness during the pandemic, there has been an increased search on Google about the health benefits provided by hemp derivatives, which is increasing the awareness about these derivatives. Along with this, a lot of countries have been hit with tax shortfalls amid the pandemic. The governments of countries are looking for sources of tax income. The potential source can be the legalization of hemp and its derivatives, which could become progressively engaging. An increase in the sale of hemp and its derivatives by legal sellers can provide a potential tax income gain.


Various research activities have also been carried out during the COVID-19 pandemic that focused on the use of hemp and its derivatives for the treatment of COVID-19. Researchers in Canada carried out a study to ensure whether Cannabis sativa extracts can help in reducing the levels of the host cell receptor that the SARS-CoV-2 virus clings on to gain entry and spread. Along with this, STERO Biotech, a company headquartered in Israel, provides insight into the use of cannabis and CBD as a potential treatment for COVID-19. Thus, various research activities on hemp and its derivates to find out their use in the COVID-19 treatment are having a positive impact on the hemp derivatives market.
Global Hemp Derivatives Market, by Region 2021


Get more information on this report :
Market Insights
Rising Applications of Hemp Derivatives in Various Industries
Hemp is being increasingly used for various applications in different industries. Hemp seeds and oilcake are used as an alternative source of food and feed protein in the food & beverages industry. Along with this, the oil obtained while crushing the hemp seeds is used in the manufacturing of soap, shampoo, lotion, cosmetics, and bath gels. The oil obtained from hemp seeds is rich in amino acids, minerals, and vitamins, and it is used in nutritional supplements as well as medicinal and therapeutic products. The fibers obtained from hemp contain a high amount of hemicellulose, along with high absorbent capacity, which makes it a suitable crop to be used in the textile industry. Stalks and fibers of hemp are used to manufacture clothes, paper, construction material, plastic, and composites, among others. Hemp fiber is also used in the manufacturing of insulation materials and bio-composites due to its high strength, biodegradability, thermodynamic, and lightweight properties. Hemp fibers are used in the construction industry for the manufacturing of construction materials such as fiberboard, stucco and mortar, cement block, coatings, acoustic materials, and pipe wraps. Composites, which are used in making petroleum-based products, are also made from hemp. The hemp seeds are rich in nutrients and protein and can be used as a substitute for soybean. Due to the protein content, hemp seed is used in the production of major products made from soybean, including tofu, butter, cheese, burgers, ice cream, and milk. Thus, increasing applications of hemp derivatives in various industries have led to an increase in demand for hemp derivatives, thereby driving the hemp derivatives market.
Type Insights
Based on type, the hemp derivatives market is segmented into hemp CBD oil, seed oil, hemp fiber, and others. The hemp fiber segment held the largest share in the market in 2021. Hemp is a bast fiber plant like Jute, Kenaf, and Flax. These fibers are now being used as reinforcements in composite materials due to their biodegradability and lower density than artificial fibers. The hemp fiber conducts heat, resists mildew, dyes well, blocks ultraviolet light, and has natural antibacterial properties.
Hemp Derivatives Market, by Type – 2021 and 2028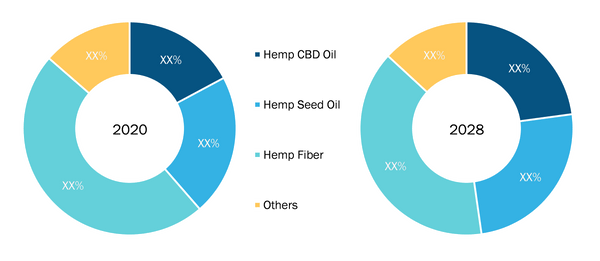 Get more information on this report :
Strategic Insights
Report Coverage - Hemp Derivatives Market
Report Coverage
Details
Market Size Value in
US$ 5,953.86 Million in 2021
Market Size Value by
US$ 20,977.94 Million by 2028
Growth rate
CAGR of 19.7% from 2021-2028
Forecast Period
2021-2028
Base Year
2021
No. of Pages
163
No. of Tables
51
No. of Charts & Figures
70
Historical data available
Yes
Segments covered
Type and Application and Geography
Regional scope
North America, Europe, Asia Pacific, Middle East & Africa, South & Central America
Country scope
US, Canada, Mexico, UK, Germany, Spain, Italy, France, India, China, Japan, South Korea, Australia, UAE, Saudi Arabia, South Africa, Brazil, Argentina
Report coverage
Revenue forecast, company ranking, competitive landscape, growth factors, and trends
Free Sample Copy Available
A few of the key market players operating in the hemp derivatives market are Colorado Hemp Works, Inc; Dun Agro Hemp Group; Ecofiber; Hempflax Group B.V.; Hempoland Sp. Z O.O.; Konoplex, Mh Medical Hemp Gmbh; Plains Industrial Hemp Processing Ltd; South Hemp; and BAFA Neu GmbH. Major market players are adopting strategies such as mergers and acquisitions, and product launches to expand their geographic presence and consumer base.
Report Spotlights
Progressive trends in the hemp derivative industry to help players develop effective long-term strategies
Business growth strategies adopted by companies to secure growth in developed and developing markets
Quantitative analysis of the global hemp derivatives market from 2019 to 2028
Estimation of the demand for hemp derivatives across various industries
Porter analysis to illustrate the efficacy of buyers and suppliers operating in the industry to predict market growth
Recent developments to understand the competitive market scenario and the demand for hemp derivatives
Market trends and outlook coupled with factors driving and restraining the growth of the hemp derivatives market
Understanding regarding the strategies that underpin commercial interest with regard to global hemp derivatives market growth, aiding in the decision-making process
Hemp Derivative market size at various nodes of market
Detailed overview and segmentation of the global hemp derivatives market as well as its industry dynamics
Hemp derivative market size in various regions with promising growth opportunities
Hemp Derivatives Market, by Type
Hemp CBD Oil
Seed Oil
Hemp Fiber
Others
Hemp Derivatives Market, by Application
Food and Beverages
Pharmaceutical and Nutraceutical
Personal Care
Textiles
Others
Company Profiles
Colorado Hemp Works, Inc
Dun Agro Hemp Group
Ecofiber
Hempflax Group B.V.
Hempoland Sp. Z O.O.
Konoplex
Mh Medical Hemp Gmbh
Plains Industrial Hemp Processing Ltd
South Hemp
BAFA Neu GmbH
Frequently Asked Questions