The mHealth market was valued at US$ 22,722.1 million in 2017 and it is projected to reach US$ 246,820.4 million in 2025; it is expected to grow at a CAGR of 31.3% from 2016 to 2025.
mHealth is a technique that includes the use of mobile commination devices, such as mobile phones, tablets, PDAs (personal digital assistants) and other wireless devices for distributing health services and information. Mobile health (mHealth) unlocks the new opportunities for improving monitoring of chronic conditions and help with developing the prevention aspect of the healthcare system. mHealth enables to offer the services on consultation, care management, diagnosis, and self-management services by using information & communication technologies (ICT). It involves a wide variety of technologies and tactics to deliver virtual medical, health, and education services to the users. mHealth is a collection of means that is used to enhance care and education delivery. mHealth include instruments, apparatus, machines or software (including mobile applications) that are involved in the delivery of healthcare services. The growth of the mHealth market is attributed to the rising adoption ICT technology, rising growing number of chronic diseases and other technological developments are boosting the market over the years. However, the shortage of providers or lack of experience and restriction by laws and problems with lack of existing infrastructure is likely to have a negative impact on the growth of the market.
The mHealth market is expected to witness substantial growth post-pandemic. Mobile health solutions and telehealth have emerged as essential components of healthcare that offer accessible and cost-effective answers in order to enhance public health as they allow healthcare professionals to address patients' needs remotely and reduce the burden on the hospital systems. mHealth technologies such as wearable sensors and mobile apps were utilized to their maximum potential, which helps to monitor COVID-19 patients and suspected cases, served as a great path to lessen the effects of the pandemic, which is particularly important for vulnerable populations such as the elderly and patients with pre-existing conditions. Hence, overall mobile-based systems for self-care and patient tracking increased, and the market witnessed a surged demand during the situation and continue to grow substantially in the forecast period.
Lucrative Regions for mHealth Market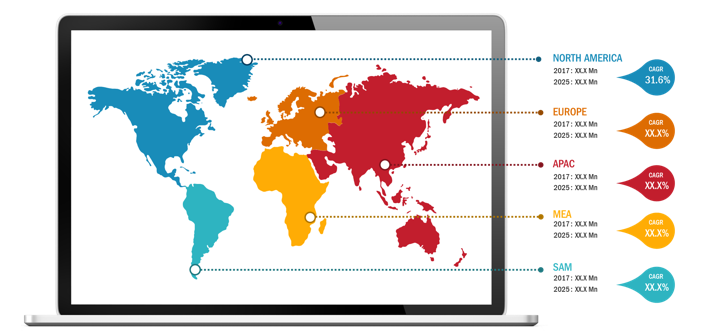 Get more information on this report :
Market Insights
Increasing Adoption of Smartphones & Other Mobile Platforms to Drive mHealth Market Growth
Smartphones are knows as significantly auspicious tools that helps to change the health-related behaviors and to manage chronic conditions. The smartphones also contribute to make healthcare practices more easy and manageable by, collecting health data or healthcare information and offer services to the patients. The mHealth technology is a tool that supports treatments, disease surveillance and chronic disease management. Due to the easy access and vast variety of applications, the large number of people can use these mobile health apps. Moreover, mobile health or mHealth apps providing new opportunities such as product launches and new technology to manage chronic conditions and to change health-related behaviors. For instance, in September 2015, the World Health Organization (WHO) launched a mHealth toolkit that helps innovators to expand the ventures related to child and adolescent health, maternal, reproductive and newborn. Moreover, in March 2016, ZTE Corporation launched mHealth product in Germany that is used for all-in-one physical examination stations. Additionally, the increasing production of smartphones enable the easier access to the Internet that is likely to rise more focus on mHealth market.
Service-Based Insights
In terms of service, the mHealth market is segmented into remote monitoring services, diagnosis services treatment services, health support services, fitness & wellness services and others. In 2017, the remote monitoring services segment held larger share of the market. Also, the same segment is estimated to register highest CAGR during the forecast period.
mHealth Market, by Service – 2017 and 2025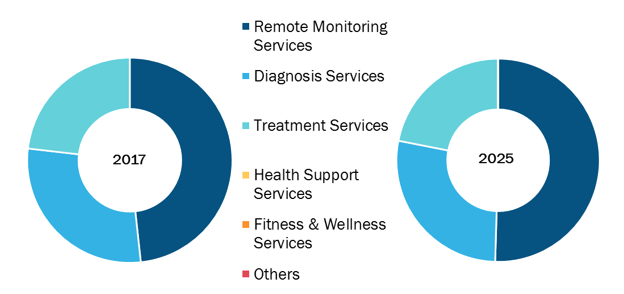 Get more information on this report :
Device-Based Insights
Based on devices, the mHealth market is segmented into insulin pump, BP monitor, glucose monitor, personal pulse oximeters and others. The insulin pump segment held the largest market share in 2017, and the same segment is estimated to register the highest CAGR during the forecast period.
End User-Based Insights
In terms of end user, the mHealth market is segmented into mobile operators, devices vendors, health providers and others. The mobile operators segment held the largest share of the market in 2017, and it is further estimated to register the highest CAGR during the forecast period.
Strategic Insights
The mHealth market players are adopting the product launch and expansion strategies to cater to changing customer demands worldwide, which also allows them to maintain their brand name globally.
mHealth Market – by Services
Remote Monitoring Services
Treatment Services
Diagnosis Services
Health Support Services
Fitness & Wellness Services
Others
mHealth Market – by Devices
Insulin Pump
BP Monitor
Glucose Monitor
Personal Pulse Oximeters
Others
mHealth Market – by End User
Mobile Operators
Devices Vendors
Health Providers
Other
mHealth Market – by Geography
North America

Europe

France
Germany
Italy
UK
Spain
Rest of Europe

Asia Pacific (APAC)

China
India
South Korea
Japan
Australia
Rest of APAC

Middle East & Africa (MEA)

South Africa
Saudi Arabia
UAE
Rest of MEA

South America and Central America (SCAM)

Brazil
Argentina
Rest of SCAM
Company Profiles
Koninklijke Philips N.V.
Medtronic
Boston Scientific Corporation
Athenahealth, Inc..
Honeywell Life Care Solutions
Cisco Systems, Inc.
Omron Corporation
Masimo.
Agamatrix, Inc.