The pyrotechnic munitions market size is projected to reach US$ 4,653.96 million by 2028 from US$ 3,358.92 million in 2022; it is expected to grow at a CAGR of 5.6% from 2022 to 2028.
The growth of the pyrotechnic munitions market size in Europe is attributed to many pyrotechnic product manufacturers such as Wescom Group (UK), Rheinmetall AG (Germany), Primetake Ltd (UK), Nexter group KNDS (France), and LACROIX (France). Thus, presence of manufacturing facilities, increasing defense spending for procuring pyrotechnic munition products, and growing instances for rescue operations and critical missions are factors likely to fuel the market growth in Europe during the forecast period. In Europe, major countries such as Russia, the UK, Germany, and Austria have been procuring pyrotechnic munitions for various applications such as live training simulation and crowd control applications. In addition, most countries are taking initiatives to advance their existing military assets, such as Navy vessels, thereby increasing the adoption of life rafts and pyrotechnic munitions across the region.
The demand for pyrotechnic munitions products is increasing with the rising conflicts among countries. With the surge in political conflicts emerges the need for training and drill exercises for armed forces. The growing demand for pyrotechnic markers across defense forces is fueling the market growth. In addition, collaborations of companies with defense forces for live simulation training to supply an adequate volume of pyrotechnic munitions products is another major factor bolstering the market growth. However, certification challenges and counterfeit products restrict the pyrotechnic munitions market growth.
Furthermore, the military exercises organized during the nighttime involve many pyrotechnic illumination and signaling rounds, which are another major factor supporting the adoption of pyrotechnic munition for live training simulation. For instance, in April 2021, the US army conducted a live training in Pulaski Country (Arkansas) wherein two Boeing Chinook Helicopters carried out the military cadets for a 4-day exercise. Under this operation, colored smoke canisters, illumination fire rounds, and other types of pyrotechnic munitions were us.
Strategic Insights
Report Coverage - Pyrotechnic Munitions Market
Report Coverage
Details
Market Size Value in
US$ 3,358.92 Million in 2022
Market Size Value by
US$ 4,653.96 Million by 2028
Growth rate
CAGR of 5.6% from 2022 to 2028
Forecast Period
2022-2028
Base Year
2022
No. of Pages
163
No. of Tables
85
No. of Charts & Figures
76
Historical data available
Yes
Segments covered
Product Type, Application, and End User
Regional scope
North America, Europe, Asia Pacific, Middle East & Africa, South & Central America
Country scope
US, Canada, Mexico, UK, Germany, Italy, France, India, China, Japan, South Korea, Australia, UAE, Saudi Arabia, South Africa, Brazil, Argentina
Report coverage
Revenue forecast, company ranking, competitive landscape, growth factors, and trends
Free Sample Copy Available
– Pyrotechnic Munitions Market
Impact of COVID-19 Pandemic on North America Pyrotechnic Munitions Market Growth
The COVID-19 outbreak dramatically impacted the global economy during its peak in 2020, along with posing numerous challenges to business operations. It led to considerable disruption in industry supply chains as several countries discontinued their international trade amid the pandemic. Military forces were compelled to work for a social cause. The armed forces joined social activists in their efforts to curb the SARS-CoV-2 spread, which hampered their training activities, leading to either cancellation or postponement. However, with ease in restrictions and the reopening of business units in 2021, the number of military training events increased worldwide, helping the pyrotechnic munition market regain momentum.
Lucrative Regions for Pyrotechnic Munitions Market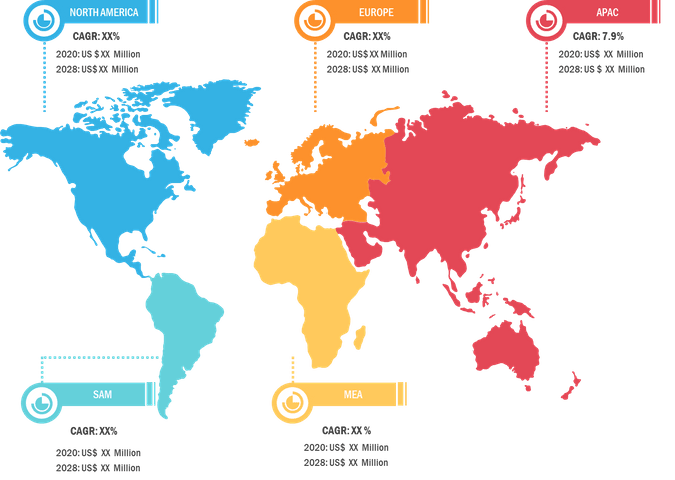 Get more information on this report :
Market Insights – Pyrotechnic Munitions Market
The pyrotechnic munitions market analysis by geography, is primarily segmented into North America, Europe, Asia-Pacific (APAC), Middle East & Africa (MEA), and South America (SAM). North America held the largest market share in 2021. In North America, the demand for pyrotechnic munitions is growing across defense forces, wherein they are used for various applications that include illumination, signaling, battle noise and effect simulation, and aircraft illuminating flare generation, rescue and distress signal generation, and parachute flare creation.
Europe held the second-largest share of the pyrotechnic munitions market in 2021. Various economies in this region have been investing heavily in their respective military and law enforcement forces to take maximum security measures for their nation. Also, most countries, including Russia, UK, and Germany, procure pyrotechnic munitions for applications such as live training simulation and crowd control. Several countries are also taking initiatives to modernize their existing military assets, such as navy vessels, which is expected to boost the adoption of life rafts and pyrotechnic munitions across the region in the coming years. In February 2022, the Federal Ministry of Defence of Austria released a contract bid of procurement for signaling flares, rain rockets, fog signals, and pyrotechnic articles. The contract is worth US$ 0.522 million, including the procurement of ~24,613,000 signaling flares, rain rockets, fog signals, and pyrotechnic articles. This development is expected to catalyze the pyrotechnic munitions market in the region.
Product Type-Based Insights – Pyrotechnic Munitions Market
Based on product type, the pyrotechnic munitions market analysis is segmented into signaling and illumination, crowd control, and training segment. Based on application, the market is further segmented into land forces, naval forces, and air forces. The pyrotechnic munitions market, by End User, is segmented military and law enforcement agencies.
Rheinmetall AG, General Dynamics Ordnance and Tactical Systems, Wescom Group, Chemring Group, and Pyrotechnic Specialties Inc. are among the prominent players in the pyrotechnic munitions market. The market is highly fragmented with several players localized in specific regions to cater to the domestic demand.
Players operating in the pyrotechnic munitions market are mainly focused on the development of advanced and efficient products.
In 2022, PW Defence was acquired by Wescom Defence; this acquisition increased the company's defense product portfolio and international sales network. Additionally, the company now has new manufacturing and testing facilities of pyrotechnic munition; the range of the pyrotechnic product portfolio now boasts more than 200 products, and the company produces over 3 million pyrotechnic products per year.
In 2020, Primetake collaborated with GBA Flare Systems to develop a cutting-edge new flare ignition method. The companies are developing the StarBurst system. The StarBurst system is a unique and innovative advancement in Cold Flaring that includes features such as pyrotechnic ignition systems, an impressive range of over 100 meters, and launching from a 24-pellet capacity launching cabinet and pellet trajectory control via an enclosed guide tube. Furthermore, StarBurst reduces the risks associated with firearms, reduces the negative environmental impact of traditional continuously burning gas pilots, and increases consistency and reliability with minimal staff training.
Frequently Asked Questions