The UV curing system market was valued US$ 2,817.2 million in 2021 and is expected to reach US$ 5,153.2 million by 2028 with a CAGR growth rate of 9.0% during the forecast period from 2021 to 2028.
UV curing is a method of drying inks, adhesives, and coatings. The UV curing system is a relatively old technology and has been used for a long time. The old UV curing systems used mercury lamps for curing. However, with advancements in technology and the increasing effect of mercury lamps on the workers and environment, UV LEDs are used as a source in the curing systems. The curing method is widely used in many industry verticals, such as automotive, healthcare, electronics, aerospace, graphic & art, and wood coatings. With demand rsising for bonding & assembling, printing, coating, and other process in aforesaid industries, the demand for systems will continue to rise, which in turn will proper the growth of UV curing system market.


The major stakeholders in the global UV curing system market ecosystem include component manufacturers, UV curing system manufacturers, government agencies and regulatory bodies, and end users. Component and hardware providers offer numerous parts and components to UV curing system manufacturers. Any impact on these component manufacturers directly impacts the UV curing system producers as the whole production process is dependent on timely supply of the components. The broad supply chain of UV curing system plays a huge role in boosting the growth of UV curing systems, and thus impacting the Uv curing system market growth.
Strategic Insights
Report Coverage - UV Curing System Market
Report Coverage
Details
Market Size Value in
US$ 2,817.2 million in 2021
Market Size Value by
US$ 5,153.2 million by 2028
Growth rate
CAGR of 9.0% from 2021 to 2028.
Forecast Period
2021- 2028
Base Year
2020
No. of Pages
136
No. of Tables
56
No. of Charts & Figures
74
Historical data available
Yes
Segments covered
Application and End User
Regional scope
North America, Europe, Asia Pacific, Middle East & Africa, South & Central America
Country scope
US, Canada, Mexico, UK, Germany, Russia, Italy, France, India, China, Japan, South Korea, Australia, UAE, Saudi Arabia, South Africa, Brazil, Argentina
Report coverage
Revenue forecast, company ranking, competitive landscape, growth factors, and trends
Free Sample Copy Available
Impact of COVID-19 Pandemic on UV Curing System Market Study on APAC region
The limitations imposed by several governments across the region to control the spread of COVID-19 during the initial time frame of the outbreak (Q1 2020) has severely affected the production process due to the restriction of a limited workforce in industries such as automotive, and electronics. Consumer electronics and automotive are the significant sectors that contribute towards the growth of the UV curing system market in the region. Owing to job loss or salary cut, buying capacity of the customer decreased substantially. The reduced buying power impacted the sales of consumer electronic across the region. The Indian automotive industry suffered a daily loss of US$ 31,164 million approximately during 2020 according to Automobile Industry Associations. Similarly, according to the World Economic Forum the car sales in China dropped by 92% in the first half of February 2020. However, as the economies re-opened and industries began their operations, the requirement for UV curing system from various end-users has started to grow gradually. Also, with ease in earlier restrictions, companies can now work with high workforce capacity. The downturn inindustrial activities have negatively impacted the UV curing system market.

UV Curing System Market size : Lucrative Regions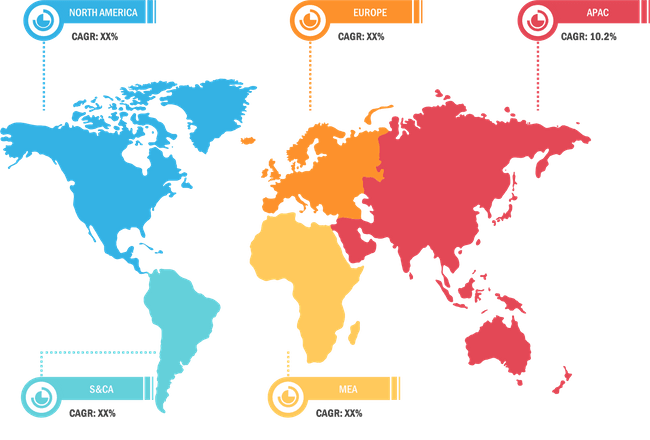 Get more information on this report :
UV Bonding & Assembling Fuel Growth of UV Curing System Market
UV bonding and assembling is a process used for glass, metal, and plastic bonding purposes and assembly of printed circuit boards (PCB). The bonding used in this process uses ultraviolet sensitive adhesives that are applied to products and exposed to energy from UV curing lamps for curing. UV curing makes the process faster, more flexible, long-lasting, and environment friendly than other processes.
UV LED curing method reduces the emissions of the volatile compounds. Therefore, the demand for the UV curing systems using LED increased in various verticals, which is driving the growth of the market. However, limited depth curing may act as a restraint in the growth of the UV curing system market.
The rise in demand for PCB from various industries, such as electronics and automotive, influences the rise in demand for PCB across the globe. Manufacturers of consumer electronics, wearable gadgets, such as smartwatches that contain chips and flexible sensors, are seeing new prospects owing to the Internet of Things (IoT). Breakthroughs in device design and manufacturing technology are having a favorable impact on PCB production across the world. Thus, the rise in PCB production is propelling the demand for bonding & assembling processes from the manufacturers. Additionally, demand for glass bonding is expected to increase in end-use sectors such as electronics, furniture, and transportation, which would fuel the market growth for the UV bonding and assembling application segment during the forecast period.
The other segment in the UV curing system market includes food & beverage, manufacturing, packaging, wood and others. UV curing system is used in these applications for different purposes such as bonding & assembling, disinfection, and printing. With the advanced features provided by the UV curing systems over the conventional curing system is leading various companies to opt for this system as the curing method for faster drying. These reasons will support the growth of UV curing systems currently and in the coming years. For instance, UV curing system in the food and bev verage is industries is increasing used for disinfecting contaminated ground and surface water. They are also actively used for treating food and packaging material that pass through conveyor belts to ensure safety of product before reaching the ultimate consumer. These factors are propelling the demand for UV curing systems among the food a& beverage industry over the years. Additionally, the rise in adoption of UV curing systems for bonding applications across the wood industry owing to its fast dry nature is further propelling the growth of the market.
End User-Based Market Insights
Based on end users, the UV curing system market is segmented into automotive, healthcare, electronics, and others. In the automotive industry, UV curing is mainly used to dry the paints faster and increase the curing speed. Since automobile companies' painting/drying capacity is one of the main blockages in most OEM lines and body shops, UV curing technology provides an outstanding time-saving procedure for the companies. This method is used in various other applications in the automotive industry, such as varnish on the body or scratch-proofing coating on the exterior or interior components, anticorrosion coating on tanks or metal springs, deburring of plastic parts, screen printing on glass panes, and adhesives on trim panels or rear spoilers. For instance, Heraeus Holding uses UV curing to provide various automotive sector services. It offers UV curing costing for headlamp lenses, lighting reflector housing, exterior body components, and underhood components. This increases the use of UV curing in the automotive sector. Therefore, the UV curing system market for the automotive segment is expected to grow in the coming years.


UV LED Curing Association, American Coatings Association, and International LED-UV Association play an influential role in the UV curing system market ecosystem. The COVID-19 outbreak has affected the UV curing system market growth to a considerable extent. The outbreak affected business revenues and global supply chains due to factory shutdowns, temporary closure of borders, and trade restrictions across the globe. However, this market is expected to do well as the situation is coming back to normalcy.
UV Curing System Market, by End User – 2020 and 2028 (%)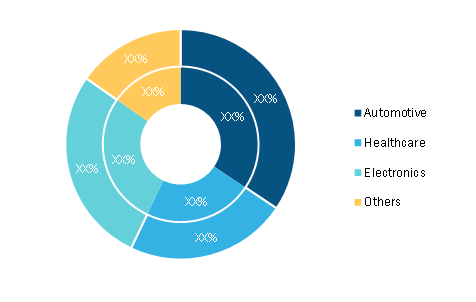 Get more information on this report :
Players operating in UV curing system market adopt strategies such as mergers, acquisitions, and market initiatives to maintain their positions in the market. A few developments by key players are listed below:
AMS Spectral UV President Rich Bennett announced the company's return as not only a founder, but as a Platinum Sponsor of Print UV 2022 on March 16-18 at the Wynn Encore.
Phoseon Technology announced partnership with American Ultraviolet for the advancement of LED curing in all UV curing markets.
In the global UV curing system market is segmented on the basis of application and end user. Based on application, the market is segmented into bonding & assembling, disinfection, coating & finishing, and printing. Based on end users, the UV curing system market is segmented into automotive, healthcare, electronics, and others.
American Ultraviolet, AMS Spectral UV, Dymax Chemical (Shanghai) Co. Ltd, Excelitas Technologies Corp., Hanovia-uv, Heraeus Holding GmbH, Jenton Group, Nordson Corporation, and Phoseon Technology are among the key UV curing system market players considered for the research study. Several players have also been analyzed in this research report to get a holistic view of the global UV curing system market and its ecosystem.
Frequently Asked Questions