The agriculture microbial market size is expected to reach US$ 18,003.75 million by 2028 &registering at a CAGR of 14.8% from 2022 to 2028, according to a new research study conducted by The Insight Partners.
Rising Concern for Sustainable Agriculture to Drive Agriculture Microbial Market during 2022–2028
According to the United Nations, the world population is expected to reach 9.8 billion by 2050 and 11.2 billion by 2100. Additionally, in recent years, the food insecurity has been moderate, which has affected more than 30% world population. According to the Food and Agriculture Organization, in the US, between 720 and 811 people faced hunger in 2020. The prevalence of undernourishment had climbed to around 9.9% in 2020 from 8.4% in 2019. Growing food scarcity and increasing population has surged the demand for sustainable and environmentally-friendly agricultural products. Therefore, the global agriculture needs to double food production by 2050 and reduce the reliance on inorganic fertilizers and pesticides. Agriculture microbials are used for soil improvement and crop protection. The adoption of agriculture microbials helps increase nutrient uptake, crop yield, and organic cultivation. Hence, the benefits offered by agriculture microbials coupled with rising population propel the demand for agriculture microbials.
BASF SE; Bayer AG; Certis USA LLC; BioWorks; Novozymes A/S; Chr. Hansen Holding A/S.; Syngenta Group; Nufarm; Marrone Bio Innovations, Inc.; and Koppert B.V. are among the key players operating in the global agriculture microbial market. These companies have a widespread global presence, which allows them to serve a large set of customers from across the world and subsequently increases their market share. They heavily focus on new product launches and geographical expansion to expand their product range in specialty portfolios.
Agriculture Microbial Market Breakdown – by Region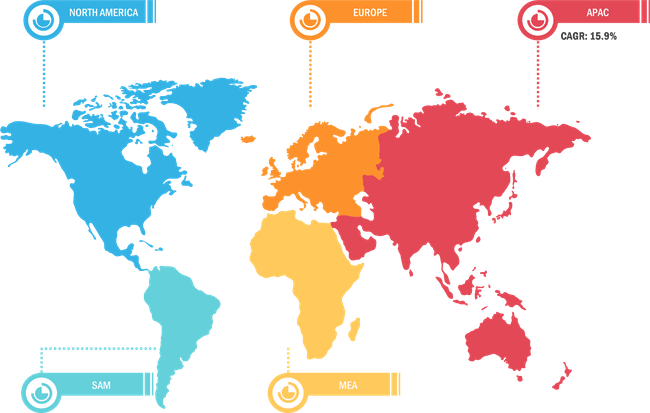 Report : Agriculture Microbial Market Forecast to 2028 - COVID-19 Impact and Global Analysis By Type (Bacteria, Fungi, Virus, and Others), Formulation (Dry and Liquid), Function (Crop Protection and Soil Amendments), Mode of Application (Foliar Spray, Soil Treatment, Seed Treatment, and Post-Harvest), and Crop Type (Cereals and Grains, Oilseeds and Pulses, Fruits and Vegetables, and Others) and Geography
Impact of COVID-19 Pandemic on Agriculture Microbial Market
The COVID-19 pandemic adversely affected industries in various countries, influencing their economic conditions. Lockdowns, travel bans, and business shutdowns in leading countries in North America, Europe, Asia Pacific (APAC), South & Central America (SAM), and the Middle East & Africa (MEA) hindered the growth of various industries, including the agriculture industry. The shutdown of manufacturing units disturbed global supply chains, manufacturing activities, delivery schedules, and various essential and nonessential product sales.
The agriculture microbial market was mainly driven by the rising adoption of organic farming and growing demand for sustainable agriculture. However, many industries faced unprecedented challenges due to the pandemic in 2020. The agriculture industry declined due to the shutdown of several manufacturing units and disruption in supply chain. Research and development activities of agriculture microbial were put on hold to avoid the spread of diseases. These factors hampered the growth of agriculture microbial market during the pandemic in 2020. However, ease of restriction and opening of borders surged the demand for the market growth.
The report segments the Agriculture Microbial Market as follows:
Based on type, the agriculture microbial market is segmented into bacteria, fungi, virus, and others. Based on formulation, the market is bifurcated into liquid and dry. By function, the agriculture microbial market is bifurcated into crop protection and soil amendments. Based on mode of application, the market is segmented into foliar spray, soil treatment, seed treatment, and post-harvest. Based on crop type, the agriculture microbial market is segmented into cereals and grains, oilseeds and pulses, fruits and vegetables, and others. Based on region, the market is segmented into North America, Europe, Asia Pacific (APAC), the Middle East & Africa (MEA), and South & Central America.
Contact Us
Contact Person: Sameer Joshi