The agriculture microbial market was valued US$ 6,901.93 million in 2021 & it is estimated to grow at a CAGR of 14.8% from 2022 to 2028 says, The Insight Partners
Agricultural microbial refers to the microorganisms used in agriculture to enhance crop productivity and yield quality. Bacteria, fungi, and viruses are a few microbes. They can boost the growth of the plant by improving access to supplements. Many microbes help decompose organic matter and recycle agricultural waste material. Also, they offer phosphorus, nitrogen, and other nutrients and provide benefits, including heat and drought tolerance and resistance to insects and plant diseases.
In 2020, North America held the largest share of the global agriculture microbial market, and Asia Pacific is estimated to register the highest CAGR during the forecast period. North America is one of the most significant regions for the market due to increasing awareness about the benefits of using microbial in agriculture over synthetic chemicals. The use of synthetic chemicals becomes ineffective as they develop pest resistance and harm the crop production. Agriculture microbial are practical and quick to decompose even applied in small quantities, which leads to lower exposure and prevents the environmental problems created by synthetic chemicals.
Moreover, the rising environment-friendly and organic farming practices drive the growth of the microbial agriculture market. According to the United States Department of Agriculture's (USDA) 2019 Organic Survey, in 2019 the US comprised 16,585 organic farms, which increased by 16.7% from 2016.
Strategic Insights
Report Coverage - Agriculture Microbial Market
Report Coverage
Details
Market Size Value in
US$ 6,901.93 Million in 2021
Market Size Value by
US$ 18,003.75 Million by 2028
Growth rate
CAGR of 14.8% from 2022 to 2028
Forecast Period
2022-2028
Base Year
2021
No. of Pages
180
No. of Tables
142
No. of Charts & Figures
96
Historical data available
Yes
Segments covered
Type, Formulation, Function, Mode of Application, and Crop Type
Regional scope
North America, Europe, Asia Pacific, Middle East & Africa, South & Central America
Country scope
US, Canada, Mexico, UK, Germany, Spain, Italy, France, India, China, Japan, South Korea, Australia, UAE, Saudi Arabia, South Africa, Brazil, Argentina
Report coverage
Revenue forecast, company ranking, competitive landscape, growth factors, and trends
Free Sample Copy Available
Impact of COVID-19 Pandemic on Agriculture Microbial Market
Before COVID-19 pandemic, the agriculture microbial market was mainly driven by the rising adoption of organic farming and growing demand for sustainable agriculture. However, many industries faced unprecedented challenges due to the pandemic in 2020. The agriculture industry declined due to the shutdown of several manufacturing units and disruption in supply chain. However, in 2021, various economies restarted their operations as the governments announced relaxation in the previously imposed restrictions, which positively impacted the global marketplace. Moreover, manufacturers were permitted to operate at full capacity, which helped them overcome the demand and supply gap. Currently, the market situation is far better than earlier. Many nations are fully vaccinated, and agriculture microbial product manufacturers are focusing on increasing their production to boost their revenues.
The shortage of labor in the manufacturing units and the break of on-premises sales through distributors and retailers due to the subsequent lockdowns and the closure of stores restrained the agriculture microbial market. Despite witnessing a major hit due to the COVID-19 pandemic, several companies reported that the industry witnessed increasing demand for sustainable agriculture products by the end of 2020. However, owing to the growing shortage of agriculture products, various governments eased the restrictions on agriculture commodities to meet the demand for food.
Agriculture Microbial Market Breakdown, by Region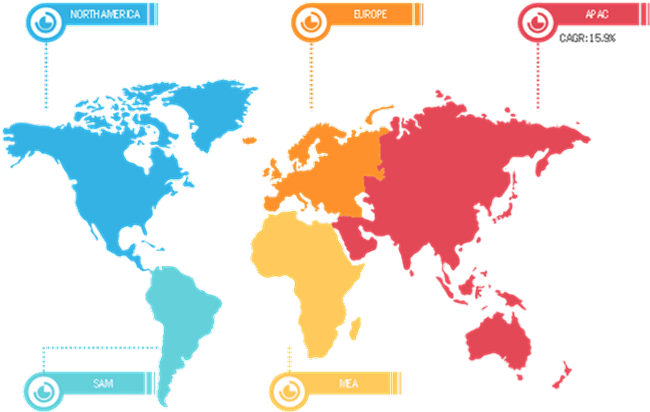 Get more information on this report :
Market Insights
Rise in Adoption of Organic Farming Drives Agriculture Microbial Market
Over the past years, organic farming has been adopted globally to achieve sustainability and lower the harmful impact on the environment. Reduced soil erosion, decreased nitrate leaching into groundwater and surface water, and recycled animal waste usage in farms are among the benefits of organic farming. Increased awareness about the benefits has surged the demand for organic agriculture practice. According to 2019 Organic Survey conducted by National Agricultural Statistic Service, in the US, there was 17% rise of certified organic farms between 2016 and 2019. According to the Food and Agriculture Organization (FAO) of the United Nation, in 2019, the organic agriculture was practiced in 187 countries, and around 72.3 million hectares of agriculture land was managed organically. Several governments in developing economies strongly emphasis on adopting organic farming. Agriculture microbial plays a vital role in organic farming for soil management as they cannot be replaced by synthetic components. Soil microbials, including bacteria, fungi, and virus, perform a fundamental function in soil, such as breaking down crop residues, cycling of crucial nutrients like nitrogen and carbon, and stimulating plant growth. Therefore, increased adoption of organic farming propels the demand for agriculture microbials owing to their benefits in organic farming.
Type Insights
Based on type, the agriculture microbial market is segmented into bacteria, fungi, virus, and others. The bacteria segment is expected to hold the largest market share and the highest CAGR during the forecast period. Fungi are one of the essential soil microbes for decomposing organic matter and recycling waste plant material. In addition, it performs essential functions related to water dynamics, nutrient cycling, and disease suppression. For instance, fungal hyphae bind physically with soil particles together, creating stable aggregates, which helps in increasing soil water holding capacity in plants and water infiltration.
Agriculture Microbial Market, by Type – 2021 and 2028

Get more information on this report :
Formulation Insights
Based on formulation, the agriculture microbial market is segmented into dry and liquid. The liquid segment is expected to hold a larger market share during the forecast period, whereas the dry segment is projected to register a higher CAGR from 2021 to 2028. The market for the liquid segment is growing owing to the ease of application. The liquid formulation of products is more convenient than the dry form of agriculture microbial as they can be directly used by drenches, sprays, and root dips. Also, they do not require additional procedures, such as mixing, which helps avoid spoilage and wastage of the product.
Function Insights
Based on function, the agriculture microbial market is bifurcated into crop protection and soil amendments. The crop protection segment accounted for a larger market share in 2020. Agriculture microbial can be used to protect roots, seeds, fruits, and other parts of crops. Crop protection products offer various advantages, including the increased production of smaller areas, protection of the environment, higher yield, and lower cost of food. These advantages have increased the adoption of crop protection products. Microbial pest control provides ecology safety and a significant amount of target specificity, owing to which pest management control programs are preferred.
Mode of Application Insights
Based on mode of application, the agriculture microbial market is segmented into foliar spray, soil treatment, seed treatment, and post-harvest. The foliar spray segment accounted for the largest market share in 2020. Nutrients applied through foliar spray are absorbed more rapidly than applied through other techniques. The use of foliar spray helps reduce labor and machinery costs, thereby minimizing crop production costs. These techniques act as a prompt correction treatment of deficiency and diseases in plants.
Crop Type Insights
Based on crop type, the agriculture microbial market is segmented into cereals and grains, oilseeds and pulses, fruits and vegetables, and others. The fruits and vegetables segment accounted for the largest market share in 2020. The market growth for the segment is attributed to the high remuneration factors associated with the crop and increased demand to provide essential nutrients effectively. Further, the increased demand for organic fruits and vegetables propels the need for agriculture microbials.
BASF SE; Bayer AG; Certis USA LLC; BioWorks; Novozymes A/S; Chr. Hansen Holding A/S.; Syngenta Group; Nufarm; Marrone Bio Innovations, Inc.; and Koppert B.V. are among the major players operating in the agriculture microbial market. These companies are emphasizing on new product launches and geographical expansions to meet the growing consumer demand worldwide. They have a widespread global presence, which provides them to serve a large set of customers from across the world and subsequently increases their market share. These market players focus heavily on new product launches and regional expansions to increase their product range in specialty portfolios.
Report Spotlights
Progressive industry trends in the agriculture microbial market to help companies develop effective long-term strategies
Business growth strategies adopted by the agriculture microbial market players in developed and developing countries
Quantitative analysis of the market from 2020 to 2028
Estimation of global demand for workwear
Porter's Five Forces analysis to illustrate the efficacy of buyers and suppliers in the agriculture microbial market
Recent developments to understand the competitive market scenario
Market trends and outlook, as well as factors driving and restraining the growth of the agriculture microbial market
Assistance in the decision-making process by highlighting market strategies that underpin commercial interest
Size of the agriculture microbial market at various nodes
A detailed overview and workwear industry dynamics
Size of the agriculture microbial market in various regions with promising growth opportunities
Frequently Asked Questions