Increasing Applications in Pharmaceutical & Nutraceutical Industry Drive Bromelain Market
According to our latest market study on "Bromelain Market Forecast to 2030 – COVID-19 Impact and Global Analysis – by Source, Application, and Geography," the bromelain market size is projected to surge from US$ 45.66 million in 2022 to US$ 75.24 million by 2030. The market is expected to record a CAGR of 6.4% from 2022 to 2030. The report highlights key factors driving the market and prominent players along with their developments in the market.
The pharmaceutical industry has been harnessing the anti-tumorigenic, anti-inflammatory, and anti-thrombotic properties of bromelain. With such medicinal properties, bromelain can help prevent diseases such as bronchitis, sinusitis, and thrombophlebitis. It has been studied for its platelet aggregation inhibition, anti-edematous, anti-thrombotic, and fibrinolytic activities. It is also known for its ability to aid in digestion and wound healing. Owing to these therapeutic actions, it is extensively used in pharmaceutical formulas and health supplements. The growing focus on maintaining optimum digestive and gut health boosts the demand for bromelain in dietary supplement manufacturing.
Bromelain is also applied in products manufactured to treat inflammation and swelling of the nose and sinuses post injury or surgery. In the US, the Dietary Supplement Health and Education Act (DSHEA) passed in 1994 allows the sale of dietary supplements containing bromelain despite the air of uncertainties around its efficacy. Owing to its analgesic and anti-inflammatory properties, bromelain is used as an effective ingredient in products meant for the treatment for pain, osteoarthritis-associated joint stiffness, and soft tissue swelling. Bromelain improves functionality and decreases pain in mild acute knee pain and osteoarthritis. According to the World Health Organization (WHO), nearly 528 million people worldwide were living with osteoarthritis in 2019, recording an increase of 113% since 1990. Therefore, the rising applications of bromelain in the pharmaceutical and nutraceutical industries fuels the market growth.
Hong Mao Biochemicals Co Ltd, Enzybel International SA, Enzyme Technologies (Pty) Ltd, Guangxi Nanning Javely Biological Products Co Ltd, Creative Enzymes, Medikonda Nutrients, Changsha Natureway Co Ltd, Antozyme Biotech Pvt Ltd, Challenge Bioproducts Co Ltd, and Great Food (Biochem) Co Ltd. are among the major players operating in the global bromelain market. Market players focus on developing high-quality products to fulfill the varied requirements of end users of bromelain. Moreover, these key players are adopting strategic development initiatives to expand their market presence.
Impact of COVID-19 Pandemic on Bromelain Market
Various industries suffered severe disruptions due to disturbances in supply chains and shutdowns of production plants amid the COVID-19 pandemic. The shuttering of banks, manufacturing plants, and factories in regions such as North America, Asia Pacific, Europe, South America, and the Middle East & Africa had further ill effects on supply chains, manufacturing, delivery schedules, and sales. Many businesses announced possible delays in product deliveries and slumps in their future sales. Supply chain disruptions, raw material and labor shortages, and operational difficulties created a demand and supply gap that resulted in increased prices of bromelain, hampering the market growth. However, during the COVID-19 pandemic, health consciousness among consumers across the globe increased significantly, propelling the demand for dietary supplements for the maintenance of good health among the young and working population. This factor favored the bromelain market growth during this health crisis.
In 2021, various economies resumed their operations as country governments announced relaxations in the previously imposed restrictions, which, in turn, bolstered the bromelain market. Moreover, manufacturers were permitted to operate at full capacities, which helped them overcome the demand and supply gaps. All these factors have been favoring the growth of the bromelain market in the post-pandemic recovery period.
Bromelain Market Breakdown – by Region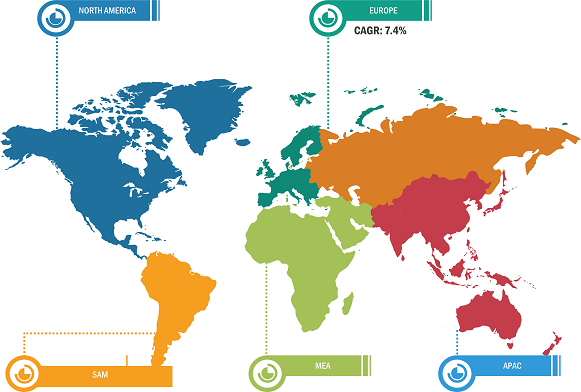 ---
---
Bromelain Market Size and Forecasts (2022 - 2030), Global and Regional Share, Trends, and Growth Opportunity Analysis Report Coverage: By Source (Stem and Fruit), Application (Food & Beverages, Pharmaceuticals & Nutraceuticals, Personal Care, and Others), and Geography
The report includes the segmentation of the bromelain market as follows:
Based on source, the bromelain market is divided into stem and fruit. On the basis of application, the market is segmented into food & beverages, pharmaceuticals & nutraceuticals, personal care, and others. By geography, the market is broadly segmented into North America, Europe, Asia Pacific (APAC), the Middle East & Africa (MEA), and South & Central America. The bromelain market in North America is further segmented into the US, Canada, and Mexico. The European market is subsegmented into Germany, France, the UK, Italy, Russia, and the Rest of Europe. The bromelain market in Asia Pacific is further segmented into China, India, Japan, Australia, South Korea, and the Rest of Asia Pacific. The market in the MEA is further segmented into South Africa, Saudi Arabia, the UAE, and the Rest of MEA. The bromelain market in South & Central America market is categorized into Brazil, Argentina, and the Rest of South & Central America.
Contact Us

Phone: +1-646-491-9876
Email Id: sales@theinsightpartners.com
Download Free PDF Brochure
---
Related Readings
---