The Digital Transformation Market size is expected to reach US$ 1,650 billion by 2028; registering at a CAGR of 22.5% from 2022 to 2028, according to a new research study conducted by The Insight Partners.
Emergence of Artificial Intelligence (AI) across diversified industries is to Provide Growth Opportunities for Digital Transformation Market During 2022–2028
With the constant development in digitalization, there is significant scope for the expansion of digital transformation within businesses. It is anticipated that AI will witness substantial growth in the coming years and has an unprecedented opportunity in the digital transformation of businesses. AI is considered one of the major technologies driving the digital transformation across several industries, including automotive, insurance, and manufacturing. The potential of AI to transform business strategy to a rigorously customer-centric model remains largely untapped. Businesses globally are investing heavily in digital technologies such as IoT while remaining thoughtful about AI investments. Adoption of AI into industrial applications is projected to endure with driving the digital transformation market.
As per a survey conducted by the MIT Sloan School of Management, approximately 9 out of 10 business executives consider AI to serve as a vital competitive advantage in the coming years, facilitating them to explore new opportunities and potential revenue streams. Though under two-fifths of these respondents have a planned AI strategy, ~16% understand the AI development costs. Thus, AI is still in the infancy of digital transformation; however, rising awareness about AI and constantly increasing data volumes are expected to result in heavy deployment of AI across several industry verticals and would result into digital transformation market growth.
Besides the aforementioned aspects of digital transformation, there are many other application areas where digital transformation is key for the functioning of machines and procedures. Industrial augmented reality, computer vision, wearables, unmanned trucks, cobots, modular equipment, IoT sensors for supply chain management, and Blockchain for enterprise resource planning and supply chain management are some of the application areas. Additionally, with the era of industrial IoT sensors, cloud-based ERP and other manufacturing software, smart manufacturing, 3D printing, and predictive maintenance being popular, the scope of digital transformation will continue to witness a growing trend, and thereby proliferating the digital transformation market.
North America held the largest digital transformation market share in 2022. Several established players, such as IBM, Accenture, SAP, and Microsoft Corporation, are effectively competing in this market to gain a major market share. Many of these players are adopting different strategies for development in the digital transformation market and increasing their market share. For example, IBM and SAP have partnered to create innovative digital transformation solutions with SAP Business Suite 4 SAP HANA software to provide enhanced customer and user experience and industry-specific functionality.
Concerning digital transformation market growth during the COVID-19 pandemic, the demand for digital transformation increased within North America. The regional government focused more on emerging digital technologies, including blockchain, AI, and 5G infrastructure. By mid-2020, the US and 60 other countries issued national 5G strategies. The pandemic fueled the demand for digital platforms within enterprises in North American businesses as the concept of remote working was promoted at a high rate.
In the region, digital transformation in industries accelerated, almost similar to Europe and APAC. Also, during the recovery phase of COVID-19, the region is looking to adopt digital devices and solutions to recover from the consequences of the COVID-19 crisis. Therefore, the region is seeking applications to ensure that digital transformation is included in the business structure and procedures. A few key companies such as Facebook and Tesla, rely on technological developments for progression.
Therefore, the digital transformation market size in North America will continue to grow despite the adverse impact of the COVID-19 crisis.
Digital Transformation Market ­– by Region, 2022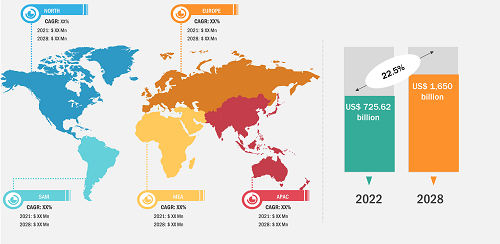 Report : Digital Transformation Market Forecast to 2028 - COVID-19 Impact and Global Analysis by Components (Solution and Services), Deployment Type (Cloud and On-Premise), and End-User (BFSI, Healthcare, Education, Retail, IT & Telecom, Logistics & Transportation, Manufacturing, and Others)
Source: The Insight Partners Analysis
Based on end-user, the digital transformation market size is categorized into BFSI, healthcare, education, retail, IT & telecom, logistics & transportation, manufacturing, and others. The manufacturing segment dominated the digital transformation market in 2022. Consumer expectations and the advent of connected devices and platforms are driving the persistent digitization of the manufacturing industry. With the introduction of IoT and Industry 4.0, many of the processes of the manufacturing industry are merging with the digital technology for better processing and better results. Also, with the introduction of augmented reality and virtual reality in manufacturing, efficiency is increasing, and processes are getting better. Digital transformation has also resulted in real-time manufacturing data, which enables the end-user industry to record data immediately, corresponding to analysis for making real-time decisions. Moreover, the concept of smart manufacturing is receiving high momentum since it is applied to quality control, production management, product life cycle, supply chain management, and other manufacturing-related activities. The goal of smart manufacturing is to take advantage of new technologies to make processes more efficient and productive. Therefore, owing to aforesaid application areas of digital transformation in manufacturing, the segment will continue to hold the maximum share of the digital transformation market.
Adobe Systems Inc., IBM Corporation, Microsoft Corporation, Oracle Corporation, Accenture PLC, SAP SE, Dell Inc., Capgemini SE, Google Inc., and Cognizant Technology Solutions Corporation are some of the key digital transformation market players operating in the industry.
In December 2022, Paras Healthcare, a healthcare services provider, involved an integrated healthcare ecosystem "MyHealthcare" to ensure that digital transformation is applied in their healthcare delivery platforms. This ecosystem projects to improve clinical delivery and patient experience in all care delivery procedures.

In December 2022, Emerson and Petronas signed a Memorandum of Understanding to propel digital transformation and decarbonization. Both companies are seeking ahead to improve their remote operation capabilities and reinforce their cybersecurity through digital transformation. The partners also aim to boost their footprints in carbon reduction by using digital transformation processes.
Contact Us
Contact Person: Sameer Joshi
Phone: +1-646-491-9876
Email Id: sales@theinsightpartners.com