The digital transformation market size is expected to grow from US$ 725.62 billion in 2022 to US$ 1,650 billion by 2028; it is estimated to grow at a CAGR of 22.5% from 2022 to 2028.
Digital transformation is the change associated with the application of digital technology in all aspects of human society. This enables new types of innovations and creativity in specific domains rather than simply enhancing and supporting traditional methods. Currently, digital transformation is being highly adopted by different industry verticals in all regions. Especially in North America, the adoption or shifting of the industry verticals toward digital transformation is very high compared to every other region. The presence of well-known and financially strong companies such as Microsoft Corporation, Oracle Corporation, Accenture, and Google Inc. characterizes the global digital transformation market growth.
Digital solutions have created a potential for companies to reach a huge audience worldwide. For instance, Uber and Lyft, on-demand transportation companies, utilized digital platforms and earned huge success. These companies can be considered a key illustration of how implementing strategy and innovation can transform the transportation industry. Furthermore, in the fastest-growing e-commerce market, more and more SMEs are now using online platforms to provide their offerings to customers. This has enabled them to extend their market reach, enhance external communication, augment sales, improve processing speed, improve company image, and increase employee productivity.
Based on components, the solutions segment accounts for more than half of the digital transformation market share globally. Companies such as UST, Veritis Group Inc., and Kellton Tech are engaged in the business of providing digital transformation-specific solutions. The solutions assist in realizing long-term visions while using advanced technologies such as IoT, robotic process automation, Blockchain, enterprise mobility, data science, and analytics.
Strategic Insights
Regional Analysis of Digital Transformation Market
From the regional perspective, APAC is the second-largest region in digital transformation market in 2022. China, Taiwan, Japan, and South Korea are major countries with a huge manufacturing industry base, especially semiconductor & electronics manufacturing. As a result, the nations mentioned above are witnessing huge growth in their manufacturing, resulting in the adoption of digital and smart technologies.
Digital transformation was already rising in Asia to change the way industries operate. In addition, the COVID-19 crisis boosted technological adoption for addressing public health issues. It has been observed that digitalization is reshaping Asian countries. The digital transformation prevailing in South and Southeast Asian economies is providing an array of opportunities for their respective industrial units. Countries such as Vietnam and Singapore are expected to grow exponentially and place themselves among the key countries leading digitalization.
The Indian market is expected to become one of the major markets for the manufacturing industry. In October 2022, the country planned to shift factories from China to India for US$ 1.2 trillion. Under this governmental plan, the authorities would work on digitalizing processes and modernizing warehouses while lowering logistics costs. One of the companies that started their manufacturing base in India is Apple, Inc. The company is planning to start with iPhone 14 production. Moreover, Ola Electric Mobility Pvt. Ltd. has aimed to produce the biggest electric scooter factory.
Such investments are projected to fuel the growth of the Indian manufacturing sector, creating significant opportunities for digital transformation providers.
Lucrative Regions – Digital Transformation Market Share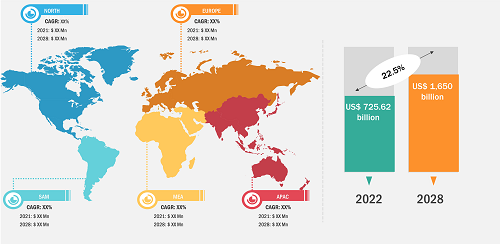 Market Insights – Digital Transformation Market
Deployment Type-Based Insights
Based on deployment type, the digital transformation market size is segmented into on-premise and cloud. In 2022, the on-premise segment accounted for a larger digital transformation market share, whereas the cloud segment is expected to grow at a faster CAGR. Organizations are turning toward IoT, cloud, and web applications to collect critical, real-time information, optimize internal workflows, and accelerate data analysis. To reap the full benefits of digital transformation, the technologies that the company adopts have to offer four different capabilities—virtualization, ubiquitous broadband (5G), IoT, and big data analytics. Digital transformation through the cloud uses public, private, and hybrid cloud platforms. These platforms generate or modify culture, business processes, and customer experiences to fulfill evolving business requirements and market dynamics.
Therefore, with cloud computing obtaining high momentum globally, the penetration rate of digital transformation is expected to rise.
Furthermore, due to the pandemic, businesses have adopted digital technologies to make work procedures easy and smooth. Advanced technologies such as machine learning and automation, IoT, and digital twin help increase efficiencies by automating routine tasks. For instance, Newport News Shipbuilding (a division of Huntington Ingalls Industries,) is utilizing AR to provide digital instructions to the workspace. The use of AR will help guide electricians in routing their wires, and other daily tasks. Using technologies will help companies leverage real-time data to enhance operational performance.
The digital transformation market players are mainly focusing on developing advanced and efficient products.
In December 2022, Tech Mahindra and the government body of Thailand signed a Memorandum of Understanding to encourage digital transformation in Thailand. The agreement aims to develop digital solutions for telecom, smart cities, and many more using 5G, analytics, IoT, and Blockchain.
In December 2022, OnActuate partnered with Bisleri for the Microsoft Cloud dynamics digital transformation. The partnership will assist Bisleri in using the innovative solution of OnActuate for bottling manufacturers. In this, both companies will execute Microsoft Dynamics 365 and a bottling solution.
The digital transformation market is segmented into five major regions—North America, Europe, Asia Pacific (APAC), Middle East & Africa, and South America. In 2022, North America led the digital transformation market with a largest share in 2022, followed by APAC. Further, Asia Pacific is expected to register the highest CAGR in the digital transformation market from 2022 to 2028.
Adobe Systems Inc., IBM Corporation, Microsoft Corporation, Oracle Corporation, Accenture PLC, SAP SE, Dell Inc., Capgemini SE, Google Inc., and Cognizant Technology Solutions Corporation are among the key digital transformation market players operating in the industry. The market report provides detailed market insights, which help the key players strategize growth in coming years.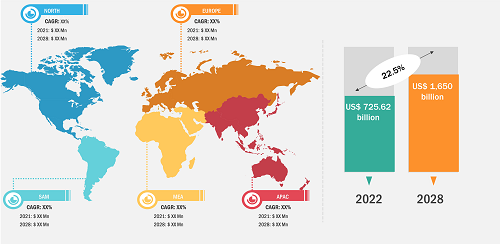 Sample PDF showcases the content structure and the nature of the information with qualitative and quantitative analysis.
Request discounts available for Start-Ups & Universities
REGIONAL FRAMEWORK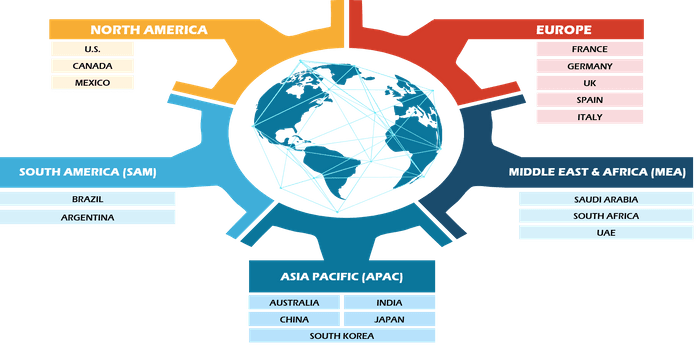 Have a question?

Naveen
Naveen will walk you through a 15-minute call to present the report's content and answer all queries if you have any.

Speak to Analyst
Sample PDF showcases the content structure and the nature of the information with qualitative and quantitative analysis.
Request discounts available for Start-Ups & Universities
MARKET PLAYERS
Sample PDF showcases the content structure and the nature of the information with qualitative and quantitative analysis.
Request discounts available for Start-Ups & Universities

Report Coverage
Revenue forecast, Company Analysis, Industry landscape, Growth factors, and Trends

Segment Covered
Components ; Deployment Type ; and End-User

Regional Scope
North America, Europe, Asia Pacific, Middle East & Africa, South & Central America

Country Scope
This text is related
to country scope.
The List of Companies - Digital Transformation Market
1. IBM Corporation
2. Accenture PLC
3. SAP SE
4. Microsoft Corporation
5. Oracle Corporation
6. Capgemini SE
7. Adobe Systems Inc.
8. Google Inc.
9. Dell Inc.
10. Cognizant Technology Solutions Corporation
The Insight Partners performs research in 4 major stages: Data Collection & Secondary Research, Primary Research, Data Analysis and Data Triangulation & Final Review.
Data Collection and Secondary Research:
As a market research and consulting firm operating from a decade, we have published many reports and advised several clients across the globe. First step for any study will start with an assessment of currently available data and insights from existing reports. Further, historical and current market information is collected from Investor Presentations, Annual Reports, SEC Filings, etc., and other information related to company's performance and market positioning are gathered from Paid Databases (Factiva, Hoovers, and Reuters) and various other publications available in public domain.
Several associations trade associates, technical forums, institutes, societies and organizations are accessed to gain technical as well as market related insights through their publications such as research papers, blogs and press releases related to the studies are referred to get cues about the market. Further, white papers, journals, magazines, and other news articles published in the last 3 years are scrutinized and analyzed to understand the current market trends.
Primary Research:
The primarily interview analysis comprise of data obtained from industry participants interview and answers to survey questions gathered by in-house primary team.
For primary research, interviews are conducted with industry experts/CEOs/Marketing Managers/Sales Managers/VPs/Subject Matter Experts from both demand and supply side to get a 360-degree view of the market. The primary team conducts several interviews based on the complexity of the markets to understand the various market trends and dynamics which makes research more credible and precise.
A typical research interview fulfils the following functions:
Provides first-hand information on the market size, market trends, growth trends, competitive landscape, and outlook
Validates and strengthens in-house secondary research findings
Develops the analysis team's expertise and market understanding
Primary research involves email interactions and telephone interviews for each market, category, segment, and sub-segment across geographies. The participants who typically take part in such a process include, but are not limited to:
Industry participants: VPs, business development managers, market intelligence managers and national sales managers
Outside experts: Valuation experts, research analysts and key opinion leaders specializing in the electronics and semiconductor industry.
Below is the breakup of our primary respondents by company, designation, and region:

Once we receive the confirmation from primary research sources or primary respondents, we finalize the base year market estimation and forecast the data as per the macroeconomic and microeconomic factors assessed during data collection.
Data Analysis:
Once data is validated through both secondary as well as primary respondents, we finalize the market estimations by hypothesis formulation and factor analysis at regional and country level.
3.1 Macro-Economic Factor Analysis:
We analyse macroeconomic indicators such the gross domestic product (GDP), increase in the demand for goods and services across industries, technological advancement, regional economic growth, governmental policies, the influence of COVID-19, PEST analysis, and other aspects. This analysis aids in setting benchmarks for various nations/regions and approximating market splits. Additionally, the general trend of the aforementioned components aid in determining the market's development possibilities.
Various factors that are especially aligned to the country are taken into account to determine the market size for a certain area and country, including the presence of vendors, such as headquarters and offices, the country's GDP, demand patterns, and industry growth. To comprehend the market dynamics for the nation, a number of growth variables, inhibitors, application areas, and current market trends are researched. The aforementioned elements aid in determining the country's overall market's growth potential.
The "Table of Contents" is formulated by listing and analyzing more than 25 - 30 companies operating in the market ecosystem across geographies. However, we profile only 10 companies as a standard practice in our syndicate reports. These 10 companies comprise leading, emerging, and regional players. Nonetheless, our analysis is not restricted to the 10 listed companies, we also analyze other companies present in the market to develop a holistic view and understand the prevailing trends. The "Company Profiles" section in the report covers key facts, business description, products & services, financial information, SWOT analysis, and key developments. The financial information presented is extracted from the annual reports and official documents of the publicly listed companies. Upon collecting the information for the sections of respective companies, we verify them via various primary sources and then compile the data in respective company profiles. The company level information helps us in deriving the base number as well as in forecasting the market size.
3.4 Developing Base Number:
Aggregation of sales statistics (2020-2022) and macro-economic factor, and other secondary and primary research insights are utilized to arrive at base number and related market shares for 2022. The data gaps are identified in this step and relevant market data is analyzed, collected from paid primary interviews or databases. On finalizing the base year market size, forecasts are developed on the basis of macro-economic, industry and market growth factors and company level analysis.
Data Triangulation and Final Review:
The market findings and base year market size calculations are validated from supply as well as demand side. Demand side validations are based on macro-economic factor analysis and benchmarks for respective regions and countries. In case of supply side validations, revenues of major companies are estimated (in case not available) based on industry benchmark, approximate number of employees, product portfolio, and primary interviews revenues are gathered. Further revenue from target product/service segment is assessed to avoid overshooting of market statistics. In case of heavy deviations between supply and demand side values, all thes steps are repeated to achieve synchronization.
We follow an iterative model, wherein we share our research findings with Subject Matter Experts (SME's) and Key Opinion Leaders (KOLs) until consensus view of the market is not formulated – this model negates any drastic deviation in the opinions of experts. Only validated and universally acceptable research findings are quoted in our reports.
We have important check points that we use to validate our research findings – which we call – data triangulation, where we validate the information, we generate from secondary sources with primary interviews and then we re-validate with our internal data bases and Subject matter experts. This comprehensive model enables us to deliver high quality, reliable data in shortest possible time.
Trends and growth analysis reports related to Digital Transformation Market
---