Increasing Environmental Concerns and Reducing Greenhouse Gas Emissions is Boosting Hydrogen Fuel Cell Train Market growth.
According to our latest market study on "Hydrogen Fuel Cell Train Market Forecast to 2030 –Global Analysis – by Technology, Component, and Rail Type," the market was valued at US$ 1,450.98 million in 2022 and is expected to reach US$ 3,458.62 million by 2030; it is expected to account for a CAGR of 11.5% from 2022 to 2030.
Changing world scenarios due to pollution control and mitigating greenhouse gas emissions for a polluted environment positively influence the hydrogen fuel cell train market growth. The primary component of a hydrogen fuel cell train is hydrogen. Hydrogen fuel cell utilizes the chemical energy of hydrogen to generate electricity. The process comprises an electrochemical reaction between oxygen and hydrogen, producing water as waste products. The transportation sector contributes a fair share in polluting the environment by utilizing fossil fuels, which increases the carbon footprint and boosts air pollution. In 2022, the CO2 emissions from the transportation sector increased by over 250 metric ton of CO2 and touched 8 Gigatons (GT) CO2, 3% more than in 2021. The growing government concern toward achieving net zero carbon emission targets of different countries is fueling the application of eco-friendly alternatives such as hydrogen for running vehicles and trains instead of conventional diesel engines. For instance, the US government has set a target of reducing carbon emissions by 50–52% by 2030. Canada aimed at lowering 40–45% carbon footprints by 2030. Germany targeted to lower carbon emissions by up to 65% by 2030. India aimed to reduce carbon intensity by up to 45% in 2030. In addition, countries in the Middle East, such as Saudi Arabia, have pledged to net zero carbon emissions by 2060, and the UAE aimed to decrease its carbon footprint by up to 40% by 2030.
Hydrogen Fuel Cell Train Market Share - by Region, 2023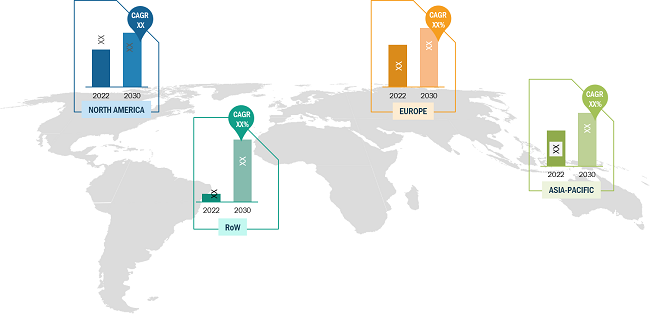 ---
---
Hydrogen Fuel Cell Train Market Size and Forecasts (2020 - 2030), Global and Regional Share, Trends, and Growth Opportunity Analysis Report Coverage: By Technology (Proton Exchange Membrane Fuel Cell, Phosphoric Acid Fuel Cell, and Others), Component (Hydrogen Fuel Cell Pack, Batteries, Electric Traction Motors, and Others), Rail Type (Passenger Rail, Commuter Rail, Light Rail, Trams, Freight, and Others) and Geography
Source: The Insight Partners Analysis
Governments of different countries are working toward mitigating carbon emissions in the railway sector, boosting the demand for hydrogen fuel cell trains worldwide. In 2023, Indian Railways collaborated with the United States Agency to increase and incorporate renewable energy sources in Indian railway infrastructure. Through this agreement, the United States Agency will provide technical support to Indian Railways to boost renewable shares in the overall rail transport sector.
Spain's CAF has initiated track testing for hydrogen and battery-driven hybrid trains. Moreover, in Ferrocarril de Antofagasta, Bolivia declared to introduce hydrogen-driven trains in 2024 in Chile. Growing government focus on lowering carbon emissions, reducing air pollution, and increasing renewables share in the transportation sector for boosting energy efficiency and declining carbon footprint is a major driving factor behind the development of the global hydrogen fuel cell train market.
The hydrogen fuel cell train market has been segmented into four major regions: North America, Europe, Asia Pacific, and the Rest of the World.
The growing concern about mitigating greenhouse gas emissions and controlling the carbon footprint positively influences the Europe hydrogen fuel cell train market. The increasing advancement in the railway infrastructure and growing technological development in the transportation sector drive the hydrogen-driven fuel cell train market. Germany, France, the UK, and Italy are some of the major contributors to the Europe hydrogen fuel cell train market share. The growing number of hydrogen-driven trains and initiatives taken by key hydrogen fuel cell train market players such as Alstom Coradia iLint, Talgo, and Siemens Mobility, such as introducing advanced hydrogen fuel cell trains, are major boosting factors for the Europe hydrogen fuel cell train market. The mobility companies in Europe focus on facilitating Europe's transition to low-carbon transportation infrastructure. The European Green Deal also focuses on the region's net zero emissions targets. Increasing government policies to boost the application of green alternatives also positively impacts the market. Mounting the advent of environment-friendly alternatives instead of conventional carbon-emitting options is a major driving factor for Europe hydrogen fuel cell train market. Increasing fuel prices, focusing on energy-efficient transportation modes, and hassle-free long-distance travel are major driving factors for the market.
Alstom SA, TWI Ltd, Hyundai Corporation, Talgo, Siemens Mobility GmbH, CRRC Corp Ltd, WABTEC, Stadler Rail AG, and Ballard Power Systems are among the key hydrogen fuel cell train market players profiled during this study on the market.
Contact Us

Phone: +1-646-491-9876
Email Id: sales@theinsightpartners.com
Download Free PDF Brochure
---
Related Readings
---