Utilization of Maqui Berries in Supplements for Diabetes Drives Maqui Berries Market Growth
According to the new research study titled "Maqui Berries Market Forecast to 2030 – COVID-19 Impact and Global Analysis – by Form, Category, and Application," the market is expected to grow from US$ 33.76 million in 2022 to US$ 83.70 million by 2030; it is expected to register a CAGR of 12.0% from 2022 to 2030.
Over the past few years, the prevalence of diabetes has increased significantly due to lack of physical activity, rising consumption of junk food, increasing prevalence of obesity, and stressful lifestyle of consumers. According to National Diabetes Statistics Report 2022, 37.3 million people in the US had diabetes in 2022, which accounts for 11.3% of the total US population. Diabetes can lead to serious health conditions such as heart attack and stroke, vision loss, and kidney diseases, if not treated and controlled early. Many treatments and medications have been discovered for diabetes. However, scientists are still working to find natural remedies with high efficiency to cure diabetes and regulate blood sugar level. Maqui berries are rich in anthocyanins, polyphenols, and delphinidin that help neutralize free radicals, boost immunity, prevent cancer, and reduce excessive blood sugar. Maqui berries are the richest sources of anthocyanins with 25% of cyanidins and 75% of delphinidin composition. They comprise the highest delphinidin content among all the berries.
Maqui Berries Market Breakdown – by Region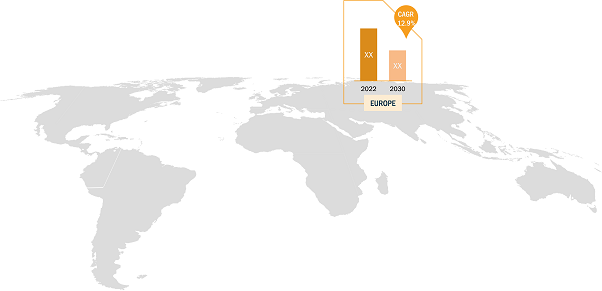 ---
---
Maqui Berries Market Size and Forecasts (2020 - 2030), Global and Regional Share, Trends, and Growth Opportunity Analysis Report Coverage: By Form (Fresh and Processed), Category (Organic and Conventional), Application (Functional Food and Beverages, Pharmaceuticals and Nutraceuticals, Personal Care and Cosmetics, and Animal Nutrition)
Delphinidin is extensively researched for its beneficial health effects, one of which is reducing postprandial blood glucose in individuals with impaired glucose regulation. Delphinol, a standardized maqui berry extract produced by Anklam Extrakt GmbH, has been studied to prevent blood sugar spikes and cure type-2 diabetes and other complications. In December 2022, MD Process launched GlucoBerry, a proprietary formula based on the extract of maqui berry that helps manage blood sugar through its antioxidant effects that support the kidney in filtering the sugar out of the bloodstream. This mechanism also helps insulin perform its functions effectively. Thus, there is a rising demand for maqui berries to develop supplements and medications for diabetes, which propels the maqui berries market.
Further, an increase in the antioxidant content as well as health advantages, such as helping in the reduction of inflammation, heart healthiness, and blood sugar control, is a crucial factor escalating the market growth, as the increasing population, rise in the myriad dietary and nutritious needs, and extending awareness about health benefits of maqui berries are among the significant aspects driving the maqui berries market. Moreover, the rise in the research and development activities and increasing modernization in the new products offered will further create new prospects for the maqui berries market growth during the forecast period. However, the rise in the regulations regarding the export-import are relatively stringent, the major factors acting as restraints, and will further challenge the maqui berries market in upcoming years.
The emerging trend of clean-label and organic products in functional food and beverages, cosmetics, nutritional supplements, and personal care has constructed lucrative opportunities for key industry participants. Maqui berries have also boosted growth in the personal care industry, with companies substituting acai berries, and other exotic extracts as an ingredient in their products with antioxidant maqui berries, displaying exceptional anti-aging properties. The increasing popularity and expansion of e-commerce allow key players to offer products online at reasonable prices. Consumers are becoming conscious of the health benefits of maqui berries, which drive the demand for maqui berries-based products. All factors further surge the demand for maqui berries.
HP Ingredients Corp, Shaanxi LonierHerb Bio-Technology Co Ltd, Rainforest Supply LLC, CK Ingredients Inc, Jeeva Organic Pvt Ltd, Ferreiro & Co Inc, Abbott Blackstone Co, Vita Forte Inc, Nature's Power Nutraceuticals Corp, and Xi'an Herb Bio-Tech Co Ltd are among the key players operating in the maqui berries market. These key players adopt product innovation strategies and invest in business expansions to meet consumers' demand further driving the maqui berries market.
Impact of COVID-19 Pandemic on Maqui Berries Market
Many businesses recovered as the governments of various countries eased the restrictions after the initial months of lockdown in 2020. The introduction of the COVID-19 vaccine offered further relief from the distressing pandemic situation, leading to a rise in business activities. The resumption of operations in the manufacturing units positively impacted the maqui berries market globally.
The report segments the maqui berries market as follows:
The maqui berries market is segmented on the basis of form, category, and application. Based on form, the market is bifurcated into fresh and processed. Based on category, the market is segmented into organic and conventional. Based on application, the maqui berries market is segmented into functional food and beverages, pharmaceuticals and nutraceuticals, cosmetics and personal care, and animal nutrition. By geography, the market is primarily segmented into North America, Europe, Asia Pacific (APAC), the Middle East & Africa (MEA), and South & Central America.
Contact Us

Phone: +1-646-491-9876
Email Id: sales@theinsightpartners.com
Download Free PDF Brochure
---
Related Readings
---