According to our latest market study on "Military Rugged Display Market Forecast to 2028 – COVID-19 Impact and Global Analysis – by Product (Smartphones and Handheld Computers, Laptops and Notebooks, Avionics Display, Vehicle Mounted Computer, and Panel PC and Mission Critical Computer), Display Size (Less than 10 Inches, 10–15 Inches, and More than 15 Inches), Screen Type (Touchscreen and Non-Touchscreen), Resolution (High Definition and Full High Definition), and Users (Air Forces, Naval Forces, and Land Forces)," the market was valued at US$ 1,699.42 million in 2021 and is projected to reach US$ 2,680.85 million by 2028; it is expected to grow at a CAGR of 7.0% from 2021 to 2028.
The military rugged display market is segmented into five major regions—North America, Europe, Asia Pacific (APAC), Middle East and Africa (MEA), and South America (SAM). North America is expected to hold the largest market share during the forecast period. The military rugged display market growth in this region is majorly driven by the growing implementation of advanced military rugged display and extensive government investments in the US defense sector. In addition, the presence of major market players such as Aydin Displays, Curtiss-Wright Corp, and General Micro Systems Inc., and reduction in the total cost of ownership (TCO) are among other factors supporting the market growth in North America. Further, the military rugged display market in APAC is expected to grow at the highest CAGR during the forecast period. The growth is majorly driven by increasing defense budgets and mounting military aircraft modernization efforts.
In 2021, Winmate and Backplane Systems Technology (BST) Launch Military, Defense, and avionics applications at Australia Land Forces EXPO. Similarly, in 2021, CP NORTH AMERICA showcases combat proven solutions (including mobile military-grade workstations, small tactical computer systems and unmanned aerial systems on display) for military, industrial and commercial applications. In October 2019, Hatteland Technology and Kongsberg Defence & Aerospace (KONGSBERG), together, received the contract to deliver 21.5-inch and 32-inch panel computers for military applications. Through Hatteland's products, the contract confers strategic and tactical advantages to UK submarines and Type 45 Destroyers, the US Coast Guard's ECDIS (Electronic Chart Display and Information System), and the US Navy's Littoral Combat Ships. Such product developments and collaboration strategies implemented by the companies lead to the growth of the global military rugged display market.
During the forecast period from 2021 to 2028, the growth military rugged display market in all the major geographic regions is estimated to be quite positive. However, the military rugged display market witnessed slow growth during 2019–2020 due to disruptions in global businesses caused by the ongoing COVID-19 outbreak; to contain the spread of the virus, all major countries in Europe, APAC, and North America are imposing strict restrictions on business activities and the movement of goods and people. These factors are adversely affecting both supply and demand for various components and parts design ed for military applications, thereby hampering the military rugged display market growth.
The global military rugged display market is categorized on the basis of product, display size, screen type, resolution, users, and geography. The product segment in the military rugged display market is analyzed on the basis of smartphone and handheld computer, laptop and notebook, avionics display, vehicle mounted display, and panel PC and mission critical computer. On the basis of display size, the military rugged display market is segmented as less than 10 inches, 10 – 15 inches, and more than 15 inches. The screen type segment in the military rugged display market is analyzed based on touchscreen and non-touchscreen. The resolution segment is bifurcated into high definition (HD) and full high definition (FHD). The users considered in the military rugged display market are air force, land force, and naval force. Further, the geographic analysis is conducted on the basis of North America, Europe, APAC, MEA, and SAM.
Impact of COVID-19 Pandemic on Military Rugged Display Market
The recent COVID-19 pandemic crisis is adversely affecting the world and is continuing to shatter several countries. Until the outbreak, the defense industry was experiencing substantial growth in terms of production and services; however, the crisis is disrupting the supply chain and manufacturing of defense products equipment.
The defense manufacturing industry is heavily dependent on manual labor, and it is experiencing a lack of labors in respective manufacturing facilities due to the lockdown regulations in many countries across the world. Major defense spenders allocate close to or over 2% of their GDP, a significant amount, to defense. However, the emergence of COVID-19 virus across the globe led to lockdown scenarios has led the industry experts to analyze that the industry would face 4 weeks to 12 weeks of lag in military electronic part supply chain. This disruption created tremors through 2020. Also, several governments had deprioritized defense spending owing to the emergence of pandemic. Further, governments of many countries had invested in the activities that helped control the spread of the virus. These factors had restricted the production of various defense equipment, thereby hindering the growth of military rugged display market.


Military Rugged Display Market - Geographic Breakdown, 2020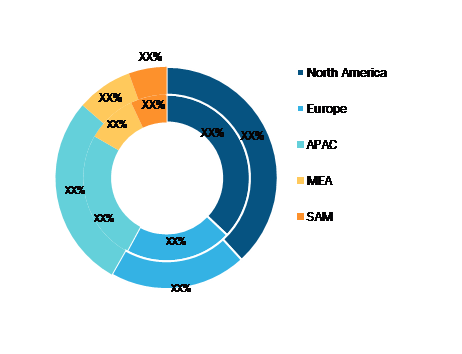 Contact Us
Contact Person: Sameer Joshi
Phone: +1-646-491-9876
Email Id: sales@theinsightpartners.com