According to our latest research study on "Military Truck Market Forecast to 2028 – COVID-19 Impact and Global Analysis – by Application, Truck Type, Application, Propulsion Type, and Technology," the market is expected to grow from US$ 19,052.77 million in 2023 to US$ 22,537.79 million by 2028; it is estimated to register a CAGR of 3.4% from 2023 to 2028.
Governments of various countries are working on expanding their military troops to enhance their capabilities. In January 2021, the government of China announced that it would start conducting recruitment drives twice a year from 2021 onward. This proposal was approved by the State Council and the Central Military Commission. Similarly, the Indian government is also working on expanding its military troops to protect its borders from China and Pakistan's invasion. In June 2022, the Indian government introduced the Agnipath short-term military enlistment scheme. Under this scheme, the government will seek to recruit young Indians into the military with a four-year tenure. Furthermore, under this scheme, every year, 46,000 Agniveers will be recruited, of which 40,000 will be recruited for the Army, and 3,000 will be appointed for the Navy and the Air Force each. Agniveers will be trained for military responsibilities, leadership, and other skills. Moreover, the US, which is the top military power in the world according to the Global Firepower ranking, also focuses continuously on expanding its military troops. In January 2022, the US government announced that the Army's active-duty force exceeded its goal of adding 57,500 members by 106 people, thus recruiting 57,606 personnel. In addition, the Navy's active-duty force also exceeded its goal of recruiting 33,400 members by recruiting 33,559 new members in total by the end of September 2021. Thus, such growing recruitments in the military forces indicate the need for military trucks to transfer troops, fuel, and equipment along asphalted roads and unpaved dirt roads, thereby driving the growth of the military truck market.
Military Truck Market Share – by Region, 2021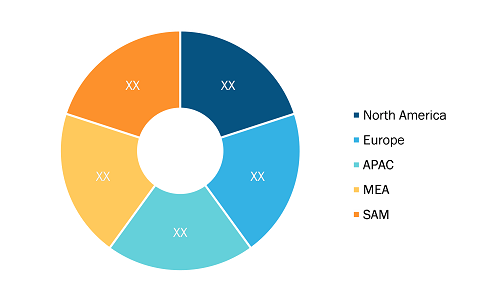 ---
---
Military Truck Market Forecast to 2028 - Global Analysis By Application (Cargo/Logistics Carrier and Troop Carrier), Truck Type (Light Truck, Medium Truck, and Heavy Truck), Propulsion Type (Electric/Hybrid and Diesel), and Transmission Type (Automatic Transmission and Manual Transmission)
Source: The Insight Partners Analysis
Impact of COVID-19 Pandemic on Military Truck Market Analysis
The COVID-19 pandemic had a negative impact on the military truck market growth. In 2020, the rapid spread of COVID-19 urged governments of various countries to impose strict restrictions on human movement. Travel bans, mass lockdowns, and business shutdowns affected various economies and industries. Furthermore, due to the imposition of lockdown and restriction of human movement, many production facilities were temporarily shut down to stop the spread of COVID-19 caused by human interactions. Thus, all the above activities have significantly hampered the military truck market during the pandemic. However, in Q4 of 2020, with ease in the lockdown restriction, the military truck market started to stabilize with the resumption of military trucks. In addition, the market players are receiving contracts from governments of different countries to expand their number of military vehicles. For instance, in March 2021, DAF announced that they had received an order to deliver military trucks to the Belgian Armed Forces. Under this contract, DAF has claimed to deliver and service 879 all-wheel-drive CF military trucks, which include 636 2-axle trucks with 4x4 drivelines between 2022 and 2025. In addition, the increasing military spending by the government to enhance its military capabilities is expected to fuel the military truck market growth during the forecast period.
The military truck market size is segmented on the basis of application, truck type, application, propulsion type, and technology. Based on application, the market is bifurcated into cargo/logistics carrier and troop carrier. By truck type, the military truck market is segmented into light truck, medium truck, and heavy truck. Based on propulsion type, the military truck market is bifurcated into electric/hybrid and diesel. By truck type, the market is segmented into light truck, medium truck, and heavy truck. Based on transmission type, the military truck market size is bifurcated into automatic transmission and manual transmission. The market, based on region, is segmented into North America, Europe, Asia Pacific (APAC), the Middle East & Africa (MEA), and South America (SAM).
Arquus SAS, Oshkosh Corp, Rheinmetall AG, TATRA TRUCKS AS, General Dynamics European Land Systems SLU, Hyundai Rotem Co, AB Volvo, Tata Motors Ltd, Navistar Defense LLC, and Iveco Group NV are a few key players operating in the military truck market. During this study, several major market players were analyzed to get a holistic view of the global market and its ecosystem.
Contact Us

Phone: +1-646-491-9876
Email Id: sales@theinsightpartners.com
Download Free PDF Brochure
---
Related Readings
---